PSP UMD Passport Program Coming To Japan
Sony announces a UMD exchange program in Japan that offers digital versions for a fee.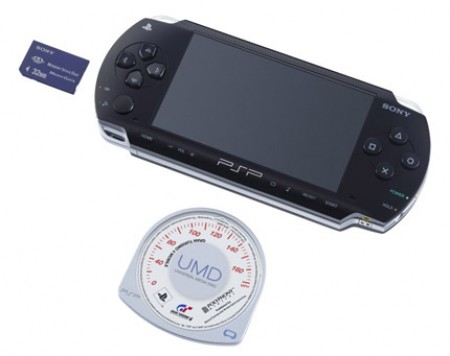 It's a solution to give PlayStation Portable owners, at least in Japan for the time being, an option to play their catalog of UMD-based games on the PlayStation Vita. Not the most wishful of solutions honestly, but it's one none the less (yes I'm trying to put a positive spin on this — deal with it.)
The "solution" I'm oh-so alluding to friends is the newly announced UMD Passport program – an interesting initiative which gives the aforementioned opportunity by redeeming those physical software copies for digital versions through a free downloadable application available December 6th. Well actually… to clarify, you don't automatically get every UMD game registered through the app, but rather a discount on repurchases of those same games through the PlayStation Store.
Head scratching, I know. Let me put it as simple as possible, say you have PSP Game A in UMD form that you really really want to play on your shiny new Vita handheld (oh hey, a Vita bundle). Simply just download the app on your PSP, register the game in question via Wi-Fi, and in exchange you'll get a discount to spend on the digital counterpart that after being mark downed will fetch about $6 to $13 each, although some might catch a higher fee *cough* Square Enix' RGPs *cough*.
Remember, the UMD Passport Program is Japan-only for now (hopefully a North American & European role out of it is in the works) and as for the list of games that will be compatible under it just look below — along with publishers who plan on supporting the program too. Mind you that this is just an initial games list and Sony hopes to make the system compatible with roughly 200 titles later on.
Guilty Gear Judgment (Arc System Works) 500 yen
Carnage Heart Exa (Artdink) 500 yen
Pachipara Slot: Pachislot Super Sea Story in Okinawa (Irem) 1000 yen
Akiba's Trip (Acquire) 1000 yen
Last Promise Story (Image Epoch) 1000 yen
Persona 3 Portable (Atlus) 1500 yen
Metal Slug Complete (SNK Playmore) 500 yen
Higurashi Daybreak Portable Me, Mega Edition (Create) 500 yen
Atelier Viorate: Alchemist of Gramnad 2 (Gust) 1000 yen
Shutokou Battle (Genki) 1000 yen
Dynasty Warriors (Koei-Tecmo) 500 yen
Dead or Alive Paradise (Koei-Tecmo) 1000 yen
Colin McRae: DiRT 2 (Codemasters) 1000 yen
Ever17: the out of infinity (Cyberfront) 500 yen
Nanatama: Chronicle of Dungeon Maker (Gae) 500 yen
Ginsei Shogi Portable (Silver Star Japan) 1000 yen
Kuru-kuru Chameleon (Starfish SD) 500 yen
Hot Shots Golf Portable 2 (Sony) 500 yen
Patapon 3 (Sony) 1000 yen
Gran Turismo PSP (Sony) 1000 yen
Nano Diver (Takara-Tomy) 1000 yen
Princess Days Portable (Takuyo) 740 yen
Secret Room Sacrifice (D3 Publisher) 1000 yen
Promise This Blue Sky: Paradise in Hand (TGR) 100 yen
Everybody Read: Masterpiece & Mystery & Horror & Literature (Dorasu) 500 yen
Disgaea 2 Portable (NIS) 500 yen
Phantom Kingdom Portable (NIS) 1000 yen
Tsuyokisu 2 Semester Portable (Netrevo) 500 yen
Pachislot Simulator, Secret Treasure Edition: Sealed Goddess Portable (Paon) 2400 yen
The Convenience Store Portable (Hamster) 1000 yen
Unchain Blaze Rex (FuRyu) 1050 yen
Neon Genesis Evangelion Battle Orchestra Portable (Broccoli) 1000 yen
Kanon (Prototype) 1000 yen
I Conquer the Path I Believe In (From Software) TBA
Harvest Moon: Boy & Girl (Marvelous AQL) 500 yen
Maikomi Best: Mahjong Champion Portable: Mahjong Club Battle (My Navi) 530 yen
Memories Off (5pb.) 500 yen
Prince of Persia: Sands of Time (Ubisoft) 1000 yen
Tenshin Ranman: Happy-Go-Lucky!! (Russel) 1000 yen
Supporting publishers:
Idea Factory
Capcom
Gung-ho Online Entertainment
Konami
System Soft Alpha
Square-Enix
Spike
Sega
Sonic Powered
Chunsoft
Nihon Falcom
fonfun
Media-5
Via: Engadget