Cry Tears Of Joy — 'Devil May Cry HD Collection' In 2012
The first three Devil May Cry games from Capcom are coming back in one upgraded HD collection sometime in 2012.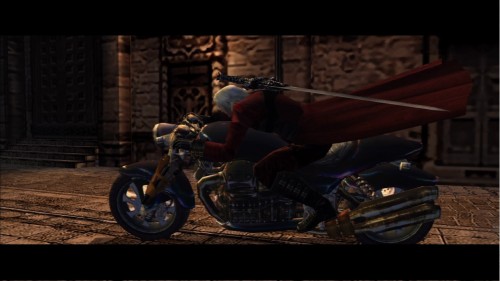 You can always count on the Internet to be very very right or very very wrong. Well score one for the Internet this go around, because the long-rumored high-definition collection for one of Capcom's brilliant action series, Devil May Cry, is being prepped for a circa 2012 release. Officially announced, the all-in-one package will feature the upgraded widescreen versions of Devil May Cry 1, Devil May Cry 2, and Devil May Cry 3: Special Edition.
Created by Hideki Kamiya, the same mad scientist who birthed the Resident Evil series (actually, the first Devil May Cry started off as a sequel to a Resident Evil game, The More You Know! ===*), the Devil May Cry series brought forth a new sub-genre of stylish, hyper-fueled action games where many imitators emerged but none would come close or surpass the greatness that was DMC's unique, wonderfully implemented fighting system.
Not to mention that DMC's titular hero, Dante, has become a gaming superstar himself, appearing in other Capcom games, and even becoming a full-fledged combatant in Marvel vs. Capcom 3. And for $39.99, the price of the HD collection that Capcom has already set, you'll be able to experience the three games that put the demon-hunting rocker in the spotlight which are being given the next gen polish.
It's November — the weather is getting colder and the days shorter, meaning that you'll probably be spending time more indoors than out. Thankfully this month is going to be non-stop content for the PlayStation 3, with new exciting releases both retail (why hello there Heavy Rain Director's Cut) and digitally on the PlayStation Network. So keep your eyes and ears pinned for that sweet stuff, okay? Good.
Via: Gamespot