PlayStation Network Releases: September 6th, BloodRayne Betrayal, God of War: Origins Collection Demo
BloodRayne Betrayal, a God of War: Origins Collection demo, and the lovely rest in this week's releases for the PlayStation Network, the week of September 6th.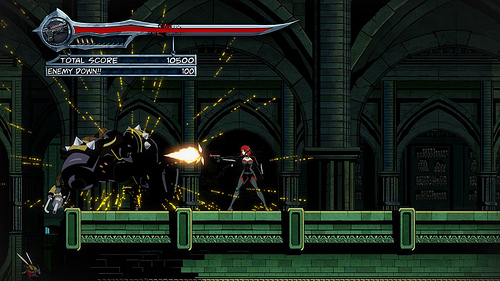 Surprisingly to say, BloodRayne Betrayal, one of this week's new downloadable games on the PlayStation Network is gosh drat worth playing! Actually, it's pretty darn good considering what movie director Uwe Boll has done to nose dive the BloodRayne license into a volcano of suck with his live-action movie adaptations.
Not having Mr. Boll directing, of course, probably does quite a bit to avoid such a horrid fate. Instead, BloodRayne Betrayal has industry pros WayForward Industries as its creative spirit – and what we get in return is a sweet fast combo-driven digital title that could be easily mistaken as a 2D side-scroller version of Platinum Games' Bayonetta.
Hint: That's a good thing.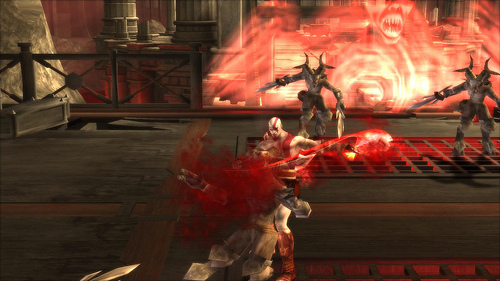 There'll be a demo of BloodRayne Betrayal up also on the PlayStation Store so you can wisely try before you buy. You might also want to do the same for the God of War: Origins Collection that will be on the heels of a North American release on September 13th for the PlayStation 3.
Inside the collection are two remastered high-definition ports of God of War: Chains of Olympus & God of War: Ghost of Sparta from the PlayStation Portable. They'll also receive Stereoscopic 3D support, slight tweaks to the graphics department, and Trophies – wonderful, wonderful Trophies.

Ah, one last reminder folks! With the 2011 NFL season getting ready for kick off this week, so does DirectTV's NFL Sunday Ticket — launching as we speak on the PlayStation 3's dashboard under the TV/Video Services category. The service is free of charge to all DirectTV subscribers & allows them to live stream every Sunday NFL game, plus access highlights, stats, standings, and team schedules.
PlayStation 3
Updates
Blazblue: Calamity Trigger Portable Digital – Public Release – Price Change (PSP) (now $9.99, original price $24.99)
Gladiator Begins Digital – Price Change (PSP) (now $9.99, original price $34.99)
Guilty Gear XX Accent Core Plus Legacy – Price Change (PSP) (now $9.99, original price $19.99)
Carnivores: Dinosaur Hunter – Minis – Sale (PS3/PSP) (now $1.99, original price $3.99)
Games
BloodRayne Betrayal ($14.99/$11.99 for PlayStation Plus subscribers)
Rugby 2011 ($49.99)
Skydrift ($14.99)
Game Demos
BloodRayne Betrayal
God of War Origins
Rugby 2011
Supremacy MMA
Skydrift
Add-ons
Resistance 3 Online Pass ($9.99)
Street Fighter III: Third Strike Online Edition Character Color Pack 1 ($2.99)
LittleBigPlanet 2 World Peace Day Costume (1 week offer) (Free)
Battlefield Bad Company 2 – Add-On Bundle ($29.99)
Dynasty Warriors Gundam 3 – Mobile Suit Pack 4 ($5.99)
Warhammer 40,000: Space Marine – Blood Raven's Armour Pack ($0.99)
Rock Band Network v2.0
"Eden" – TesseracT ($1.99)
"Expert Mode" – LeetStreet Boys ($0.99)
"Midnight Eyes (RB3 Version)" – Rose of Jericho ($0.99)
"Morte Et Dabo" – Asking Alexandria ($1.99)
"Piano Sonata No. 11 – Ronda Alla Turca (Mozart)" – Thomas Walker ($0.99)
Videos (Free)
Pulse 9/6 Edition
inFAMOUS 2 Festival of Blood Teaser Trailer
UNCHARTED Greatest Hits Dual Pack Trailer
PlayStation 3 Wireless Stereo Headset Video
Rage – Uprising Trailer
Skydrift Debut Trailer
Need For Speed The Run: Buried Alive
Need For Speed The Run: Limited Edition Trailer
Need For Speed The Run: Run For The Hills Trailer
NHL 12 – Ea Sports NHL 12 Demo Video
NHL 12 – Ea Sports NHL 12 Trailer
The Baconing – Opening Cinematic Trailer
The Baconing Character Trailer
L.A. Noire – Reefer Madness Trailer
L.A.Noire – Launch Trailer
Anarchy Reigns Gamemode Trailer #1
Sonic Generations Gamescom/Pax Trailer
PS3 Themes
Castlevania Lords Of Shadow Lycan Theme ($1.99)
Castlevania Lords Of Shadow Vampire Theme ($1.99)
Lion Dynamic Theme ($2.99)
Bane Of Yoto Dynamic Theme ($2.99)
Campfire Dynamic Theme ($2.99)
PlayStation Portable
PSP minis
Alpha Mission ($2.99)
Doodle Fit Minis ($1.99)
The Impossible Game ($2.99)
T.N.K. III ($2.99)
Vanguard II ($2.99)
PlayStation Plus
Free Games
Plants vs. Zombies
Astro Tripper
Altered Beast
Bashi Blocks (Minis)
Jet Moto (PS One Classics)
Exclusive Demo
God of War: Origins Collection Demo
PSN PLAY Discounts
Street Fighter III Third Strike: Online Edition, $11.99
The Baconing, $11.99
BloodRayne: Betrayal, $11.99
Renegade Ops, $11.99
Discounts
Alpha Mission – Minis – 20% off
T.N.K. Iii – Minis – 20% off
The Impossible Game – 25% off
Vanguard Ii – Minis – 20% off
Armageddon Riders – 40% off
Battlefield Bad Company 2 Add On Bundle – 30% off Sale Price
Free Avatars
Armageddon Rider – Armageddon Rider Avatar
Armageddon Rider -Collider Zombie Avatar
Armageddon Rider – Fast and Deadly Avatar
Free Theme
Plus exclusive Clouds Dynamic Theme
Via: PlayStation Blog