Japanese Vita Launch Includes Uncharted, Ultimate Marvel vs. Capcom 3, Ridge Racer
Find out the 26 games that will retail with the debut of the PlayStation Vita in Japan.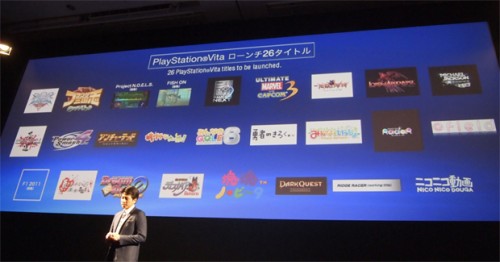 Tis' the season to be jolly in Japan, because as we've recently learned from the Tokyo Game Show, the PlayStation Vita has just been marked down for a December 17th release there with 26 games promised to be available alongside Sony's new handheld out of the starting gate.
Skimming briefly through the list below though, it's sort of surprising that Uncharted: Golden Abyss made the cut of day-one titles in Japan. Kind of weird to see a game of that type, heavy in foreign influences and not a single pop idol in sight, releasing there first, but hey, if it spreads the virtues of the Uncharted franchise to our neighbors to the east, then by all means.
Naturally, the rest of the Japanese launch games for the PlayStation Vita are your standard native fair: a sushi platter offering your typical Dynasty Warriors, Ridge Racer, and the indeterminable Japanese releases that have yet to be fully detailed.
BlazBlue: Continuum Shift II Plus
Browser Sangokushi Touch Battle
Project N.O.E.L.S.
Fish On
Dynasty Warriors Musou Next
Shinobido II
Power Smash 4 (Virtual Tennis 4)
Uncharted: Golden Abyss
Hot Shots Golf 6
F1 2011
Dream Club
Disgaea 3: Return
Katamari no Biita
Shin Kamaitacho no Yoru
Ultimate Marvel vs. Capcom 3
Yuusha no Kiroku
Dark Quest
Lord of the Apocalypse
Michael Jackson Experience HD
NicoNico Douga
Sawari Makuuru
Ridge Racer
Monster Radar
@field
Minna to Issho: Friend Network
Army Corps of Hell
I'm pretty sure there's a good chance that a reasonable bunch of these games will travel across the Pacific for the North American & European release of the Vita. So whether you really want to pull the trigger and import the jack-of-all trades portable is clearly up to your patience and the size of your wallet. Knowing the amount of sweet games that are coming out at the end of the year for the PlayStation 3 — that's one decision you must not take likely.
Via: ZDNet