Uncharted Greatest Hits DualPack On Sale September 6th
Uncharted: Drake's Fortune, meet Uncharted 2: Among Thieves. Because on September 6th, Sony is putting both games together in the Uncharted Greatest Hits Dual Pack.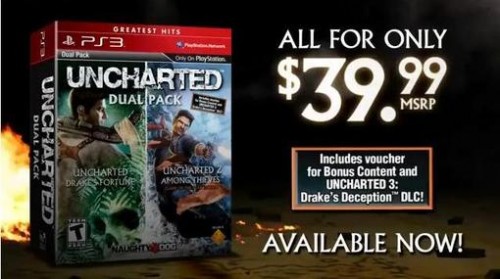 Two years. From 2007 with Uncharted: Drake's Fortune and 2009 with Uncharted: Among Thieves. That's the amount of time it took the Uncharted series to become a top dog property among gamers in the know. Notching on studio Naughty Dog's belt, a closet full of critics' awards and over nearly 8 million copies sold across the globe.
But despite all that glowing notoriety, shockingly they're still some people out there that have yet to catch the awesome-train that is Uncharted's 1 or 2. Implausible, I know, I know. I nearly mouth-sprayed my juice box at my laptop screen when I heard of this, yet the honest truth it is.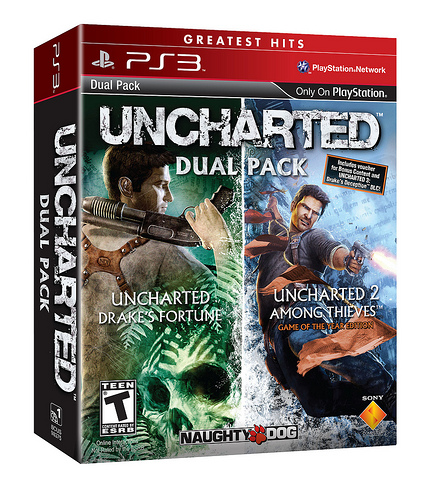 It's a good thing then that come this September 6th (which is quickly approaching upon us dear readers,) Sony is allowing those who missed out on Nathan Drake's first two adventures to buy both in one fantastic money-saving swoop called the Uncharted Greatest Hits Dual Pack. A $39.99 bundle including Uncharted: Drake's Fortune and Uncharted 2: Among Thieves.
And if that's still not enough bait to bite on this sweet deal, well, Sony's also throwing in for good measure all the downloadable content that was apart of the Uncharted 2 Game of the Year Edition and two DLC extras from November's Uncharted 3: Drake's Deception – an Uncharted 3 PSN avatar & PS3 Dynamic Theme.
So to recap: that's two Uncharted games, loads of DLC, all for $40 bucks. Really, what more do you need? A weasel that skateboards and hands out free bags of Skittles?! Actually… that might not be bad either, but then Sony has given us plenty already – what with the recent PlayStation 3 price drop at Gamescom. Maybe next time.
Via: G4tv