PlayStation Network Releases: September 13th, Renegade Ops, From Dust
Sega's Renegade Ops & Ubisoft's From Dust — ready for your gaming needs on the September 13th update of the PlayStation Network.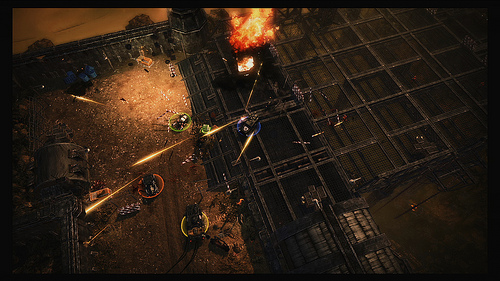 Just because Tokyo Game Show 2011 is going on and attention spans are center focused on that, doesn't mean we haven't forgot about what's hot and fresh on the PlayStation Network this week. We have two particular gems that are certainly worth your time, and possibly money, so let's get right to them shall we!
As the PlayStation Network PLAY event draws to a close, much like the summer weather around the country, it does so with Sega's Renegade Ops, a top-down vehicular combat game from Avalanche Studios (hey, the guys who did Just Cause.) Specifically where it's at for this digital-download is it's 4 player co-operative play that gives players tons of different weapons and automobiles to do battle in.
There's also a single player campaign in case you're wondering (offline two-player split screen as well) that is a blast to play! No seriously, a lot of blasts from what I can tell from images and videos.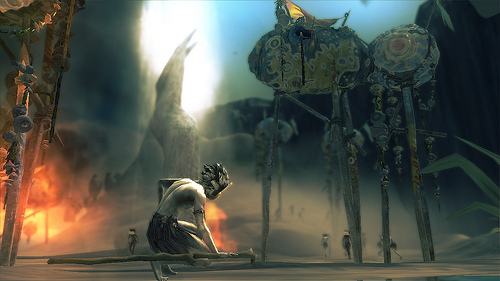 A long time ago, which isn't so long ago if you think about it, but this industry moves so fast that noteworthy items go by the wayside quickly, umm anyway… there were two exceptional games created by two now legendary game designers. Populous, developed by Peter Molyneux, and Out of This World, developed by Eric Chahi.
Today, and available now through the PlayStation Store, we have one of those men trying their hand at making a spiritual successor to one particular aforementioned title. In this scenario, it's Eric Chahi with Ubisoft's From Dust, a truly unique god game that takes its inspirational cues from Peter Molyneux's Populous.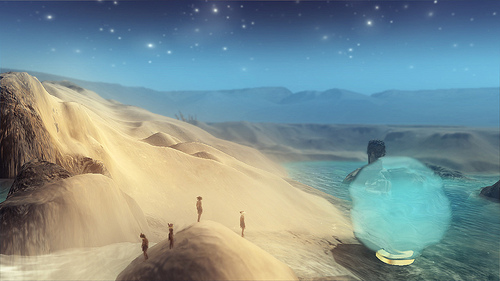 From Dust, like many god games, places players in the role of controlling the world, strategically, on a large scale. Where in lies the wrinkle though in this game, is that instead of controlling people — you control environmental elements of soil, lava and water in an effort to save, and enlighten, a nomadic tribe. All in real time, and all with interesting combinations that greatly effect the world and the tribes people that live on it.
What I find quite alluring about From Dust are it's visuals. Something about it's primitive-man like themes mixed with bright colorful splashes of scenery, really pop out. And with a time-killer of genre that are god games, that's certainly a plus when you'll be staring at a them for such a long period.
Both Renegade Ops & From Dust receive 20% discounts this week if you are a PlayStation Plus subscriber, you lucky dog you! As always, try before you buy and well see you next week!
PlayStation Plus
Free PSP minis
Full Game Trails
BulletStorm
God of War: Chains of Olympus
God of War: Ghost of Sparta
Exclusive Games
God of War: Chains of Olympus
God of War: Ghost of Sparta
PSN PLAY Discounts
Street Fighter III Third Strike: Online Edition, $11.99
The Baconing, $11.99
BloodRayne: Betrayal, $11.99
Renegade Ops, $11.99
Discounts & Sales Offers
MotorStorm Apocalypse Premiere Pack Bundle – 30% off
Star Wars: The Force Unleashed Apprentice Mission Pack – 50% Off
Star Wars: The Force Unleashed Character Pack 1 – 50% Off
Star Wars: The Force Unleashed Character Pack 2 – 50% Off
Star Wars: The Force Unleashed Hoth Mission – 50% Off
Star Wars: The Force Unleashed Tatooine Mission Pack – 50% Off
Section 8: Prejudice: Frontier Colonies Map Pack – 50% Off
From Dust – 20% Off
Superstars V8 Racing – 70% Off Sale Price (1 Week)
Hamsterball – 20% Off Sale Price
Star Wars The Clone Wars: Republic Heroes PSP – 50% Off Sale Price (1 Week)
Star Wars: Battlefront II (PSP) – 50% Off Sale Price (1 Week)
Star Wars: Battlefront Renegade Squadron (PSP) – 50% Off Sale Price (1 Week)
·        Star Wars: The Force Unleashed PSP – 50% Off Sale Price (1 Week)
Free Avatar (One Week Only)
Armageddon Rider – Hot Rod Avatar
Armageddon Rider – Logo 1 Avatar
Free Video
God of War: Game Directors Live
PlayStation 3
Updates
Star Wars: The Force Unleashed Character Pack 1 – Sale (PS3) (now $2.49, original price $4.99)
Star Wars: The Force Unleashed Character Pack 2 – Sale (PS3) (now $2.49, original price $4.99)
Star Wars: The Force Unleashed Hoth Mission Pack – Sale (PS3) (now $4.99, original price $9.99)
Star Wars: The Force Unleashed Apprentice Mission Pack – Sale (PS3) (now $4.99, original price $9.99)
Star Wars: The Force Unleashed Tatooine Mission Pack – Sale (PS3) (now $4.99, original price $9.99)
Superstars V8 Racing – Sale (PS3) (now $7.49, original price $9.99)
Hamsterball – Sale (PS3) (now $4.99, original price $9.99)
Shin Megami Tensei: Persona Digital – Sale (PS3) (now $19.99, original price $39.99)
Shin Megami Tensei: Persona 3 Portable Digital – Sale (PS3) (now $19.99, original price $39.99)
Indiana Jones And The Staff Of Kings Legacy – Price Change (PS3) (now $9.99, original price $19.99)
Lego Star Wars III: The Clone Wars – Digital – Price Change (PS3) (now $19.99, original price $29.99)
Star Wars: Battlefront II Legacy – Price Change (PS3) (now $4.99, original price $19.99)
Star Wars: Battlefront Renegade Squadron Legacy – Price Change (PS3) (now $4.99, original price $19.99)
Star Wars: Battlefront: Elite Squadron – Digital – Price Change (PS3) (now $19.99, original price $29.99)
Star Wars: The Clone Wars: Republic Heroes Digital – Price Change (PS3) (now $4.99, original price $29.99)
Star Wars: The Force Unleashed Legacy – Price Change (PS3) (now $4.99, original price $19.99)
Thrillville: Off The Rails Legacy – Price Change (PS3) (now $9.99, original price $19.99)
Alien Zombie Death – Price Change (PS3) (now $0.99, original price $3.99)
Voodoo Dice – Price Change (PS3) (now $4.99, original price $9.99)
Games
God Of War: Origins ($39.99)
Renegade Ops ($14.99/$11.99 for PlayStation Plus subscribers)
From Dust ($14.99/$11.99 for PlayStation Plus subscribers)
Ferrari – The Race Experience ($14.99)
Bulletstorm – Digital Download ($39.99)
Elemental Monster Online Card Game ($0.99)
PS One Classics
Cyberbots: Fullmetal Madness ($5.99)
Pong ($5.99)
Game Demos
Renegade Ops Demo
FIFA Soccer 12 Demo
Pro Evolution Soccer 2012 Demo 1
Red Johnson's Chronicles Demo
Ace Combat Assault Horizon Demo
From Dust Demo
Exclusive Video Content
God of War: Game Directors Live Part 1 & 2 ($5.99)
Add-ons
White Knight Chronicles 2 (x26) ($0.99 – $4.99)
Elemental Monster Online Card Game: Booster Box (x7) ($4.99)
No  More  Heroes:  Heroes'  Paradise  Bundle  2 ($1.49)
No More Heroes: Heroes' Paradise add ons (x3) ($0.99)
Dynasty Warriors Gundam 3: Mobile Suit Pack 5 ($5.99)
Dynasty Warriors 7 – Original Costume Pack 4 ($4.99)
Dynasty Warriors 7 – Stage Pack 3 ($3.99)
Dynasty Warriors 7 – Weapon Rank Pack 2 ($1.99)
Dynasty Warriors 7 BGM Pack ($2.99)
Section 8: Prejudice: Frontier Colonies Map Pack ($3.99)
Might And Magic Clash of Heroes – I Am The Boss DLC ($2.99)
MotorStorm Apocalypse Premiere Pack Bundle ($1.49)
LittleBigPlanet 2 Move Pack ($9.99)
Red Dead Redemption Myths And Mavericks Bonus Pack (Free)
Magic  The  Gathering: Duels Of The Planeswalkers 2012: Expansion ($4.99)
Rock Band 3
"Island In The Sun" – Weezer ($1.99)
"Me And Bobby Mcgee" – Janis Joplin & the Full Tilt Boogie Band ($1.99)
"Perfect Situation" – Weezer ($1.99)
"Hash Pipe" – Weezer ($1.99)
Weezer Artist pack ($5.49) – Includes "Hash Pipe", "Island in the Sun", and "Perfect Situation"
Rock Band Network v2.0
Arctica" – Amberian Dawn ($1.99)
"Empire" – Jukebox the Ghost ($1.99)
"Fallen Into You" – Kings Queens & Fairytales ($1.99)
"The Stars" – Jukebox the Ghost ($1.99)
"Audience And Audio" – Twin Atlantic ($0.99)
Rock Band Weekly
Videos (Free)
Battlefield 3 Operation Caspian Border Gameplay Trailer
Fifa Soccer 12 – Gamescom Trailer
The Baconing Launch Trailer
Elemental Monster Online Card Game Trailer
Elemental Monster Online Card Game Trailer 2
L.A. Noire – Nicholson Electroplating Trailer
L.A.Noire – Gameplay Trailer 3
L.A.Noire – Rockstar Pass Trailer
Deus Ex: Human Revolution Launch Trailer
UFC Undisputed 2012: Combat Trailer
Everybody Dance Features Trailer
PS3 Themes
Call Of Duty: Black Ops Call Of The Dead Theme
Call Of Duty: Black Ops Shangri La Theme
Nuke Test Dynamic Theme
NHL Dynamic Themes x30
Atomic Age: Monkey Dynamic Theme
Atomic Age: Robot Dynamic Theme
Atomic Age: Martini Man Dynamic Theme
My Pet Zombie Dynamic Theme
City Angel Static Theme
Avatars
Rocket Knight Avatar Collection 1 ($2.99)
Section 8: Prejudice – Premium Avatar Pack ($1.49)
Section 8: Prejudice: Army Of One Avatar ($0.49)
Section 8: Prejudice: Free Fall Avatar ($0.49)
Section 8: Prejudice: Hammer Down Avatar ($0.49)
Section 8: Prejudice: Mech Storm Avatar ($0.49)
Section 8: Prejudice: USIF Emblem Avatar ($0.49)
PlayStation Portable
PSP minis
Arcade Essentials Evolution Minis ($4.99)
Games

Fading Shadows Digital ($9.99)
Via: PlayStation Blog