Watch 20 Minutes Of Footage From 'The Elder Scrolls V: Skyrim'
Like the title describes, it's 20 awesome minutes of the upcoming action RPG from Bethesda Game Studios.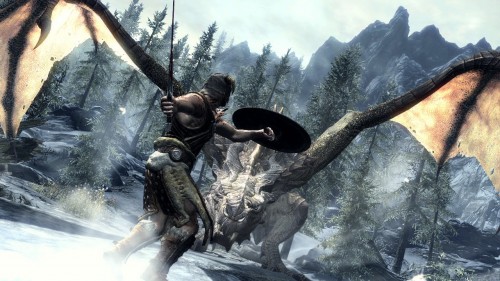 Attention all ye would be dragon slayers about to embark on the Bethesda Game Studios quest that is The Elder Scrolls V: Skyrim – I bring you a 20 minute sneak preview of this late fall season's must-have action role-playing game, hosted by influential gaming industry vet, Director Todd Howard.
The free-world frame that allows players to discover the rather expansive landscape of cities, towns, wilderness and mountain ranges, on their own pace in previous Elder Scrolls games is at remarkable heights in Skyrim. A world so huge and beautiful around every valley and river's bend, that it truly defines what this long-running PC series (recently turned multiplatform) represents.
Although rather then silly ole' me going off at the pie-hole at how impressive the world of Skyrim is, how about someone who really knows the in's and out's of this game — oh say, Todd Howard himself — in these handy YouTube videos, brought to you by Bethesda Softworks and cut up into three parts.
If you're biting at the heels for some The Elder Scrolls V: Skyrim action, you've got it right here below. And if your new to The Elder Scrolls medium, then take this opportunity as a sampling to see if you're interested in what the game has to offer.
Don't forget that the Tokyo Game Show 2011 is upon us and Sony will be having many wonderful goodies for show attendees and gamers across the globe. Hit the links provided to find out the details!
Via: Joystiq