PlayStation Network Releases: September 20th, Firmware Update 3.72, Resident Evil 4
Resident Evil 4 and lots more (including a wimpy firmware update) in this week's releases for the PlayStation Network, September 20, 2011.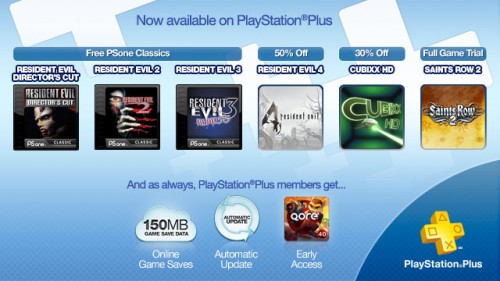 About a month after the last firmware update, which integrated automatic download, trophy sync, and cloud save uploads to the PlayStation 3 ecosystem, comes fancy new update 3.72. But hold on to your cyber-horses — this firmware revision adds nothing and is just a measly system calibration by Sony. So yeah… nothing else to see here…
Now back to our regularly scheduled PlayStation Network Releases!
This week we welcome, as part of this survival-horror action series' 15th anniversary celebration, a special title that is consider a true videogame masterpiece that helped change the 3rd-person shooter landscape. Directed by Shinji Mikami, considered a gaming luminary in his own right — it's one of 2005's best games of the year, Resident Evil 4.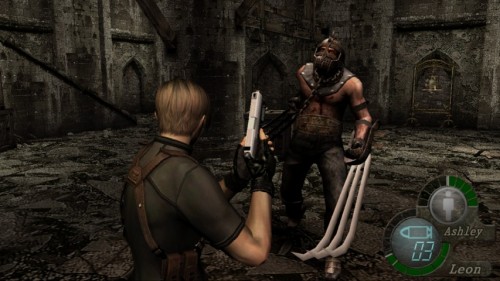 Available as a downloadable via the PlayStation Store for $19.99US, the Resident Evil Revival Selection version of Resident Evil 4 includes updated high-def graphics, the bonus content such as the Separate Ways scenario, and trophy support. Beyond that though, nothing else has been altered in-game — preserving this Capcom classic in all its glory. Can I get a, yo diggity! Yo diggity!
For PlayStation Plus subscribers it seems this week will be the best opportunity to get your Umbrella Corporation defeating funk on, with all three previous Resident Evil outings, Resident Evil Director's Cut, Resident Evil 2, and Resident Evil 3: Nemesis for free! That's a deal no one should pass up, and neither should you. Now where's that Resident Evil 6… nothing about it was reported from Tokyo Game Show 2011, just more news about the PlayStation Vita. I guess that's better then nothing, I suppose.
PlayStation Plus
Free PS one Classics
Resident Evil Director's Cut
Resident Evil 2
Resident Evil 3: Nemesis
Full Game Trials
Discounted PlayStation 3 Games
Cubixx HD – 30% off
Resident Evil 4 – 50% off
Discounted Add-Ons
Saint's Row II: Corporate Warfare
Saint's Row II: ULTOR Exposed
Free Avatars
Armageddon Rider – Logo 2 Avatar
Armageddon Rider – Zombiemower Avatar
Resident Evil 4 Ada Avatar
Resident Evil 4 Ashley in White Top Avatar
Resident Evil 4 Leon Kennedy Avatar
Resident Evil 4 Luis Avatar
Resident Evil 4 Saddler (Hooded) Avatar
PlayStation 3
New Games
Resident Evil 4, the gold standard of the survival horror genre, finally arrives on the PlayStation Store! Guide special agent Leon Kennedy on his quest to rescue the president's daughter as a village of infected attack you from all sides! Download today and receive 5 free Resident Evil 4 avatars as an added bonus (offer valid until October 4, 2011).

ESRB rated M

File size 3.25 GB
Cubixx HD is a fast paced action puzzle game which sends high scoring, combo chasing gameplay to the third dimension! Play through the epic 50 level arcade mode, challenge your skills to the limit in 50 challenges or take on the world in over 150 online leaderboards! If that isn't enough you can join forces with friends in the 7 player co-op or destroy each other in the 7 player Deathmatch!

ESRB rated E

File size 164 MB
Fifteen years have passed since your former Saints crew betrayed you. As you awake from a coma, you find the Stilwater you once ruled is in disarray. Unfamiliar gangs have laid claim to your territory, rival factions have taken over your rackets, and cash-hungry corporations have laid waste to your once proud 3rd Street home. Now is the time to seek revenge against rivals to reestablish your crew as the rightful kings of Stilwater.

ESRB rated M

File size 7 GB
Unleash your sonic bark and take on the heroic personas of Bolt and Penny from the high-action television series within Walt Disney Pictures Bolt.

ESRB rated E10+

File size 4.96 GB
Criterion Games brings back the much loved Crash Mode in the latest installment of the award winning Burnout franchise! Go on the wildest Road Trip of your life; causing huge pile-ups, blowing up buildings and unleashing disastrous Super Features! Use Autolog to compete with and challenge your friends! Anyone can crash, but can you do it in style?

ESRB rated E10+

File size 1.03 GB
"Rise from your grave!" When Zeus, the legendary Greek god, brings you back to life with those famous words, you set forth on a mission to rescue his daughter, Athena, from the wicked God of the Underworld, Hades. Using the Spirit Balls, transform into Werewolf, Weredragon, Werebear, Weretiger, and the ultimate form, the Golden Werewolf. Each creature possesses powerful attacks that are required to bring an end to Hade's scheme.

ESRB rated E10+

File size 35 MB
Game Demos

Add-on Game Content
Fallout: New Vegas – Lonesome Road ($9.99)
Street Fighter III: Third Strike Online Edition Unlock Gill ($0.99)
F1 2011: Vip Pass ($9.99)
Skydrift: Extreme Fighters Premium Airplane Pack ($1.49)
The Baconing – Roesha ($0.99)
Disgaea 4 – Hi-Res Asagi (Free)
Rock Band 3
"All Apologies" – Nirvana ($1.99)
"Heart-Shaped Box" – Nirvana ($1.99)
"Rape Me" – Nirvana ($1.99)
"You Know You're Right" – Nirvana ($1.99)
Nirvana Artist pack ($6.99) – Includes "All Apologies," "Heart-Shaped Box," "Rape Me," and "You Know You're Right."

File size: 17-21 MB (Singles), 81 MB (Track pack)
Rock Band Network v2.0
"Be Careful What You Wish For" – Memphis May Fire ($1.99)
"Dawn Of The Condoms" – Ultra Saturday ($0.99)
"Megalodon" – Mastodon ($1.99)
"The Difference Between Medicine And Poison Is In The Dose" – Circa Survive ($1.99)

File size: 21-34 MB (Singles)
Updates
Saints Row 2: Ultor Exposed – Sale (PS3) (now $6.99, original price $9.99)
Saints Row 2: Corporate Warfare – Sale (PS3) (now $4.99, original price $6.99)
Mass Effect 2 – Sale (PS3) (now $39.99, original price $59.99)
StarDrone – Sale (PS3) (now $4.99, original price $7.99)
5-In-1 Arcade Hits – Sale (PS3/PSP) (now $1.49, original price $3.99)
Blimp: The Flying Adventures – Sale (PS3/PSP) (now $1.49, original price $1.99)
MiniSquadron – Sale (PS3/PSP) (now $1.49, original price $1.99)
Hammerin' Hero – Sale (PSP) (now $9.99, original price $19.99)
R-Type Command – Sale (PSP) (now $7.49, original price $14.99)
Resident Evil Director's Cut – Sale (PS3/PSP) (now $4.99, original price $9.99)
Resident Evil 2 – Sale (PS3/PSP) (now $2.99, original price $5.99)
Resident Evil 3: Nemesis – Sale (PS3/PSP) (now $2.99, original price $5.99)
Steambot Chronicles Battle Tournament Digital – Sale (PSP) (now $7.49, original price $14.99)
Game Videos
Pulse 9/20 Edition
UNCHARTED 3: Drake's Deception Gamescom Trailer
Ratchet & Clank: All 4 One Weapon Series 1
Ratchet & Clank: All 4 One Weapon Series 2
PixelJunk SideScroller Gameplay Video
Nba 2K12 – Nba's Greatest Trailer
Supremacy MMA Fight Trailer
Supremacy MMA Killer Moves Trailer
Disney Universe Lion King Trailer
Burnout Crash! Trailer
Mass Effect 3 Squad Leader Trailer
NBA Jam On Fire Edition 1St Look Sizzle Trailer
NBA Jam On Fire Edition Producer Video
Galaga Legions Dx Special Trailer
Soulcalibur V – Comic-Con Trailer
Atelier Totori Trailer 01
Disgaea 4 Trailer
Eufloria Trailer
Renegade Ops Launch Trailer
Driver San Francisco Car Reveal Trailer
Driver San Francisco Demo Trailer
Driver San Francisco Don't Blink And Drive Trailer
Soulcalibur V – Gamescom 2011 Trailer
PlayStation 3 Themes
4 Elements Hd: Theme 1 (Free)
Street Fighter 3: Third Strike Online Edition Theme ($0.99)
Dream Girlfriends Static Theme ($1.49)
P90 Premium Theme ($2.99)
Ant's Ruin Picnics Dynamic Theme ($2.99)
NCAA Dynamic Themes x13 (all except for U of Michigan) ($2.99)
Abstract: Dancer Dynamic Theme ($1.99)
Sci Fi: Alien Invasion Dynamic Theme ($2.99)
PlayStation 3 Wallpapers
4 Elements HD Wallpaper 4
4 Elements HD Wallpaper 1
PlayStation Portable
New Games
Shin Megami Tensei: Persona 2: Innocent Sin Digital ($39.99)
Rumor becomes reality… In Sumaru City, strange things are afoot, and idle gossip is having a concrete effect on reality. The mysterious Joker seems to be at the center of it all, but to what end? Delve into the web of rumors slowly encompassing the city before the madness becomes irreversible.

ESRB rated T

File size 906 MB
PSP minis
Develop your telekinetic strength by pushing a Cube within a geometric universe. Platforms, enigmas and reflexes combine to make Edge a rich and very comprehensive game.

File size 21.5 MB
Game Videos
PSP Themes
3D Blue Plasma PSP Theme ($1.99)
P90 PSP Theme ($1.99)
M21 PSP Theme ($1.99)
Vector PSP Theme ($1.99)
Via: PlayStation Blog