Assassin's Creed: Brotherhood DLC Is Exclusive & Free For The PlayStation 3
What is better than exclusive DLC for Assassin's Creed: Brotherhood on the PlayStation 3? How about exclusive "free" DLC for Assassin's Creed: Brotherhood entitled Copernicus Conspiracy.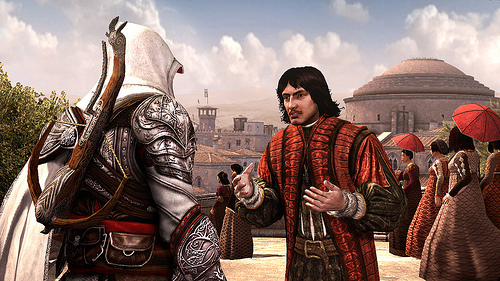 Assassin's Creed is a series that takes the best elements of the stealth, action, and sandbox genres and ties it together with a great historical representation. Both eras, the Crusades and the Renaissance, had an incredible amount of detail — from the architecture of the buildings, the sprawl of the landscapes, and the inhabiting people.
Honestly the team down at Ubisoft did a really superb job of – dare I say – immersing the player into a world of the past; an ancient world recreated so perfectly that the Assassin's Creed series certainly deserves the praise it gets.
On November 16, gamers will see a continuing of such splendid historical locals with the release of Assassin's Creed: Brotherhood. While still set in the Renaissance era, the game expands on the events that took place in Assassin's Creed 2, with protagonist Ezio reprising his role, and even adds in an exciting new multiplayer mode – a first for the series.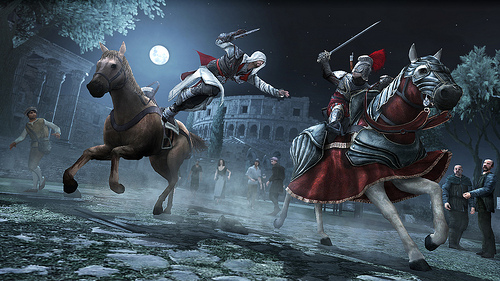 Even more of an interesting factoid, is that PlayStation 3 users will be receiving an awesome incentive to buy Assassin's Creed: Brotherhood with the word that launch-day downloadable content will be free and exclusive to the PlayStation 3 version of the hotly anticipated game.
This hasn't been the first time that a Ubisoft game gave the PlayStation 3 special preference when it came to free exclusive downloadable content. In Batman: Arkham Asylum, the game received the exclusive Joker DLC as a sweet piece of extra content to enjoy, and with the upcoming Assassin's Creed: Brotherhood, this downloadble content looks equally sweet. Oh and did I mention it was also free?
The exclusive downloadable content in Assassin's Creed: Brotherhood is called Copernicus Conspiracy (try saying that five times fast,) and is a robust single-player add-on. Focused on Nicolaus Copernicus, a great scientific mind from who theorized that our Planet was not the center of the universe, but instead the Sun was. (Wait, its not?)
Of course the ruling church isn't quite so happy with such a finding, what with the ole' mighty Catholic doctrine and such, so it up to you, as Ezio, to protect Copernicus from current threats to his life — i.e. assassinations.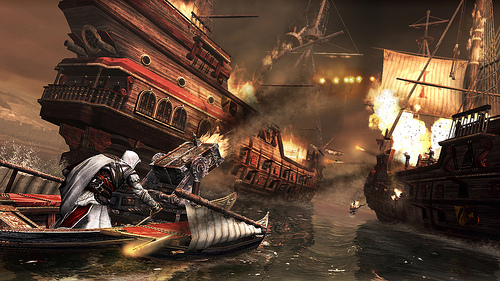 Sounds like a great way to test out your sneaky skills, and also very intriguing side story that I have no doubts will be awesome to play. Check it out when Assassin's Creed: Brotherhood drops November 16.
Whats the word on the street? Did you know that No More Heroes is coming exclusively to the PlayStation 3? Or how about the God of War Collection to the PlayStation Network? Click on those links and be knowledged, word.
Via: Gamespot