Twisted PS3 Game Controller Utilizes Biomimicry
Brad Steele, a product designer from Phoenix, Arizona has just proposed a concept for a PS3 game controller that utilizes fluid and articulate movement of the shoulders and wrists, instead of fingers. Called "Twisted" the proposed PS3 Game controller is elegantly designed and allows infinitely variable control. With a flick of the wrist, you can control your character and thus, you would be at a better position for winning or defending yourself from enemy combatants.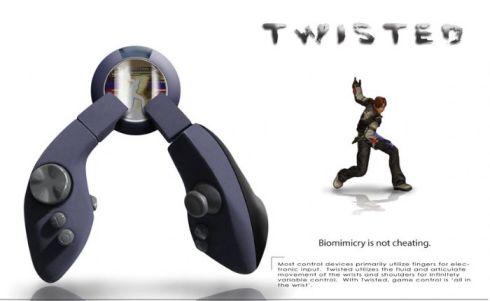 With a tagline that reads "Biomimicry is not cheating" the device certainly opens our minds to new and innovative ways to use game controllers. The idea is certainly cool and it would be great for fighting games where the wrist and shoulder based actions are far more important than precision depending actions which are required in other kinds of games. Twisted might just be the controller of our choice, only if it is manufactured and made available for the video game consumers.
Right now, it is just a concept and might take a while for it to be noticed by important video game accessory manufacturers. We have written about many other interesting controllers in the past as well. One of my favorites is the Transparent PS3 Controller, and the PS3 Black Cyclone Pro Stick 3 is one of the more evil looking controllers. The more innovative and ergonomic a controller is, the better is its chance to be a commercial success.