Resistance 3 E3 Trailer & Doomsday Edition Revealed
An E3 demo and a PlayStation Move bundle, what more could you want from the upcoming Resistance 3.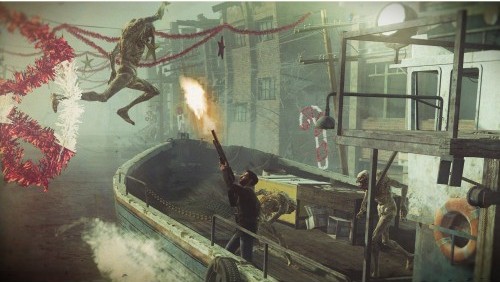 Uncharted 3 wasn't the only PlayStation exclusive that got a live showing during the Sony press conference at E3. The development team from Ratchet & Clank series creators Insomniac took the stage and demoed a action-pack portion of Resistance 3, that is coming soon to the PlayStation 3 in September.
The story of humanities fight against an overwhelming alien force (called the Chimeras) that has ravaged the Earth continues on in this fourth iteration of the Resistance series. But this time it's the last stand for series central protagonist Joseph Capelli, who is back again in Resistance 3 to eliminate the Chimeran menace once and for all.
As for gameplay, Resistance 3 is mixing a little old with new. First of all the weapon wheel from the first Resistance will be making its return, as well as old classic weapons, too … including the Bullseye, Magnum, Rossmore, Auger, Marksman and Carbine. With the new though, comes an interesting weapon creating feature that will allow players to forge for scraps and assemble what they find into weapons, like grenades etc.
Let's cut to the chase though and show some excellent footage of the game in action which was demoed at E3 recently.
Coming along rather nicely, don't you think? (The answer is yes.) And wonderfully so, you'll be able to experience Resistance 3 with the PlayStation Move motion controller just like with other PlayStation 3 exclusive first person shooters. Which also mean that there will be an awesome PlayStation Move bundle for the game when it comes out too.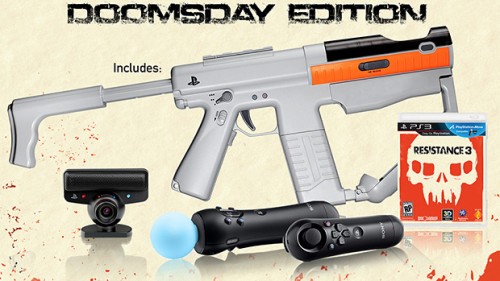 Announce as the Doomsday Edition, this special bundle will come with a copy of Resistance 3 from developer Insomniac, a PlayStation Move package (that has the PlayStation Eye, PlayStation Move controller, Navigation controller,) and the all so kick-ass PlayStation Move Sharpshooter attachment … everything you see here for the reasonable price of $150.
You'll be able to pick up the Resistance 3 Doomsday Edition on September 6 in North America, along with the standalone release of this awesome science fiction shooter.
Via: Amazon