PlayStation Network Releases, October 25th: PixelJunk SideScroller, inFamous 2: Festival Of Blood
It's the final week of October and we celebrate with the last two Only On PSN games, PixelJunk SideScroller & inFamous 2: Festival of Blood, in the October 25th, 2011 edition of the PlayStation Network Releases.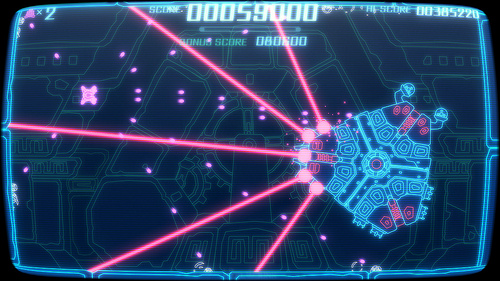 We sadly say goodbye this week to the Only On PSN campaign, which began this very October, with again two exclusive PlayStation Network titles, Q-Games' fantastic homage to arcade space-ship shooters, in the vein of Gradius and the like, PixelJunk SideScroller (we did a short preview of the game a long while back, check it out), and just in time to get into the spooky spirit of Halloween, a separate downloadable expansion to one of this year's best games for the PlayStation 3, inFamous 2: Festival of Blood.
A dark sinister force invades New Marais, inFamous 2's New Orleans-esque setting, and it's up to Cole MacGrath to defend his turf with a dangerous set of new powers — vampire powers. DUN, DUN, DUNNN! Right at the beginning of Festival of Blood, Cole gets bitten by a nasty blood-sucker and to save himself and the city from becoming the next vampire hot-spot, our hero must search out the head vampire (hint: he wears a red cape and a tux) and kill him/her/it. What? You thought maybe they would share a box of tasty-sweet beignets at the end of the game and talk the whole thing over? Heck no!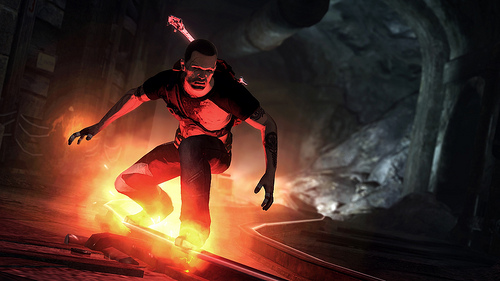 Festival of Blood is deeply darker all throughout, as evident by one of the first trailers showing Cole as a vampire violently sinking his fangs into an unsuspecting victim as spray of blood pours from the wound, and as such, brings a John Carpenter's Vampires feel to the inFamous franchise that includes new missions, grimly-themed environments, plus new character and enemies all for just $10. Nice. Probably one of the best pre-Halloween "trick or treat" goodies ever, so enjoy!
But it's not all hauntingly-themed trappings this PlayStation Network Releases go around, there's other new offerings like Daytona USA and a new demo for Sonic Generations to try. Don't forget also about the batch of downloadable content now available for Gran Turismo 5, which we wrote about here of course, that features new tracks, new cars, and new in-game options to dress-up your racing avatar.
PlayStation Plus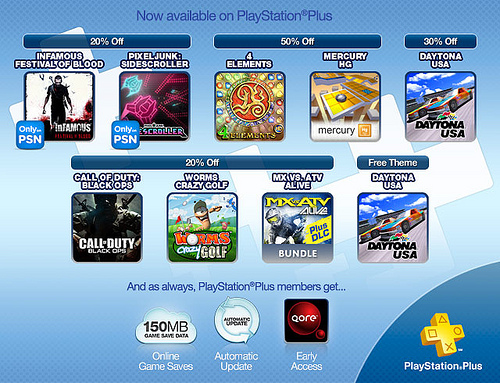 Free PSN Games and DLC
Dungeon Defenders DLC – 10/25
Full Game Trials
Homefront (Free)
MX vs. ATV (Free)
Exclusive Discounts
inFAMOUS: Festival of Blood – 20% off ($7.99)
PixelJunk SideScroller – 20% off ($7.99)
Call of Duty: Black Ops – 20% off ($39.99)
MX vs. ATV Game + DLC Bundle – 20% Off ($23.99)
4 Elements – 50% off ($5.00)
MercuryHg – 50% off ($2.50)
Daytona USA – 30% off ($6.99)
Worms Crazy Golf – 20% off ($7.99)
Gran Turismo 5 Complete Pack (Add-On) – 25% off ($8.99)
Themes
DAYTONA USA Theme (Dynamic Theme)
Worms Premium Theme (Free)
Avatars
Daytona USA Daytona Car 1 Avatar (Free)
Daytona USA Daytona Car 2 Avatar (Free)
Daytona USA Pixel Car 1 Avatar (Free)
Daytona USA Pixel Car 2 Avatar (Free)
Daytona USA Pixel Car 3 Avatar (Free)
PlayStation 3
Downloadable Games
inFAMOUS Festival of Blood ($9.99)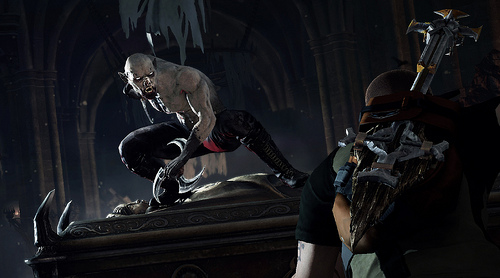 inFAMOUS Festival of Blood is a brand new single player game for download via PSN. Vampires swarm New Marais, and revered superhero Cole MacGrath has been bitten. Featuring hours of new gameplay, themed environment settings and new characters/enemies.
ESRB rated T
File size 3.02 GB
PixelJunk Sidescroller ($9.99)
The next chapter of the award-winning PixelJunk series brings a nostalgic retro vibe with PixelJunk SideScroller. Whether solo or local co-op, prepare to dodge flurries of alien bullets and battle your way through stages full of hazardous fluid and endless shooting mayhem.
ESRB rated E
File size 83 MB
Zombie Apocalypse: Never Die Alone ($9.99)
Four unlikely heroes find themselves caught in a fight for their lives when the Zombie Apocalypse hits their Canadian community. Banding together for both humor and survival – and armed with everything from guns to cricket bats – the four must find a way off the island… together.
ESRB rated M
File size 1.19 MB
Daytona USA ($9.99)

It's time to get revved up with Daytona USA! Based on the classic arcade title, Daytona USA features enhanced graphics, tracks for all skill levels, and the original hit soundtrack!
ESRB rated E
File size 225 MB
Worms Crazy Golf ($9.99)
Worms Crazy Golf is a hilarious mixture of the explosive action of Worms and the puzzle based challenges of crazy golf! All of the trademark Worms humor, comic violence, and cartoon visuals are present, combined with addictive yet accessible golf gameplay.
ESRB rated E10+
File size 393 MB
Call of Duty: Black Ops ($49.99)
Call of Duty: Black Ops takes you behind enemy lines as a member of an elite special forces unit engaging in covert warfare, classified operations, and explosive conflicts. Access to exclusive weaponry and equipment will tip the balance during the most dangerous time period mankind has ever known.
ESRB rated M
File size 18 GB
Homefront ($29.99)
2027. Join the Resistance and fight for freedom in this gripping, cinematic first-person shooter. Then battle online with up to 32 players in large scale vehicular warfare. Earn and spend Battle Points on a variety of destructive weapons – from drones to tanks.
ESRB rated M
File size 5.28 GB
MX Vs ATV Alive ($19.99)
Own the competition as you wrestle for position with tightly contested racing in the fifth iteration of the MX vs ATV franchise. Feel the realism of the revolutionary real-world physics engine which has defined the racing genre.
ESRB rated E
File size 4.63 GB
Game Demos
Resistance 3 Single-Player Demo, ESRB rated M, File size 1.28 GB
Grease Demo
This is Grease for the New Generation, inspired by the 50′s and danced by you! Shake out your hair, turn up your style and release your inner rock and roll party queen. With over 20 familiar songs to sing along to and all your favorite dance routines to learn, Grease combines the movie's timeless music and memorable choreography with the motion sensor technology to deliver the ultimate sing and dancing Grease ™ experience on PlayStation Move.
ESRB rated T
File size 369 MB
Zombie Apocalypse: Never Die Alone Demo, ESRB rated M, File size 1.19 GB
Sonic Generations Demo 2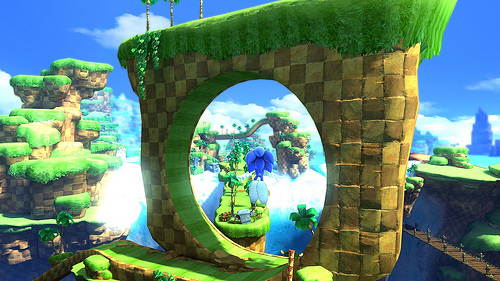 Download the demo to play Classic Sonic through all new, re-imagined 2D Green Hill and Modern Sonic in a completely different perspective of stunning 3D – the ultimate Sonic celebration!
ESRB rated E
File size 665 MB
Elevator Action Deluxe Demo, ESRB rated T, File size 450 MB
Akimi Village Demo
Get swept away to a mysterious, floating island in the sky in Akimi Village, a city-building game from NinjaBee! Help the tiny Akimi build their village and spread light to free their island from the grip of the Gloom's thick shadow. Put the cheerful villagers to work harvesting and refining resources. Unlock blueprints and piece together dozens of unique buildings! Purify the island, defeat the Gloom and build a beautiful living city!
ESRB rated E
File size 262 MB
Add-on Game Content
Disney Universe – Absolem Costume (Free) File size 1.63 MB
Disney Universe – Daisy Duck Costume (Free) File size 2.12 MB
Ratchet & Clank: All 4 One Online Pass ($9.99) File size 128 KB
Gran Turismo 5 Racing Gear Pack ($2.99)
Gran Turismo 5 Racing Car Pack ($7.99)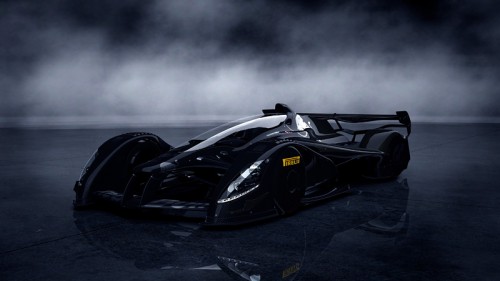 Expand your Gran Turismo 5 experience with the Racing Car Pack, featuring fifteen vehicles to race and master. Includes: -Red Bull X2011 prototype -11 modified Touring Car editions of fan favorite cars including the Honda CR-Z, Mazda RX-7, Mitsubishi Lancer Evolution X, Nissan GT-R R35, Subaru Impreza, and more -3 new racing karts.
Gran Turismo 5 Course Pack ($4.99)
Gran Turismo 5 Paint Pack ($1.99)
Gran Turismo 5 Complete Pack ($11.99)
LittleBigPlanet 2 Various Costumes (x5) ($1.99 – $5.99 each) File size 100KB – 110 KB
Dead Rising 2: Off The Record: Cyborg Skills Pack ($1.99) File size 8.87 MB
Street Fighter III: Online Edition Match Pack 2 (Evolution Tournament) ($3.99) File size 36 MB
Street Fighter III: Online Edition Music Pack 2 (Double Impact) ($1.99) File size 39 MB
Street Fighter III: Third Strike Online Edition – Music Pack 1 (New Generation) ($1.99) File size 29 MB
Ace Combat Assault Horizon Asf-X Shinden II ($7.99) File size 15 MB
Ace Combat Assault Horizon F-14D "Halloween Pumpkin" ($3.99)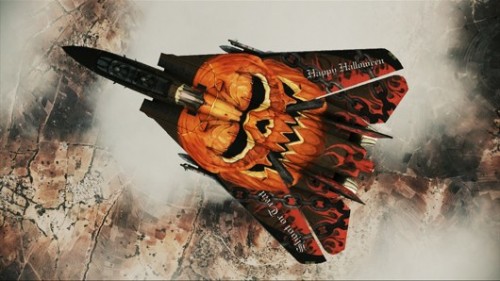 File size 15 MB
Ace Combat Assault Horizon F/A-18F "Red Devils" ($3.99) File size 15 MB
Ace Combat Assault Horizon: Compatibility Pack 2 (free) File size 3.62 MB
Dungeon Siege III – Treasures of The Sun ($9.99)
In Dungeon Siege III: Treasures of the Sun, you will travel beyond the borders of Ehb to the Aranoi desert where an all-new adventure awaits. In your quest for a lost Legion hero, you will, travel through new lands, encounter hordes of new enemies, and discover a forgotten abbey that contains a long-lost secret: the greatest treasure of the Azunite faith.
File size 523 MB
Elevator Action Deluxe Additional Character 1 (Free) File size 11 MB
Yoostar 2 – You Fight Like A Goddamn Ape ($1.99)
Rocky – Mickey laments Rocky's boxing, calls him a tomato and growls that he's not running a soup kitchen.
File size 46 MB
Rock Band 3
"I Believe In A Thing Called Love" – The Darkness ($1.99)
"Living Dead Girl" – Rob Zombie ($1.99)
"Super-Charger Heaven" – White Zombie ($1.99)
"Thunder Kiss '65" – White Zombie ($1.99)
File size: 19 MB – 26 MB (Singles)
Rock Band Network v2.0
"Caraphernelia" – Pierce the Veil ($1.99)
"Gymnopédie No. 1″ – Thomas Walker ($0.99)
"Moonlight Ride" – Free Spirit ($1.99)
"Very Busy People" – The Limousines ($1.99)
"Willow of Tears" – Amberian Dawn ($1.99)
File size: 2.99 MB – 40 MB (Singles)
Updates
Saints Row 2 – Ultor Exposed DLC – Sale PlayStation 3 (Now $6.99, original price $9.99)
Saints Row 2: Corporate Warfare – Sale (Now $4.99, original price $6.99)
Call Of Duty: Black Ops Digital – Sale (Now $49.99, original price $59.99)
Smash Cars – Sale (Now $7.49, original price $14.99)
Auditorium HD – Sale (Now $2.99, original price $9.99)
Avatars
Okabu – Bombbot Avatar ($0.49)
Okabu – Bushybeast Avatar ($0.49)
Okabu – Captain Monkfish Avatar ($0.49)
Okabu – Doza Avatar ($0.49)
Okabu – Kat Avatar ($0.49)
Okabu – Kudu Avatar ($0.49)
Okabu – Picolo Avatar ($0.49)
Okabu – Roki Avatar ($0.49)
Okabu – Uncle Monkfish Avatar ($0.49)
Okabu – Yorubo Avatar ($0.49)
Disgaea 4: Axel Avatar ($0.49)
Disgaea 4: Desco Avatar ($0.49)
Disgaea 4: Emizel Avatar ($0.49)
Disgaea 4: Fenrich Avatar ($0.49)
Disgaea 4: Flonne Avatar ($0.49)
Disgaea 4: Fuka Avatar ($0.49)
Disgaea 4: Valvatorez Avatar ($0.49)
Disgaea 4: Vulcanus Avatar ($0.49)
Saints Row The Third Logo And Genki Avatar Bundle ($2.99)
Saints Row The Third Saints And Sinners Avatar Bundle ($2.99)
Game Videos
The ICO & Shadow of the Colossus Collection Launch Trailer
The ICO & Shadow of the Colossus Collection Bonus Content Video
SOCOM 4: U.S. Navy SEALs Demolition Trailer
NBA 2K12 – New Controls Trailer
Dragon'S Dogma 3Rd Trailer
Need For Speed The Run On The Edge Trailer
Absolute Supercars Online And Ai Trailer
The Baconing – Roesha Trailer
Sonic Generations: Genesis Era Trailer
Payday: The Heist – Green Bridge Trailer
Deus Ex: Human Revolution – The Missing Link Launch Trailer
Saints Row The Third: The Wide World Of Genki Trailer
Tom Clancy'S Splinter Cell Classic Trilogy Hd Launch Trailer
Lego Harry Potter: Years 5-7 – Debut Trailer
Real Steel Promotional Video
Absolute Supercars Tracks Trailer
Sims 3 Pets Trevor Trailer
PS3 Themes
Halloween Dynamic Theme (Free)
Worms Arctic Explorer Dynamic Theme ($2.99)
Beat Hazard Ultra – Brutal Theme ($0.99)
Beat Hazard Ultra – Galactic Fire Theme ($0.99)
Beat Hazard Ultra – Ice Burn Theme ($0.99)
The Baconing Premium Theme ($1.99)
Worms Premium Theme ($1.49)
The Walking Dead Static Theme ($1.99)
Abstract: Horizon Light ($2.99)
PlayStation Portable
Add-on Game Content
Patapon 3 World Map (Free)
ESRB rated E
File size: 727 KB
Bundle
Carnivores Bundle ($5.99)
Via: PlayStation Blog