PS3 Scratch The Ultimate DJ Trailer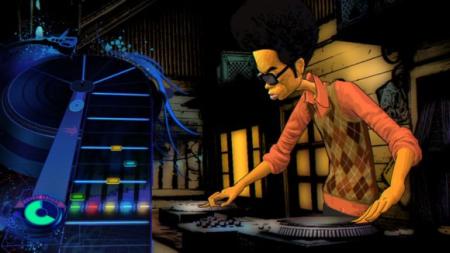 There seem to be a number of games dedicated to music lovers lately and the most recent that one that is being talked about is Scratch: The Ultimate DJ. The trailer is out and the game looks pretty cool. The game would be played using a turntable controller called the "Scratch Deck" and is designed by Numark. The players can imagine songs on the fly and also use their creativity to enhance the gameplay.
MTV Multiplayer got to lay their hands on the Scratch: The Ultimate DJ's trailer and one could notice the multicolored buttons on a track, and some characters you would spin the turntable with. The game has many popular stars like Black Eyed Peas, Beastie Boys, Kanye West and others contributing their music and it sure is going to be one hell of a time when the game finally arrives.
However, there seems to be a problem for those who reside outside the U.S.A. The game just wouldn't be released outside that country and this will surely turn out to be bad PR for 7 Studios, especially in Europe and Asia. If you are really in to mixing music and DJing, you would also love the DJ Hero. Metallica Guitar Hero is another option if you prefer your music to be more metal and less pop.
Via: Joystiq