PlayStation Network Releases: July 27 – 'Dragon Age 2: Legacy' DLC, 'No More Heroes: Heroes' Paradise' Demo
The latest DLC for one of Bioware's biggest hit role-playing games — that and more on this weeks list of PlayStation Network downloads.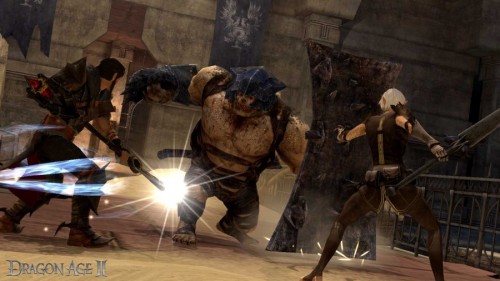 Hey all you Dragon Age 2 loving homies! Wish that your mythical (unsightly bloody) adventures would never end? Well good news! This week, Bioware drops the much anticipated Dragon Age 2: Legacy downloadable add-on on the PlayStation Network.
For a sweet $10 (that's like 10 rupees or something in Dragon Age land, right?) warriors, mages, and rogues will have access to a new campaign, playable at any point during your regular Dragon Age 2 session, which takes place in the Vimmark Mountains.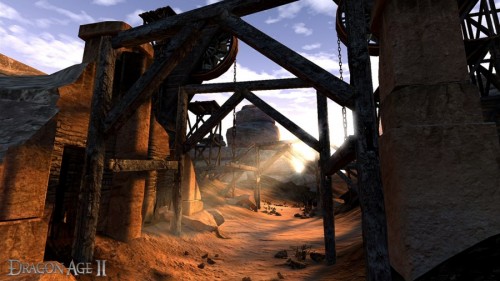 There you'll run into a nasty criminal outfit, Darkspawn enemies, a new class-specific weapon, loads more achievements and come "face-to-face with an ancient horror." You know, all that good stuff.
Be sure to also checkout the No More Heroes: Heroes' Paradise game demo during your dragon-slaying rest or if you're a PlayStation Plus member, the great 50% off deal on SEGA Rally Online Arcade — an awesome arcade racer with online multiplayer for up to 6 people.
– PlayStation 3 –
Updates
 Lost Planet 2 Map Pack #1 – Sale (PS3) (now $1.99, original price $4.99)
Lost Planet 2 Map Pack #2 – Sale (PS3) (now $1.99, original price $4.99)
Saints Row 2: Ultor Exposed Dlc – Sale (PS3) (now $4.99, original price $9.99)
Saints Row 2: Corporate Warfare Dlc – Sale (PS3) (now $3.49, original price $6.99)
Costume Quest: Grubbins On Ice – Sale (PS3) (now $2.49, original price $4.99)
Mx Vs Atv Reflex Track Pack 1 Dlc – Sale (PS3) (now $0.99, original price $1.99)
Mx Vs Atv Reflex Track Pack 2 Dlc – Sale (PS3) (now $0.99, original price $1.99)
Red Faction: Battlegrounds – Armageddon Pack – Sale (PS3) (now $1.49, original price $2.99)
Red Faction: Battlegrounds – Origins Pack – Sale (PS3) (now $1.49, original price $2.99)
Red Faction: Guerrilla Demons Of The Badlands Pack – Sale (PS3) (now $4.99, original price $9.99)
Red Faction: Guerrilla Multiplayer Pack – Sale (PS3) (now $3.49, original price $6.99)
Red Faction: Guerrilla Smasher Pack – Sale (PS3) (now $2.49, original price $4.99)
Stacking: The Lost Hobo King – Sale (PS3) (now $2.39, original price $4.99)
UFC Undisputed 2010 TUF Pack – Sale (PS3) (now $0.99, original price $1.99)
WWE Smackdown Vs Raw 2011 Fan Axxess – Sale (PS3) (now $4.99, original price $9.99)
WWE Smackdown Vs Raw 2011: Wwe Discount Pack 1 – Sale (PS3) (now $3.49, original price $6.99)
WWE Smackdown Vs Raw 2011: Wwe Discount Pack 2 – Sale (PS3) (now $1.49, original price $2.99)
You Don't Know Jack Pack 1 – Sale (PS3) (now $2.49, original price $4.99)
You Don't Know Jack Pack 2 – Sale (PS3) (now $2.49, original price $4.99)
You Don't Know Jack Pack 3 – Sale (PS3) (now $2.49, original price $4.99)
You Don't Know Jack Pack 4 – Sale (PS3) (now $2.49, original price $4.99)
Games
Deadliest Warrior: Legends ($9.99)
Back to the Future: The Game Episode 5 – OUTATIME (Free)
Golden Axe ($4.99)
Section 8: Prejudice Special Offer Bundle ($14.99)
No More Heroes: Heroes' Paradise demo
Deadliest Warrior: Legends demo
Add-Ons
Test Yourself Memory ($2.99)
Dragon Age II Legacy Pack ($9.99)
Homefront Fire Sale Map Pack ($2.99)
Homefront Express 870 Shotgun ($0.99)
LittleBigPlanet 2 MotorStorm Apocalypse Minipack ($2.99)
MotorStorm Apocalypse Ace of Spades Event Pack (Free)
ModNation Racers Junkyard Parts Pack ($4.99)
Dynasty Warriors 7 New Weapon Pack 3 ($0.99)
Dynasty Warriors 7 Original Costume Pack 2 ($4.99)
Dynasty Warriors 7 Original Costume Pack 3 ($4.99)
Dirt 3 Brembo Racing Team Pack ($0.99)
Dirt 3 Mobil 1 Performance Team Pack ($0.99)
Dirt 3 Super Teams Pack ($2.99)
Dirt 3 Team Yokohama Pack ($0.99)
Dirt 3 Texaco Racing Team Pack ($0.99)
Dirt 3 X Games Asia Track Pack ($0.99)
L.A. Noire "The Consul's Car" Traffic Case ($3.99)
Red Faction: Armageddon Recon Pack ($0.99)
Red Faction: Armageddon Commando Pack ($0.99)
PlayStation Home Starter Pack 2 ($4.99)
Rock Band Network V2.0
"Burning Hearts" – Silverstein ($1.99)
"Curse Of The Werewolf" – Timeless Miracle ($1.99)
"Katsushika" – Rishloo ($0.99)
"Schizophrenia" – Jukebox the Ghost ($1.99)
"Magnolia" – Tears in July ($1.99)
Bundles
Fat Princess Anniversary Bundle ($14.99)
Funky Lab Rat: Challenges Bundle ($2.99)
Videos (Free)
Pulse 7/26 Edition
Duke Nukem Forever – History Of A Legend, Episode 3 Trailer
Sniper Ghost Warrior Trailer
Limbo Trailer
Back To The Future: The Game – Season Recap Trailer
Dungeon Defenders Announcement Trailer
Resistance Greatest Hits Dual Pack Launch Trailer
Section 8: Prejudice Launch Trailer
PS3 Themes
Fat Princess Dynamic Theme ($2.99)
Electric Rain Dynamic Theme ($2.99)
Frog Dynamic Theme ($2.99)
Dynamic Horror Skulls ($2.99)
Art In Motion: Kites Dynamic Theme ($2.99)
Corn Love Dynamic Theme ($2.99)
– PlayStation Plus –
Featured Games & DLC
Funky Lab Rat: Challenge Bundle, Jul 26
Free Exclusive In-Game Item
Section 8: Prejudice Hunter Armor, Jul 26
Exclusive Discounts
SEGA Rally Online Arcade – 50% off, Jul 26 (One Week Only)
Eat Them – 50% off, Jul 26
– PlayStation Portable –
Updates
Mx Vs Atv Untamed Umd Legacy – Sale (PSP) (now $9.99, original price $19.99)
Mx Vs. Atv Reflex Digital – Sale (PSP) (now $14.99, original price $29.99)
UFC Undisputed 2010 Digital – Sale (PSP) (now $19.99, original price $39.99)
WWE Smackdown Vs Raw 2011 Digital – Sale (PSP) (now $19.99, original price $39.99)
Via: PlayStation Blog