New Scott Pilgim DLC Is Turning Up The Volume To Eleven
Take on the world yet again, as new DLC for Scott Pilgrim vs. the World: The Game hits the PlayStation Network.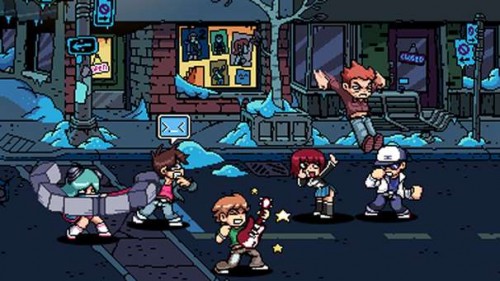 Developed by Ubisoft, Scott Pilgrim vs. the World: The Game is personally one of the best movie licensed video games to date (the live-action version staring Michael Cera isn't too shabby either.) And believe me when I say that – that is a rare accomplishment that not many movie licensed games achieve.
Basically you take one part fun arcade beat'em up in the style of River City Ransom on the NES, plaster sweet looking 2D graphics, add perfectly catchy beats courtesy of the awesome chip-tunes band Anamanaguchi, and – presto – you get Scott Pilgrim vs. the World: The Game now available on the PlayStation Network for a delicious $10 dollars.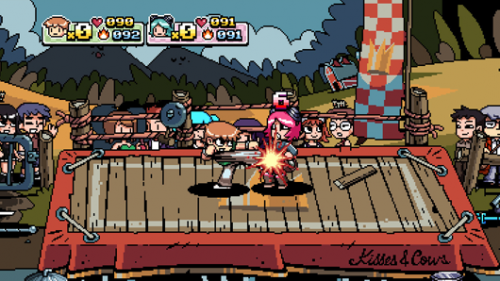 And oh does it get even sweeter with the introduction of new downloadable content now up on the PlayStation Store. For $2 lowly dollars, you can buy the Scott Pilgrim vs. the World: The Game (yes that gets tiring to say and type) expansion pack that includes one playable character to select at the game start and two extra game modes.
The new playable character is high schooler Knives Chau, who – if you're remotely familiar with the series plot lines – is Scott Pilgrim's girlfriend before meeting Ramona Flowers, and thus igniting the quest to defeat her seven evil exes.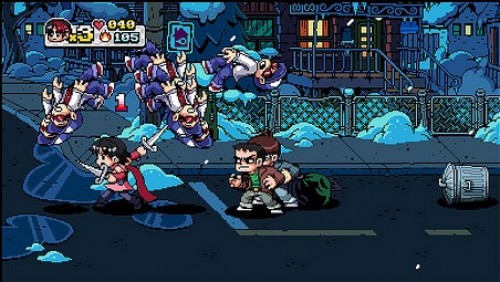 But on to the real meat and potatoes though, the two additional game-play modes that are pretty much self-explanatory: Battle Royale (first picture above) and Dodge Ball. In Battle Royale you can take on any other playable character like in your average fighting game, and in Dodge Ball – well imagine what Dodge Ball is and there you go.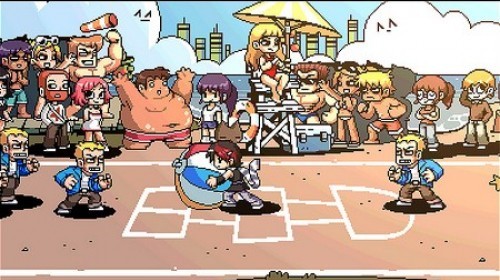 Plus if you haven't gotten around to purchasing Scott Pilgrim vs. the World: The Game, right now is the perfect time to hop on the fun bus and get it, because alongside the $2 dollar DLC there will be a free patch that allows for player mid-game drop-in drop-out while playing offline co-op, and also an update to the "Average Joe" difficulty (the default difficulty) that will make it wonderfully easier. (Oh and again, and it is just $10 dollars.)
Both updates to Scott Pilgrim vs. the World: The Game are available right now (one for $2, the other free,) so don't pass up this chance at a great downloadable game, with some cool extras, like you did with the actual Scott Pilgrim movie you big meanies! (…yeah alright, alright – I didn't watch it either, but I'm totally getting it on Blue-ray okay!)
Check out what else is on the PlayStation Network to download: how about the God of War Collection for some good blood-spraying action, or for something weird this downloadable content for Sports Champions.
Via: Gaming Console Network