Mortal Kombat back tattoo
Looking for innovative ways to make your tattoo stand out? If you are a fan of Mortal Kombat – the fighting games series created by John Tobias and Ed Boon, here's your chance to take your love to a new level by getting a Mortal Kombat back tattoo.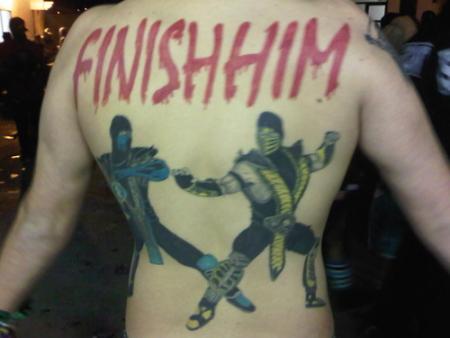 For some inspiration, check out this Mortal Kombat tattoo on the back of an enthusiast. Just imagine how amazing it would look when you flex your back muscles (if you can) as that would make the assassins move and come alive. But before you bare your back for stealing those appreciative glances from other people, make sure that you can withstand the pain that you will need to bear to get this tattoo etched. If you are faint hearted one, dare not step into the Mortal Kombat zone!
For some other tattoo designs, check out the Ryu street fighter hadouken tattoo and the little big planet sackboy tattoo.
Via: Aziz is Bored