Kratos The God Of War Just Had A Cute Sackboy Makeover!
Kratos the main protagonist of the massively popular Playstation game God of War just had the cutest makeover he could possibly have, all in the form of a cute and cuddly crotched Sackboy action figure that has it's standard grumpy look on it's face and hungry for his revenge. This cool piece of art has been created by Magyss, a really talented artist who obviously specializes in doing crotched work pieces.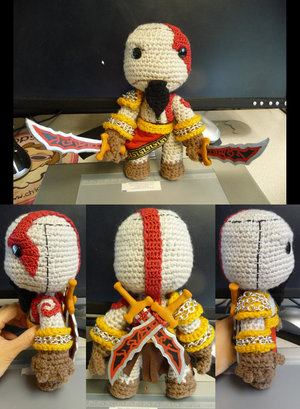 This cool Kratos figure has a high resemblance to the actual character from the game like the chained swords to Kratos's arms and the swords that can be strapped on his back. The jagged edged swords and the chain trim give this figure a high appeal on it's looks and cool grumpy expression on his face makes it clear that he is in no mood to kid around!
His custom painted and sculpted polymer clay swords which can be handheld or cross slung across the back add a huge deal of attitude to the character. He even has a cool crotched tattoo that gives him his unique identity, so no one will ever look down on him.
You can also have a look at the cool Kratos Muggs figure which is very cool indeed or the 3D Kratos, so start your own cool collection of GOW figures this holiday season.