Playstation 3 Cake is Tempting!
Video Game Cakes! We all might have had our huge share of them this holiday season and I personally have been on a virtual cake diet for this whole holiday season, and have had pretty much everything, from the traditional Rum Cake to all the other fancy ones at the bakery.so much that I'm almost sick of them right now, and that was until I saw this- The PS3 Cake, something that caught my eye and left my tongue sticking out of my mouth salivating profusely!, that went a little over the hedge, right?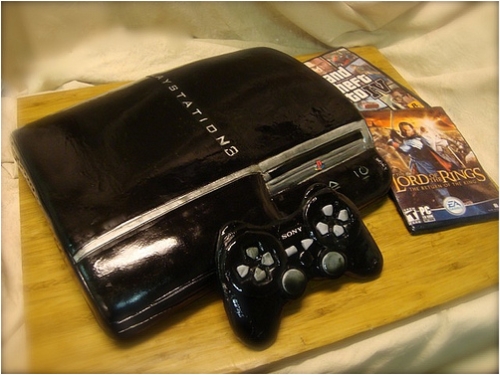 But, a look at the cake surely makes every one long for a piece, all thanks to the evil black overcoat of icing and the delicious looking controller coming as an add on, and not to forget the two games that come free with it- The GTA 4 and The Lord Of The Rings. The cake is created by Debbiedoescakes a very popular person in the-'making themed cakes', industry, and as always she has not let her clients down, two lucky brothers who obviously would have enjoyed their time.
Also you should have a look at the other cakes listed on our catalog and decide which one is the best, like the Crash Bandicoot cake or the cool Sackboy cake that has been shown through it's various stages of evolution. So enjoy your vacation and try coming up with a cake that will eat up all the others in it's category, happy holidays!