Joe Danger Series Set for PS Vita Release in 'Q2 2014'
As Sony's handheld searches for new games for its players to make use of the console with, both games in the Joe Danger series have been announced for PS Vita.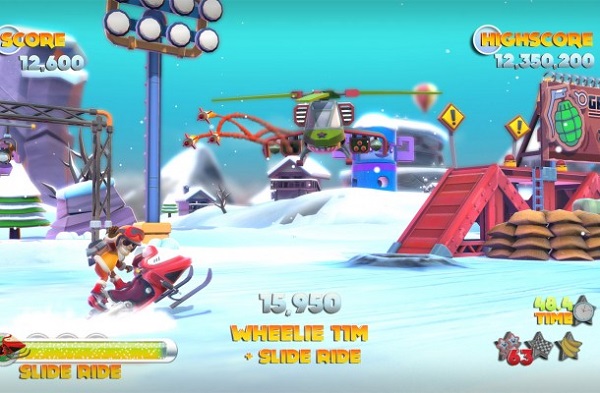 The biggest threat to a new console's sales, after bad press and bad reviews, is the actual content that it offers. It's one of the reasons that the PS4 and the Xbox One have both launched with over 20 games to get early adopters interested, because in these young days of a console's life cycle, the limits of quality of what a console can do just haven't really been tested yet. This is also true for the PS Vita, which trumps the Nintendo 3DS in graphical quality yet is unable to reach its level of sales, due to the fact that it just isn't supported by a roster of great games yet. Luckily for Sony, this is set to turn around soon as the Joe Danger games have just been announced for a release on the console.
A series of daredevil platformers in which the player plays as Joe Danger, a professional stuntman, racking up points and thrills on the way, the original Joe Danger was so successful that it managed to get back its development costs within hours of its PSN release back in 2010. The 2012 release of Joe Danger 2: The Movie was also rather successful, with series fans returning to guide Joe through even more spectacular stunts, this time on a movie set.
It's unclear as to what the PS Vita release of the two games will be like on a smaller screen and which features will be added, although the announcement states that "The games will include all the content from both the 2010 IGF award nominated original, and its critically acclaimed 2012 sequel". Original developer of the titles, Hello Games, aren't working on the PS Vita port (they're working on another game called No Man's Sky) with Four Door Lemon the studio that's in charge of development duties instead. Fans needn't be worried though, as FDL were also responsible for New Star Soccer, as well as the PS3 version of Oddworld: Munch Odyssee and so the potential for the PS Vita's upcoming ports is great.
We'll keep you posted once we know more.
Source: Official PlayStation Magazine
Read more on ps3maven, Rayman Legends' 28 Missing Levels Released on PS Vita, PlayStation Plus In January Gets Bioshock Infinite, DmC, and Brothers