The Last Of Us Left Behind DLC Reportedly Out Feb 14th
Regarded as one of 2013's best games, The Last Of Us: Left Behind DLC from Naughty Dog's PS3 exclusive zombie title, has gotten a (rumoured) release date.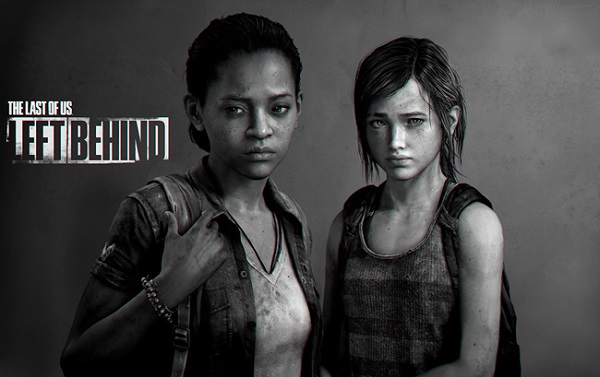 If you looked up from your mobile touchscreen/giant tellybox/other screen based gadget of choice at all in the past year, you might have read a few articles that suggested that the majority of gamers are fed up of killing the undead, hoping that they'd go the way of the World War 2 military shooter and the peripheral-based rhythm game. So saturated was the genre that it fell to the bottom of just about everybody's wishlist but somehow, battling amongst it all was The Last Of Us, a gritty, zombie action game from Naughty Dog, the developers of the Uncharted franchise. TLOU did so well, in fact, that it got more 10 scores and editor-given awards than it knew what to do with and now, in 2014, you have even more of a chance to play the game with it's brand new DLC.
Called The Last Of Us: Left Behind, this piece of downloadable content is the first single-player DLC for the game, set to weave a connecting thread from Ellie's life before Joel to the time where the teen and he team up to take on the infected together. It seems that before the game's two leads banded together to survive in an overgrown, diseased world, Ellie and her friend, fellow teenager Riley, were trying to do the exact same thing the best way that they knew how. Offering some variety from the main game, The Last Of Us: Left Behind will reportedly put stealth as a priority over combat, challenging how well you avoid the infected as opposed to how well you try and attack them head on.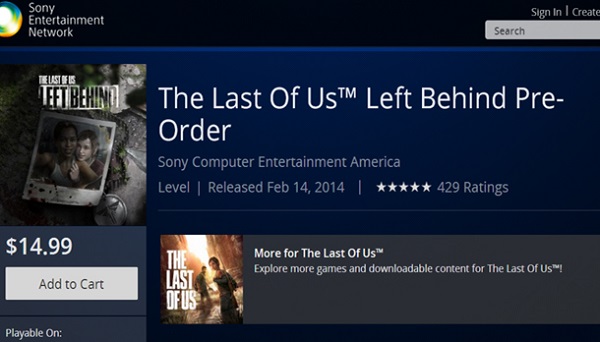 Also rumoured is The Last Of Us: Left Behind release date, with the DLC apparently set to keep players occupied on Valentine's Day (February 14th) if a PSN listing is to be believed. The screenshot (which you can see above) of Sony's digital store service clearly lists the speculated date, as well as an image that also seems to fit the official bill (i.e this could potentially be the real thing and not just a wishful Photoshop artist's mock-up). Of course this date has yet to be confirmed by either Sony or Naughty Dog so we'll keep an ear out for an official announcement, but in the meantime, you can watch a  trailer for the DLC below.
http://www.youtube.com/watch?v=IGSTFHE_1u8
We'll keep you posted once we know more.
Source: Official PlayStation Magazine
Read more on ps3maven, Sony Announces Its Game Streaming Service Called PlayStation Now, PSN Partners With Amazon To Sell Digital Content