'Inversion' Gameplay Trailer Turns Your World Upside Down And Then Some
On a wall, on the ceiling, or mid-air, Namco Bandai's upcoming third-person shooter takes it's gameplay everywhere.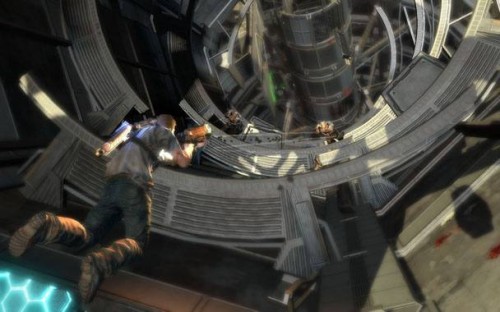 For better or worse (knowing the Internet it's often the latter), Inversion has every typical trapping that usually most shooters made in the west surround themselves in: cover mechanics, over-the-shoulder firing, and a male hero with a five-o-clock shadow *cough* Uncharted 3*cough*. Yet when in it comes to it's bread and butter, mechanically speaking, that's where this game shows something mighty wild.
That's because Inversion shifts it's gritty-gunplay, and boy does it get gritty, to some pretty wacked-out dimensional planes as you will soon see. From across high-rise building walls and the roofs of spooky damp caves, every surface becomes an instant battlefield that our hero — ordinary city cop Davis Russel — comes across using his "not-ordinary" set of gravity-altering powers, which can be also smartly used to launch enemies in the air and be taken out. Think of it as those mind-bending scenes from the movie Inception by Director Christopher Nolan turned full-retailed video game, and there you have this title.
Seeing as it comes from Saber Interactive, the same plucky development team that brought audiences 2007's TimeShift, a tactile first-person shooter with an almost similar combat-effecting premise (TimeShift used time control instead), Inversion just might be in the right hands to pull of such a literal upside concept and importantly have a promising chance to not end up in the bargain bin after it's February 7, 2012 release in North America. With that said, here's a sneak preview of  Inversion's ground-to-wall-to-ceiling action with this new gameplay trailer from Namco Bandai.
What do you think? Yea? Or… Maybe when it's cheap on Black Friday? Oh which reminds me, there will be plenty of PlayStation 3 related goods, say like a PS3 bundle, readily available during said shopping period where the discounts and deals will be flying out faster than a eagle shot out of a cannon (please don't do that though. I mean, yes do the Black Friday shopping thing, but no to the shoot an eagle out of a cannon thing. Okay? Good.)
Via: VG247