Sony may release 2 Black Friday PS3 Bundles at Thanksgiving
Sony may be gearing up for Black Friday by offering two new PS3 bundles that will be hitting the shelves the day after Thanksgiving.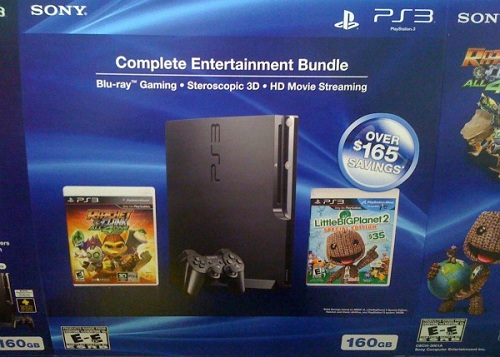 According to our source, some photos revealing the two new bundles were leaked to the internet from a Sony media package that it was sending to retailers in anticipation of the sale.
The first bundle, dubbed the "Complete Entertainment Package" will feature a 160 GB PS3, along with a controller and the games Little Big Planet 2 and Ratchet & Clank: All 4 One.
The second bundle will be called the "Mayhem Edition", and will be a Playstation Move focused package. This bundle will ship with Killzone 3 and Resistance 3, along with the Sharpshooter motion control peripheral.
Black Friday is the single largest day of consumer shopping in the United States, generally focusing on consumer electronics and other hardware. Normally people go crazy for televisions, stereos and the like, while gaming consoles have mostly sat in the background.
Recently however, the big three of gaming (Sony, Microsoft and Nintendo) have been trying to steal a bit of the spotlight. Black Friday traditionally kicks off the beginning of the Christmas and holiday shopping season in the United States, so with any luck big gaming bundles like this won't be the last of the holiday sales we get this year.
Also be sure to read about the Playstation Vita Launch schedule and 8 hot new accessories making their way to the PS3.