Bionic Commando: Rearmed 2 – Lock, Loaded, Swinging, And Now Jumping To PSN Come February
Back with a vengeance! …and a mustache and a jump button too! Bionic Commando: Rearmed 2 swings back into action onto the PlayStation Network, beginning this February.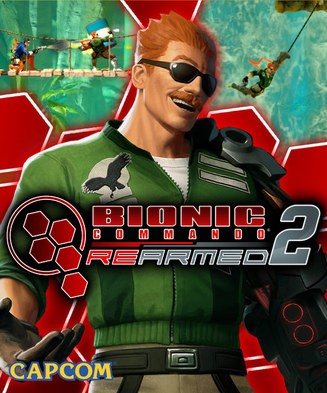 2008's Bionic Commando: Rearmed was a high definition remake of the classic 1988 NES game Bionic Commando, that in its day was revolutionary as a side-scrolling action game simply because of one addition – or rather subtraction. The rather apparent, but purposeful, lack of a jump button.
Where almost everything before it in the magical fairy tale world of 2D platformers in the 1980's — Super Mario Bros. being the mighty king — stuck to the jumping mechanic law of the land, the team at Capcom tossed caution to the wind and came up with the skillful game play of swinging to, over, and around obstacles and enemies.
It's a proven formula that doesn't need much fusing around with by throwing in rocket packs or psychic powers (albeit cool in their own right.) This is why Bionic Commando: Rearmed didn't stray far from the original, and why it was a success as a retro revival when it came out through digital distribution channels.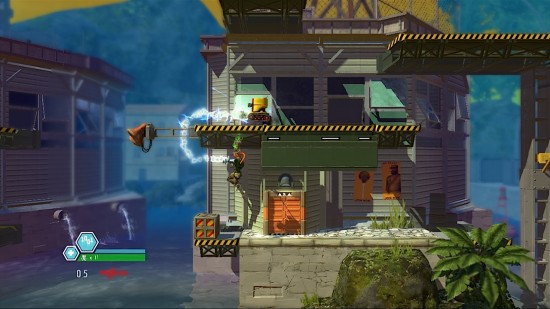 Bionic Commando: Rearmed 2, now under the development of FatShark from the no-longer-in-business GRIN, brings pretty much the same game play back again in this next installment, but stirs in some interesting new ingredients into the pot, the biggest addition of course, being the jump button.
Whether this inclusion will detract from the core-game play that is the Bionic Commando series is still left up in the air for gamers to decide. Thankfully for retro-gaming purists, FatShark has generously bestowed an option to disable the ability to jump, and better yet, can be completed without it.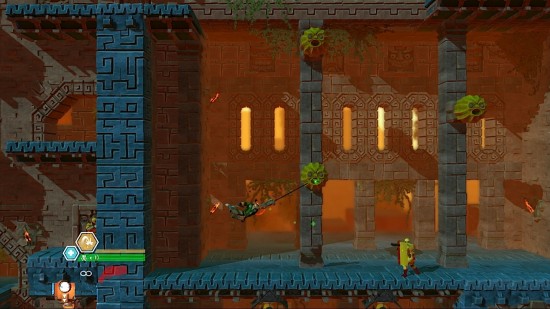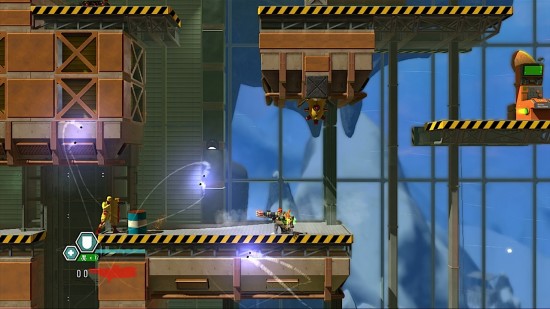 There are a host of other little differences in the game, such as the removal of vertical scrolling levels (but then no one liked those in the first place anyway) and in-game enchantments that can up your attributes and fire power which can be bought at Upgrade Kiosks. Weirdly enough, protagonist Nathan "Rad" Spencer even has a new look, sporting a more aggressive hair-style and mustache to match.
None of these new features, especially the porno-stash, truly alienate the true Bionic Commando style, but simply add it to. Everything else from really sweet looking graphics, fun swinging side-scrolling platforming, a great arsenal of weapons, co-op multi-player, awesome tunes, and a crazy dictator trying to conquer the world are all here, and in good fashion, in Bionic Commando: Rearmed 2.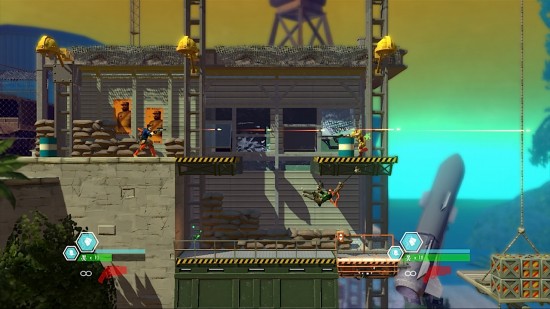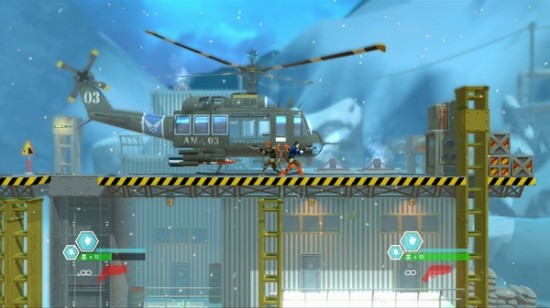 You can download Bionic Commando: Rearmed 2 and find out if that jumping button addition was a good idea or not, come February 1 on the PlayStation Store for $15. Oh and check out the mobile gaming blockbuster hit Angry Birds now in PlayStation mini form, and Prince of Persia: The Warrior Within HD when you do, they're both quality games!
Via: Capcom-Unity