'Yakuza: Dead Souls' Announced For Western Release In March 2012
The Zombie-infested take on the Yakuza series, from Sega, will be haunting the shores of North America & Europe in March 2012.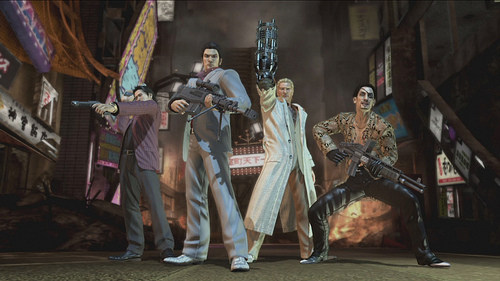 The title might of changed for overseas translation purposes, but the game itself is what you've come to love and respect about the Yakuza series from Sega. Okay, okay — normal Yakuza entries usually don't have Zombies and dudes with machine-gun arms, but seriously, who can hate on that? Anyway, I'm talking about Yakuza: Of The End, which was released back in June for Japanese audiences and is now being called for its western release next year in March, Yakuza: Dead Souls.
Quickly recapping, Of The End takes place during the onset of a zombie outbreak in the series's setting, Kamurocho. (Hint: it's a spin-off game.) And with the Japan Ground Self-Defense Force unable to save the day, four leading men of the Yakuza series — Shun Akiyama, "Mad Dog" Goro Majima, Ryuji Goda, and of course "the Dragon of Dojima" Kazuma Kiryu must face hoards of zombies and powerful mutants to bring back peace to the city.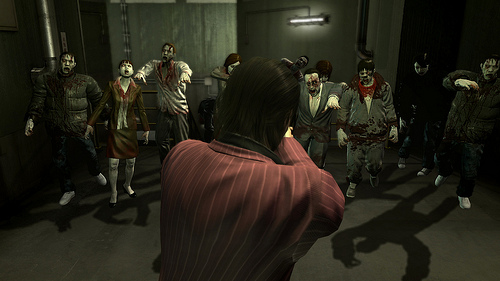 Organized crime bringing back peace to a city, huh? When usually they're involved in violence and doing some pretty shadowy criminal-like things… oh Sega, you clever gooses you!
Now just a side note for those unfamiliar, much of Yakuza: Dead Souls' gameplay is hugely gun-heavy and quite different from the standard beat-em up gameplay offered in Yakuza's 1 through 4, so I wouldn't recommend this latest title as a wise starting point for the series. Go run out and get Yakuza 4 instead. It's fantastic and probably reasonably cheap by now!
Then get Yakuza: Dead Souls for your PlayStation 3 come next March, which will also include all the downloadable content that was offered from Of The End — that sounds like a might good deal indeed. Of course, don't take my word for it, check out this announcement trailer!
Via: Sega Blog