'Uncharted 3' Now Gold, Ships With 'Starhawk' Beta Voucher
Nathan Drake's next treasure-seeking adventure, Uncharted 3: Drake's Deception, is finally on the fast track to retailers in North America with a special bonus included in all retail copies of the game.
Nope, not "gold" as the type of chains you might find on your modern day rap-superstar, "gold", as in industry terms, meaning that a product is ready to be pressed onto discs, then packaged, and thus delivered to a game shop or online retailer. In this case the "gold" status is being applied to Uncharted 3: Drake's Deception, a game I have in my own must-have-wish-list along with every other gamer on the planet.
If the mountain of promotional videos, in-game footage demos, and multiplayer betas still haven't gotten you on the get excite bandwagon for the third installment of the awesome-packed action-adventure series from Naughty Dog studios — hey, different strokes for different folks then. For the lot of us (which includes merry ole' me) that have a pre-order or day-one cash set on getting Uncharted 3 this November 1st, Sony is adding a special bonus to all retail copies.
How flippin' great! But what is this special bonus exactly, though? Why a voucher code for early access to the upcoming Starhawk Public Beta taking place around the start of 2012. Starhawk, for those not in the gaming know, is the spiritual successor to Warhawk, which was fondly remembered for it's tight vehicle & flight combat and addictive online multiplayer — only because it did not have a single-player campaign to begin with I should point out.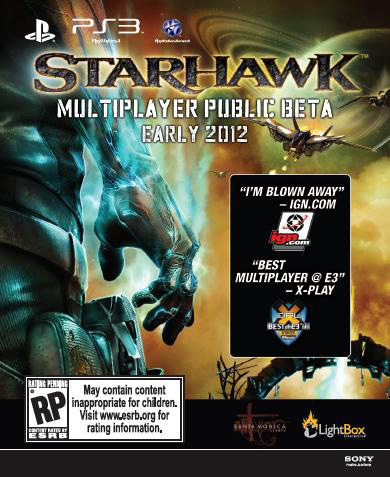 Developed by LightBox Interactive, who picked up the series after Incognito Entertainment closed in 2009, Starhawk keeps much of what made the original so great, but is implementing a novel new mechanic that seems to take it's cues from Little Big Planet, but with characters I'm sure you wouldn't confuse with the cuddly-likes of Sackboy and friend — basically, the power to create turrets, armories, and what have you during the heat of battle.
Well have more info on Starhawk when we get closer to it's beta launch date — the final version has a February 1st, 2012 release date — but for now get ready to countdown the days until Uncharted 3 hits retailers (have you seen the Collector's Edition by the way) the very first day of next month for North America. Oh boy, oh boy, oh boy, oh boy, oh boy, oh boy, oh boy, oh boy, oh boy, oh boy!!!
Via: Kotaku