Nolan North Unboxes The 'Uncharted 3' Collector's Edition
The voice of Drake becomes pitch-man for the Collector's Edition of Uncharted 3: Drake's Deception in this funny video from the PlayStation Blog.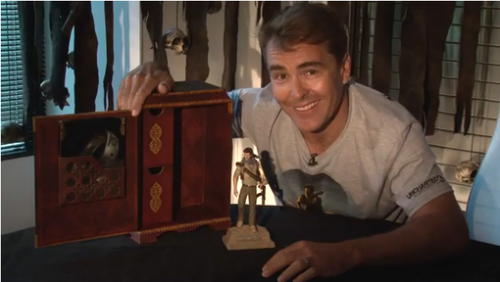 Nolan North is a drat voicing god. The actor has had speaking roles in possibly every videogame and cartoon production that you could name. And I'm not kidding about that folks — really, I mean it!  Go look him up on Google — go on. I'll wait here for you while you do…
See?! The man is in everything!
Of course, fans of Naughty Dog's popular Uncharted series know Mr. North best as the voice of  Nathan Drake. And today in the PlayStation Blog video below, he's using his deep pockets of charm (and boy is he charming, sigh…) to promote the Uncharted 3: Drake's Deception Collector's Edition, which you can pre-order right now!
For those unaware, the Collector's Edition comes dressed in a "Travelling Chest" themed package and includes: a wearable replica Nathan Drake belt buckle, a wearable replica Nathan Drake ring with necklace strap, an exclusive Collector's Edition Steelbook game case, and the pièce de résistance, an exclusive Nathan Drake statue by Sideshow Collectibles.
And with that, take it away Mr. North…
Uncharted 3 Drake's Deception won't be in stores until November 1st in North America — so I hope you save all your pennies for that. Although that's going to be a pretty hard thing to do, what with the awesome fall line-up games — Resistance 3, Ico & Shadow of the Colossus Collection, and so much more!
Via: PlayStation Blog