Titanfall 2 to Be Released on PS4, Reports Say
One of the most popular Xbox exclusive games available, new reports suggest that the sequel to Titanfall, nicknamed Titanfall 2, will also be released on PS4.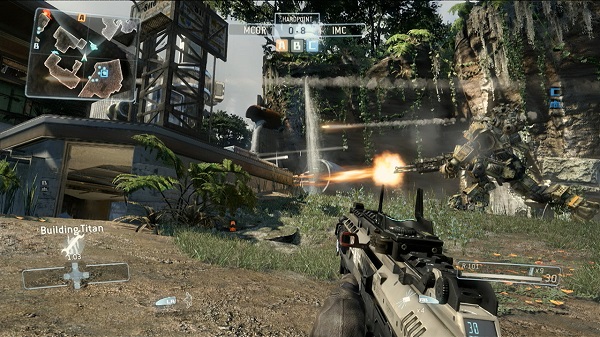 There's nothing like a good ol' console exclusive to get consumers running to their gaming store/online vendor of choice, money gripped in outstretched hands, ready to be forked over to pay for a brand new piece of hardware. It's what the statistics say, it's what the critics say and, if you're a hopeful Sony or Microsoft accountant, that's very much what they'd like their companies' bank balances to say too. The rise of exclusives as a hardware shifter is nothing new, as both of the aforementioned companies have been putting together console exclusives for years in an effort to sell more Xbox 360s and PS3s. The latest generation of consoles – the Xbox One and the PS4 – are no different, with the two going toe to toe in the exclusive title stakes once again, but, if recent reports are to be believed, Titanfall 2, the sequel to Xbox exclusive, Titanfall, may just be releasing on PS4.
The reports of Titanfall 2 on PS4 come from IGN, who have received info from an "anonymous source" that the game will be released on Sony's shiny new next-gen console. While EA (the publisher of Titanfall)'s comment to the publication in relation to their source's tip was, "We do not comment on rumor or speculation. Right now all our focus is on supporting all the fans worldwide enjoying Titanfall.", despite this relatively weak rebuttal of the rumours, everything else suggests that the game will very much be making the jump to PlayStation.
Much of this is down to who publishes the game – EA. Commonly, exclusive titles are made by first party studios, which means that when a game is exclusive to a Sony PlayStation console, then it's usually Sony who will publish the game as they will also own (wholly or in part) the studio who developed the game too. That has been the case with many a Microsoft franchise, such as Gears of War and Halo but with the developers of those franchises jumping ship (Epic wanted to become more than 'the Gears of War studio' and Bungie have stopped working on Halo in favour of Destiny, the new MMO that they are publishing with Activision) it seems as though Microsoft are dong their best to hold on to third party exclusivity (third parties are external devs and pubs who aren't tucked under Microsoft's wing). Microsoft have done this by paying EA off, essentially, signing a contract with them to provide a whole lot of money to keep Titanfall on Xbox only, ending up pilfering sales away from the Xbox One with a multi-platform release. However, Microsoft would likely be unable to trump up enough money to hold back Titanfall 2 from being released on PS4, given just how much of a commercial and critical success the first game has been.
This is, undoubtedly, great news for PlayStation gamers who don't own either an Xbox console or an adequate PC (Titanfall was also released on PC) as they'll get to play what is highly regarded as a fantastic game, but this is terrible news for Microsoft, after it was revealed recently  that despite Titanfall causing the Xbox One to outsell the PS4 by almost twice as much during the first week of the game's release, these following weeks afterwards have seen the PS4 shoot ahead, now outselling the Xbox One by the very same margin (2 PS4s sold for every Xbox One sold) across the globe. With the PS4 having a small sales lead in North America, a large one in Europe and complete dominance in Japan, it will be interesting to see just what nabbing Titanfall 2 for the platform would do to the video gaming market, so we'll keep you posted once we know more.
Source: IGN
Read more on ps3maven, Sony's Ultimate List of 2014 PlayStation 4 Releases, InFamous: Second Son Gets Day-One Release Patch