Sony's Ultimate List of 2014 PlayStation 4 Releases
Find out what awesome games are in store for the PlayStation 4 in 2014.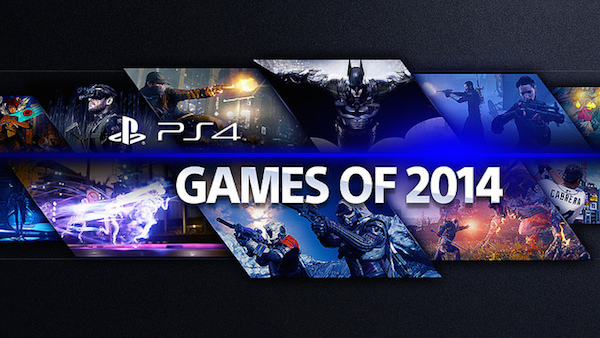 I should probably know by now that nothing is immune to the internet fashion of listing things. Thankfully for PlayStation 4 owners, Sony's own list-making is a heck-of-lot more relevant than finding out what are the 12 best covers of 'Let it Go' from Disney's Frozen as sung by galapagos penguins (coming to a Buzzfeed article near you).
Below is a handy-dandy comprehensive list of all the PS4 games expected to released in North America in 2014. With each future title segmented into their proper season of release, too. With the chaotic way game release schedules can change on a dime though, nothing is firmly set in stone here, but at least it gives fans a good impression of what's to come.
Particularly, if you focus your attention towards the "To Be Announced (TBA) 2014" portion of Sony's long list. It features a handful of highly-anticipated games on the docket, such as Batman: Arkham Knight, Driveclub, The Order: 1886, and many in between.
Spring
1001 Spikes – Nicalis
Anomaly 2 – 11 Bit Studios
Bound by Flame – Focus Home
CastleStorm: Definitive Edition – Zen Studios
Cel Damage HD – Finish Line Games
Child of Light – Ubisoft
Daylight – Atlus
Divekick: Addition Edition – Iron Galaxy
Final Fantasy XIV: A Realm Reborn – Square Enix
Guacamelee! Super Turbo Championship Edition – Drinkbox Studios
KickBeat: Special Edition – Zen Studios
King Oddball – 10tons Ltd.
Lego The Hobbit – Warner Bros.
Mercenary Kings – Tribute Games
MLB 14: The Show – SCE
Octodad: Dadliest Catch – Young Horses
Oddworld: New 'n' Tasty – Oddworld Inhabitants
Pure Pool – Ripstone LTD
R.B.I. Baseball 14 – MLB AM
Ready to Run – Beatshapers
Secret Ponchos – Switchblade Monkeys
Sportsfriends – Die Gute Fabrik
Switch Galaxy Ultra – Atomicon
The Amazing Spider-Man 2 – Activision
Strike Suit Zero – Born Ready games
The Swapper – Curve Studios
Titan Attacks – Curve Studios
Trials Fusion – Ubisoft
War Thunder – Gaijin Network
Watch_Dogs – Ubisoft
Wolfenstein: The New Order – Bethesda
Summer
CounterSpy – SCE
Destiny -Activision
Final Horizon – Eiconic Games
GALAK-Z: The Dimensional – 17 Bit Games
Helldivers – SCE
Murdered: Soul Suspect – Square Enix
OlliOlli – Roll7
Pavilion – Visiontrick
PixelJunk Shooter Ultimate – Double Eleven
Sniper Elite 3 – 505 Games
The Elder Scrolls Online – Bethesda
The Evil Within – Bethesda
Race the Sun – Flippfly
Transformers: Rise of the Dark Spark – Activision
Velocity 2X – Futurlab
Fall
Alien: Isolation – Sega
Dragon Age: Inquisition – EA
Evolve – 2K
Hotline Miami 2: Wrong Number – Devolver Digital
Rocketbirds 2: Evolution – Ratloop
The Witness – Thekla, Inc.
Winter
Assassin's Creed Unity – Ubisoft
Guns of Icarus Online – Muse Games
Hyper Light Drifter – Heart Machine
Ray's the Dead – Ragtag Studios
TBA 2014
Assault Android Cactus – Witch Beam
Aztez – Team Colorblind
Backgammon Blitz – The Fyzz
Batman: Arkham Knight – Warner Bros.
Blast 'Em Bunnies – Nnoo Pty
Cosmic Star Heroine – Zeboyd Games
Defense Grid 2 – 505 Games
Diablo III: Ultimate Evil Edition – Activision Blizzard
#Driveclub – SCE
Dying Light – Warner Bros.
EA Sports UFC – EA
Energy Hook – Happion Labs
forma.8 – MixedBag
Foul Play – Media Tonic
Hand of Fate – Defiant Development
Hohokum – SCE
Home – Benjamin Rivers Inc.
Hotline Miami – Devolver Digital
Legend of Raven – Nicalis
Lords of the Fallen – Bandai Namco Games
Mad Max – Warner Bros.
Middle-earth: Shadow of Mordor – Warner Bros.
Minecraft – Mojang
N++ – Metanet Software
NBA 2K15 – 2K
Nuclear Throne – Vlambeer
The Order: 1886 – SCE
Pier Solar and the Great Architects – Watermelon Games
Planetside 2 – SOE
Putty Squad – Maximum Games
Road Not Taken – Spry Fox
Rogue Legacy – Cellar Door Games
Samurai Gunn – Teknopants/Maxistentialism
Savant Ascent – D-Pad Studio
Shantae: Half-Genie Hero – WayForward
Sherlock Holmes: Crimes & Punishments – Frogwares
Starbound – Chucklefish
Super Exploding Zoo – Honeyslug
The Binding of Isaac: Rebirth – Nicalis
The Crew – Ubisoft
Tom Clancy's The Division – Ubisoft
Transistor – Supergiant Games
Tropico 5 – Kalypso Media
Valiant Hearts: The Great War – Ubisoft
Volume – Mike Bithell
Worms Battlegrounds – Team17
WWE 2K15 – 2K
Be social! Follow Ps3 Maven on Facebook and Twitter, and read more related stories at https://www.facebook.com/PS3Maven and https://twitter.com/ps3maven.