Street Fighter Action Figures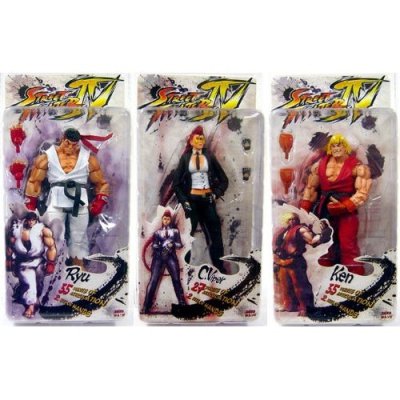 Street Fighter IV has given rise to so many speculations that the entire gaming world has been waiting for accessories, mods, and what not! The latest is the Street Fighter IV NECA set, which looks attractive enough for any gamer to give up his life for one of these.
The set includes 3 different models of figures and all are related to the game. No one could complain about their attractiveness or their visual appeal. The  selective action figures come in three different styles and they include the Ryu, Ken, and the C. Viper. These figurines could be an addition to your gaming art collection.
Looks like Street Fighter IV fans will definitely have a gala time checking out all the awesome figures and figures made available by TexasToysandComics. At $42.95, the figures are not only affordable but worth every penny spent if you are a real Street Fighter IV fan. The figurines can be used by anyone above age three and is a sure way of entertaining the child in you.
If you are a Street Fighter fan, you also would surely be interested in checking out the Street Fighter IV moves. If you have been looking for an interesting mod for the same game, do check out the PS3 Controller Mod for Street Fighter IV. It seems like there are going to be many more accessories and products dedicated to Street Fighter IV.