Resident Evil 5 Chainsaw USB
Resident Evil brings back the horrors of biohazard and the threat of bio terrorism in Africa with a Chainsaw USB drive, which is a great RE5 accessory for all fans of the amazing new release and the series as a whole.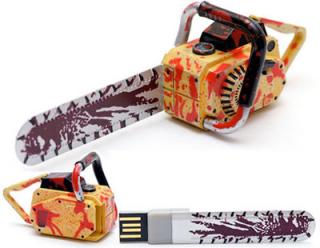 Chris Redfield heads to the Dark Continent in order to discover the truth behind people and animals being turned into zombies overnight due to the bio-threat. The New resident Evil 5 bundle features a custom USB chainsaw to help you don the shoes of Chris and embark on the arduous journey of slaying those evil zombies.
The USB chainsaw comes with 2GB space to help you save all the secret data you may need to slay the zombies. On a serious note, you could avoid buying the bundle and try buying just the chainsaw from those who do not need it anymore and at certain places online. Ebay is one such place where you may have a good chance of getting just the USB chainsaw instead of the whole limited edition game package.
Once you get hold of the awesome chainsaw USB gadget, you could slay those annoying zombies that knock against the door at night wanting to come in and taste your brains. The zombies could also refer to annoying guests and friends who literally munch your brains with their annoying or boring behavior. Handle them by using this USB chainsaw to ignore all the knocks at the door, and continuing to playing your favorite game. If you were looking for more Resident Evil accessories, try checking out the Resident Evil Zippo Light and the Mini Resident Evil Game.
Via: Everything USB