Resident Evil 5 Action Figures Set
Resident Evil 5, as we all know is one of the coolest survival horror third-person shooter video games we have ever played. Thanks to Capcom, one can visit and investigate the terrorist threats present in Africa through the eyes of Chris Redfield and Sheva Alomar. You can now bring them home in various avatars. Not only Chris and Sheva but you would also get the Executioner figure in the exclusive and jumbo Resident Evil 5 Series 1 Action Figure Case.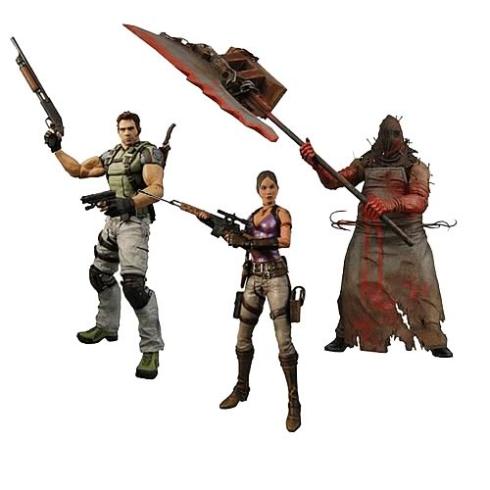 The case comes with 14 figures which include 6 Chris figures, 4 Sheva figures and 4 Executioner figures. The executioner looks really bad ass and wit that giant machete waiting to decapitate a head or two; his must be the coolest figure in the lot. Chris looks pretty ready for action with all his pumped up muscles and automatic weapons. Sheva looks like the bombshell she is and I am sure you would prefer the action figures more than the game itself.
The Resident Evil action figure set is pretty expensive and costs $198.39. One can't really deny the fact that these action figures are a collector's masterpieces. Many decades later when the game is long forgotten and when people suddenly discover the heritage Resident Evil would leave behind, these dolls will perhaps be looked up to as antiques and might fetch a huge amount! Well, one can dream!