PSP Go Released Along with PSP Firmware Version 6.1
The new PSP Go was finally released today with a cool new design, increased features and also a PSP Firmware Update Version 6.1 to go along for enhanced media features.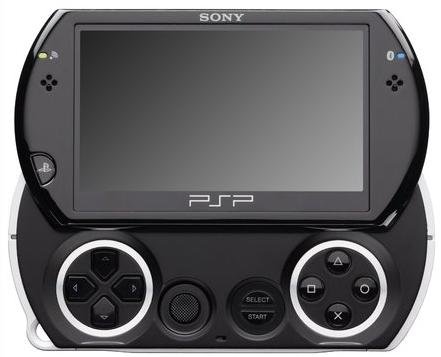 The full PSP Go Technical Specs are provided at the bottom of this post, but the exciting new additions the slider design of teh PSP Go, a 16GB flash memory, Bluetooth Connectivity, No more UMD Drive and a decreased weight.
Available for $249.99 the PSP Go comes in two colors: Black and White and is an exciting new announcement from Sony since the PS3 Slim that was released just a month ago.
Also released today is the new PSP Firmware Update 6.1 that really overdid the previous Firmware 6.00 and actually added features that make it worth updating.
PSP Fimrware 6.1 Features:
PSP SensMe:
This is a cool feature that uses 12 tone analysis to automatically categorize music transferred from PC.
Media Go V1.2:
Media Go got a new design and makes organization of videos, music and photos a lot easier when working with your computer.
PSP Tethering (PSP Go ONLY):
By the use of the Bluetooth, the PSP Go can connect to another device to connect to the Internet without the need of Wifi.
PSP Go Tech Specs:
Size & Weight
Approximately 128 mm (W) x 69 mm (H) x 16.5 mm (D)
Approximately 158g
CPU
PSP® CPU (System clock frequency 1 – 333MHz)
Memory
64MB main memory
Flash Memory
16GB
Display
3.8 inch, 16:9 full transparent type
TFT drive
480 x 272 pixel
Approximately 16,770,000 million colors displayed
Sound
Built-in stereo speakers
Main Input / Output
Wi-Fi (802.11b)
Bluetooth
USB2.0
Memory Stick Micro M2
Microphone
Bluetooth
Bluetooth 2.0
Main Connectors
Multi-functional connector
Headset jack (stereo mini jack)
Key / Switches
Directional buttons (Up/Down/Right/Left)
Analog Stick
Enter keys (Triangle, Circle, Cross, Square)
START button, SELECT button, PS button
POWER/HOLD switch, WLAN switch
Display button, Sound button
Volume +/- buttons x 1
Power Sources
Internal rechargeable battery
Supported Profile
PSP® (PlayStation®Portable) Game
Video
Access Control
Region Code
Parental Control
Wireless Communication
Infrastructure mode
Ad hoc mode (connects up to 16 consoles)
Supplied Accessories
AC adaptor
USB Cable
Supported Video Codec
Memory Stick Video Format:
MPEG-4 Simple Profile (AAC LC)
H.264/MPEG-4 AVC Main Profile (AAC LC)
MP4 Format:
MPEG-4 Simple Profile (AAC LC)
H.264/MPEG-4 AVC Main Profile – CABAC only – (AAC LC) / Baseline Profile
(AAC LC)
AVI
Motion JPEG (Linear PCM or µ-Lau)
Supported Music Codec
Memory Stick Audio Format:
ATRAC3™
ATRAC3plus™
MP3
MP3 (MPEG-1/2 Audio Layer3)
MP4 (MPEG-4 AAC)
WAVE (Linear PCM)
WMA (Windows Media Audio 9 Standard Only)
Supported Photo Codec
JPEG
TIFF
BMP
GIF
PNG