PSN 'Welcome Back' Program Detailed By Sony
If you're wondering what enticing goodies Sony has in store to get you back and using the PlayStation Network — wait no further! The juicy details are here.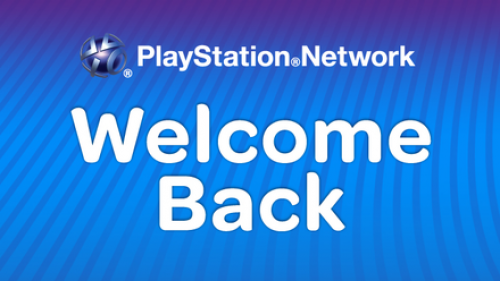 It might be a tad silly to want compensation for the PlayStation Network being down, especially when it is free of cost in the first place, but then again who am I or anyone else to not look a gift horse in the mouth. Plus it's an extremely nice gesture on the part of Sony to offer their customers something for their troubles.
Oh and it also rewires people's brains to use the PlayStation Network again by getting them back into a warm comfy zone and thus restoring balance to the ecosystem (pretty sneaky sis! err, Sony!) So then, what exactly does Sony have in it's great bag of goodies — a.k.a. its 'Welcome Back' program, which will launch as soon as the PlayStation Store is up and operational.
First and foremost, Sony will be offering returning customers the choice of two PlayStation 3 and/or PlayStation Portable games (download only) to keep forever, from an interesting list of pre-selected titles that depend on which territory you live in:
Available Only For North America
– PlayStation 3 (Choose Two) –
Dead Nation
LittleBigPlanet
Super Stardust HD
Wipeout HD + Fury
– PlayStation Portable (Choose Two) –
Little Big Planet PSP
ModNation Racers PSP
Pursuit Force
Killzone Liberation
Available Only For Europe
– PlayStation 3 (Choose Two) –
Dead Nation
inFamous
LittleBigPlanet
Ratchet & Clank : Quest For Booty
Wipeout HD + Fury
– PlayStation Portable –
Same as the North American list.
Now remember, you will only have 30 days from once the PlayStation Store is reopened to grab which ever games from the list. So don't haste once you know when the PlayStation Store is back up.
For North America PSN users, the Welcome Back program will also have a "On Us" selection of movie rentals that will be free for one weekend once the Video Service of the Store is available. And if you fancy some freebies for your PlayStation Home avatar (fess up – I know you have one,) then Sony has you covered there too by offering 100 free virtual items.
Add that to the already publicized 30 days of free PlayStation Plus membership for non PlayStation Plus subscribers or an additional 60 days of free subscription for existing PlayStation Plus members and you've got one heck of a digital gift basket. Not so bad at all — if I say so myself.
Via: Wired