PlayStation Network Releases: October 18 — Okabu, Rocketbirds: Hardboiled Chicken
Two new Only On PSN games, Okabu & Rocketbirds: Hardboiled Chicken, join the cast of this week's PlayStation Network Releases for October 18, 2011.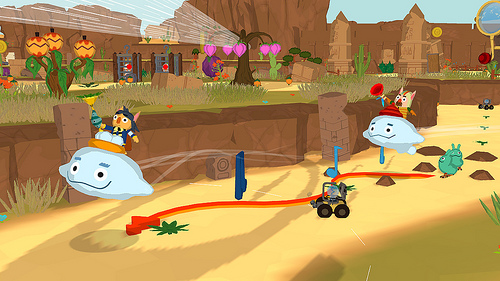 Instead of just one Only On PSN debut, lucky us, we get two available this week — Okabu, from London-based independent games studio HandCircus (love that name!), and Rocketbirds: Hardboiled Chicken developed by Ratloop, Inc; two wildly creative digital downloads that you won't be able to find anywhere else and a part of the October 18th batch of PlayStation Network Releases.
Let's start with Okabu first, which you can definitely see continues one of the core outlines for what involves being a member to the Only On PSN class, and that's having in-game imagery that really amazingly stands out. Playful and bright like a children's pop-up book, Okabu is wonderfully expressive and extends such emotions even to it's toybox-like gameplay. Rocketbirds: Hardboiled Chicken on the flip-side though, is the total opposite.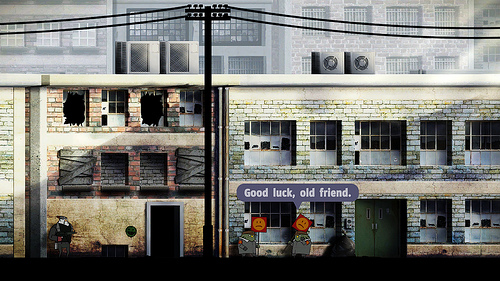 A perfectly fine "total opposite" I should add. I wouldn't want to be carrying a bucket of KFC with any of these gun-toting poultry around, that's for sure. Nominated for three awards at the 2010 Independent Games Festival, Rocketbirds finally makes it's long awaited appearance on the PlayStation 3, a platforming adventure game where the visuals in this console version have been sharply enhanced (such as new modeled environments in full 3d for pan, zoom, & parallax effects) along with it's controls to work perfectly with the Dualshock 3.
Turing toward other new items you should look into this week, is the new downloadable content for Deus Ex: Human Revolution ready for anyone who has been jonesing more incredible stealth-action after already beaten & thoroughly enjoyed one of the top games of 2011. There's also a demo for the upcoming Need For Speed: The Run, and for fighting game fans, there's Street Fighter Alpha 3 as a PSone Classic — personally one of my favorite 2D fighters that is so content-packed with extra characters & modes.
PlayStation Plus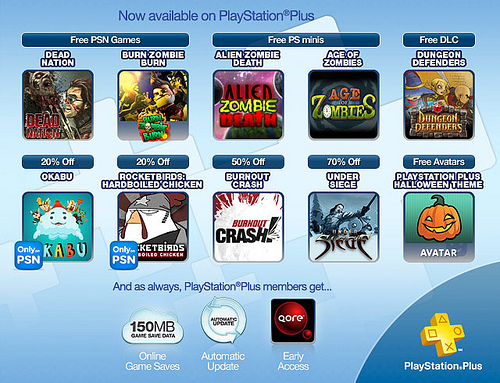 Full Game Trials
Dead Space Digital
Ridge Racer 7: 3D License Ver.
Exclusive Discounts
Okabu – 20% off
Rocketbirds – 20% off
Valkyria Chronicles II PSP Bundle Pack – 40% off
Paramount Sale
Top Gun – 40% off
Star Trek DAC – 40% off
Days of Thunder – 40% off
Bundle of all 3 Paramount Titles + DLC – 50% off
Updates
Dead Nation – Free
Burn Zombie Burn – Free
Street Smart – Free
Alien Zombie Death mini – Free
Age of Zombies mini – Free
Ghostbusters Sanctum of Slime – 30% off
Zombie Apocalypse – 30% off
Alien Zombie Megadeath – 30% off
Borderlands Zombie Island –30% off
Costume Quest Grubbins on Ice 30% off
Under Siege – 70% off
Burnout Crash! – 50% off
Valkyria Chronicles II PSP Bundle Pack – 40% off
Add-ons
Dungeon Defenders PlayStation Plus Exclusive DLC (Free & Exclusive to PlayStation Plus members )
Avatars
Street Fighter Alpha 3 Avatar Bundle ($2.99)
PlayStation Plus Halloween Bat Avatar (Free)
PlayStation Plus Halloween Candy Avatar (Free)
PlayStation Plus Halloween Candy Apple Avatar (Free)
PlayStation Plus Halloween Ghost Avatar (Free)
PlayStation Plus Halloween Jackolantern Avatar (Free)
PlayStation Plus Halloween Skull Avatar (Free)
PlayStation 3
Games
Okabu ($14.99)

Dive into a tactile toy-box world filled with puzzles, adventures, adorable creatures and destructive machines. Take to the skies and guide cloud-whale brothers Kumulo and Nimbe on their epic adventure. Save the once-peaceful lands of Okabu from the diabolical Doza and their contraptions. ESRB rated E, File size 213 MB

Rocketbirds: Hardboiled Chicken ($11.99)

Step into this stunning cinematic platform adventure game offering full solo and co-op campaigns with stereoscopic 3D support. Play as Hardboiled Chicken and use as slew of weapons and explosives to destroy the evil penguin regime. ESRB rated M, File size: 433 MB

Beat Hazard Ultra ($9.99)

Experience your music collection like never before with this intense music driven twin-stick arcade shooter. Each of your songs will have its own unique ebb and flow based on the music. Power up your spaceship and watch as the music boosts your firepower and decimates waves of enemies! ESRB rated E, File size 216 MB

Dead Space (Digital) ($19.99)

When an immense mining ship comes into contact with a mysterious alien artifact in a remote star system, its communications with Earth are mysteriously cut off. Engineer Isaac Clarke is sent to repair the Ishimura's communications array, but he arrives to find a living nightmare. ESRB rated M, File size 8.12 GB

Ridge Racer 7: 3D License Ver. ($19.99)

Ridge Racer 7 returns with stunning stereoscopic 3D visuals. Choose from 40 machines and over 40 courses for a driving experience unlike any other. Access 375,000 visual customization and 7,150 tunable combinations, or race against challengers from around the world with full PSN support. ESRB rated E, File size 6.72 GB

Sam & Max: Beyond Time And Space – Full Season (Episodes 1-5) ($19.99)

Sam & Max Beyond Time and Space is a 5-episode trek from the North Pole to the Fountain of Youth. Babies will dance. Mariachis will sing. A giant battle robot will trash the streets. And when their friends are caught in the middle, Sam & Max will risk their very souls to set things right. ESRB rated T,File size 1.48 GB

Dungeon Defenders ($14.99)

Dungeon Defenders is an action-RPG that sets you on an epic co-op adventure to protect the Eternia Crystal! Create heroes from one of four classes to fight across a full campaign or a horde of challenge missions! Defeat wave upon wave of enemies to level your heroes, forge equipment and more! ESRB rated E10+, File size 1.35 GB

Real Steel ($9.99)

A boxing-style fighting game featuring robots as combatants, based on the recently released film, "REAL STEEL". ESRB rated E10+, File size 344 MB

Payday – The Heist w/ Trial ($19.99)

PAYDAY The Heist is an action filled first person shooter game for the PlayStation Network that lets players take on the role of a hardened career criminal executing intense, dynamic heists in constant pursuit of the next "big score". Load out with an array of weaponry and equipment. ESRB rated M, File size 2.37 GB
Game Demos

Payday – The Heist Demo, File size 2.37 GB
Beat Hazard Ultra Demo, File size 216 MB
Need For Speed: The Run Demo

Race for your life in the NEED FOR SPEED THE RUN demo. In the Desert Hills of Nevada you find yourself at the heart of the pack. Battle the unforgiving desert heat in a Lamborghini Gallardo LP 550-2 Valentino Balboni. Once past the desert, you face avalanche warnings at treacherous Independence Pass. Refer a friend and race in the new Porsche 911. ESRB rated T, File size 1.2 GB
Okabu Demo, File size 213 MB
Rocketbirds: Hardboiled Chicken Demo, File size 433 MB
Sam & Max: Beyond Time And Space – Episode 1 – Ice Station Santa Demo, File size 303 MB
Dungeon Defenders Demo, File size 1.35 GB
Real Steel Demo, File size 344 MB
Everybody Dance Demo

Try out the Everybody Dance demo for PlayStation Move. In this demo, you'll get to sample dances to 4 of the songs from the 40 hit track list on the full game. With the full game you will be able to play each song on beginner, intermediate, or hard modes, or grab a friend and try out partner dance. It's your turn to dominate the dance floor! ESRB rated T, File size 713 MB
Add-on Game Content
Batman Arkham City – Catwoman Bundle (First Purchase DLC) ($9.99)

Activate the Catwoman Bundle Pack to play as Catwoman in a unique storyline. The Catwoman Bundle Pack is included with the purchase of the game. If the Catwoman Bundle Pack code has already been redeemed by a previous owner, you can purchase a Catwoman Bundle Pack from the PlayStation Store. The Catwoman Bundle Pack also comes with two bonus Catwoman skins: Long Halloween Catwoman and Animated Catwoman. File size 217 MB
SOCOM 4: U.S. Navy SEALs Demolition Pack ($9.99) File size 1.84 GB
Deus Ex: Human Revolution – Explosive Mission Pack ($3.49) File size 105 KB
Deus Ex: Human Revolution – Tactical Enhancement Pack ($1.99) File size 105 KB
Deus Ex: Human Revolution – The Missing Link ($14.99)

The Deus Ex: Human Revolution conspiracy grows deeper in The Missing Link. During Adam's quest for the truth in Deus Ex: Human Revolution, he mysteriously vanishes for three days. Where was he? What did he find out? The Missing Link reveals it all. File size 1.46 GB
Rocksmith – Tone Designer Time Saver Pack ($4.99) File size 100 KB
Yoostar 2 – Drag Race ($1.99)
American Graffiti – Out cruising with annoying teenybopper Carol, John Milner runs across mouthy Bob Falfa, who challenges John to a race. File size 48 MB
Yoostar 2 – Fast Ride Through A Tunnel ($0.99)
Video Backgrounds – Keep your eyes on the road and your hands on the wheel as you hug the curves of an underground tunnel. File size 62 MB
Yoostar 2 – Real Hot! ($1.99)
Some Like It Hot – On the run from gangsters, Joe has been hiding in drag in Sugar Kane's all-girl band. File size 81 MB
Yoostar 2 – Tell Me About The Stuff Inside ($1.99)
Rocky Balboa – The two friends shiver in the icy slaughterhouse. File size 106 MB
Yoostar 2 – Voodoo Economics ($1.99)
Ferris Bueller's Day Off – While Ferris Bueller plays hooky, his high school economics teacher (Ben Stein) gives a lecture about the Great Depression. File size 79 MB
The Sims 3 Pets Online Pass ($9.99)
This Online Pass grants you access to The Sims 3 Pet Exchange. Access to online features is nontransferable. File size 100 KB
Rock Band 3
"Clocks" – Coldplay ($1.99)
"Every Teardrop Is A Waterfall" – Coldplay ($1.99)
"Fix You" – Coldplay ($1.99)
"The Scientist" – Coldplay ($1.99)
"Viva La Vida" – Coldplay ($1.99)
"Yellow" – Coldplay ($1.99)
Coldplay Collection 01 — ($9.99) Includes "Clocks," "Every Teardrop Is a Waterfall," "Fix You," "The Scientist," "Viva la Vida," and "Yellow"
File size: 27-37 MB (Singles), 182 MB (Track pack)
Rock Band Network v2.0
"Namaste" – Veil of Maya ($1.99)
"Nugget Man" – Paul and Storm ($1.99)
"Piano Sonata No. 14 – Moonlight Sonata (Beethoven)" – Thomas Walker ($0.99)
"Shadow Of A Man" – Free Spirit ($1.99)
"The Cheval Glass" – Emery ($1.99)
File size: 9-31 MB (Singles)
Updates
Transformers: War For Cybertron: Wfc Map And Character Pack 1 – Price Change (PS3) (now $4.99, original price $9.99)
Transformers: War For Cybertron: Wfc Map And Character Pack 2 – Price Change (PS3) (now $4.99, original price $9.99)
Ghostbusters: Sanctum Of Slime – Sale (PS3) (now $6.99, original price $9.99)
Burn Zombie Burn – Sale (PS3) (now $4.99, original price $9.99)
Burn Zombie Burn In Space – Sale (PS3) (now $1.49, original price $2.99)
Blue Toad Murder Files Episodes 2-6 Upgrade Bundle – Sale (now $4.99, original price $9.99)
Call Of Duty 4: Modern Warfare Variety Map Pack – Sale (PS3) (now $4.99, original price $9.99)
Call Of Duty: Modern Warfare 2 Resurgence Package – Sale (PS3) (now $7.49, original price $14.99)
Call Of Duty: Modern Warfare 2 Stimulus Package – Sale (PS3) (now $7.49, original price $14.99)
Call Of Duty: World At War Map Pack 1 Dlc – Sale (PS3) (now $4.99, original price $9.99)
Call Of Duty: World At War Map Pack 2 Dlc – Sale (PS3) (now $4.99, original price $9.99)
Call Of Duty: World At War Map Pack 3 Dlc – Sale (PS3) (now $4.99, original price $9.99)
Call Of Duty: World At War Map Pack Bundle – Sale (PS3) (now $14.49, original price $24.99)
Borderlands: Zombie Island – Sale (PS3) (now $6.99, original price $9.99)
Tetris – Sale (PS3) (now $6.99, original price $9.99)
Zombie Apocalypse – Sale (PS3) (now $6.99, original price $9.99)
Days Of Thunder – Nascar Edition – Sale (PS3) (now $4.99, original price $9.99)
Star Trek: D-A-C – Sale (PS3) (now $4.99, original price $9.99)
Top Gun – Sale (PS3) (now $4.99, original price $9.99)
Alien Zombie Mega Death – Sale (PS3) (now $5.49, original price $7.99)
Crazy Taxi – Sale (PS3) (now $6.99, original price $9.99)
Gunstar Heroes – Sale (PS3) (now $2.99, original price $4.99)
Sega Rally Online Arcade – Sale (PS3) (now $6.99, original price $9.99)
Phantasy Star Portable 2 – Sale (PSP) (now $19.99, original price $39.99)
Sega Genesis Collection – Sale (PSP) (now $12.99, original price $15.99)
Crazy Taxi: Fare Wars – Sale (PSP) (now $6.99, original price $9.99)
Costume Quest – Sale (PS3) (now $10.49, original price $14.99)
One Epic Game – Price Change (PS3/PSP) (now $1.99, original price $3.99)
Qore
Qore Episode 41: October, 2011

File size 1.42 GB
Avatars
Street Fighter Alpha 3 Assorted Avatars (x25) ($0.49 each)
Game Videos
Pulse 10/18 Edition
Payday: The Heist – Diamond Heist Trailer
Payday: The Heist – Panic Room Trailer
Payday: The Heist – World Bank Trailer
Ratchet & Clank: All 4 One Octomoth Battle
Ratchet & Clank: All 4 Single Player Experience
Ratchet & Clank: All 4 Z'Grute Boss Battle
The Darkness 2 – What Is The Darkness? Trailer
Dragon Age Ii Mark Of The Assassin Launch Trailer
NBA Jam: On Fire Edition – Producer Video 2 – Online Modes
Need For Speed The Run Sports Illustrated Announcement
Absolute Supercars Cars Trailer
Absolute Supercars Game Debut Trailer
Rochard Official Trailer
Metro: Last Light – E3 12 Minute Playthrough
Metro: Last Light – E3 Gameplay Demo Part I
Metro: Last Light – E3 Gameplay Demo Part II
Metro: Last Light – E3 Gameplay Demo Part III
Dungeon Defenders Monk Trailer
Dungeon Defenders Squire Trailer
PS3 Themes
Fantasy: Demon Zombie Dynamic Theme ($2.99)
Abstract Purple Lightning Dynamic Theme ($2.99)
Dynamic Colored Smoke Theme 2 ($2.99)
Dynamic Colored Ink Theme ($2.99)
Dynamic 3d City Theme ($2.99)
Dynamic Blue Lasers Theme ($2.99)
Dynamic 3d Circuits Theme 2 ($2.99)
Halloween Haunting Dynamic Theme ($2.99)
Bacon Dynamic Theme ($2.99)
Fast Five Dynamic Theme ($2.99)
PS3 Wallpapers
Payday: The Heist – Wallpaper (1-5)
4 Elements HD: Wallpaper 3
Okabu Wallpaper – Doza Fortress
Okabu Wallpaper – Karibu Valley
Okabu Wallpaper – Lake Waka
Okabu Wallpaper – Noko Woods
PSone Classics
Street Fighter Alpha 3 ($5.99)

Select from over 30 characters and choose one of three fighting styles in this classic fighter. Download this PS one Classic today! File size 328 MB
Bundles
Paramount Games Bundle ($14.99)
Sam & Max – Max Pack (Bundle Of 2 Seasons) ($29.90)
PlayStation  Portable
PSP minis
1000 Tiny Claws – Minis ($3.49) File size 93 MB
The Treasures Of Montezuma – Minis ($3.99) File size 15 MB
Street Smart – Minis ($2.99) File size 26 MB
Speedball 2 Evolution – Minis ($6.99) File size 46 MB
Game Videos
PSP Bundles
Valkyria Chronicles II PSP Bundle Pack ($22.49) File size: 848 MB
Via: PlayStation Blog