New PS3 2.76 Firmware Update Available for Download
The recent PS3 Slim news are not official and may be just a hoax, but at least we get an official download of the new PS3 Firmware Update version 2.76.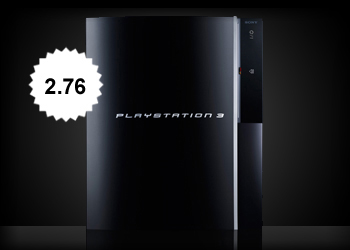 Sony Playstation site specifically states that aren't too many additions since the 2.70 PS3 firmware update, but the entire specs are here for all (which include the previous version):
[Dynamic Normalizer] has been added as an option under [Music]
Video Video
You can now back up content (file type MNV) that was downloaded from the Video Store of PlayStation®Store and you can restore files that you backed up to the same PS3™ system. You can use this feature to back up both SD (standard definition) and HD (high definition) resolution content.
Game Game
New for 2.76: The playback quality of some PLAYSTATION®3 format software has been improved.
You can now easily search the Internet for information about your PLAYSTATION®3 format software, as well as for games you purchased from PlayStation®Store. Choose the icon for the game, and then choose [Internet Search] from the options menu to get search results based on the game title.
Network Network
You can now copy and paste text from a Web page viewed in the Internet browser.
[Copy Address of This Page] and [Copy Address of This Link] have been added as options under [File] in the browse mode menu of the Internet browser.
[Browser Security] has been added as an option to the browse mode menu of the Internet browser. The websites for the Web filtering services that used to be listed under [Bookmarks] have been moved under this new option.
Friends Friends
The order in which Friends are listed in the Friends list has been changed. You can now sort by name (alphabetical order) and by status, listing both online and offline Friends by the last time online. When you have pending requests to add Users as Friends, the icons for these Users are now displayed at the top of the Friends list.
The maximum size for files that can be attached to messages has been increased to 3 MB.
This may not be enough changes for everyone to update the PS3 firmware, and you can certainly wait until the next update. If you still want the newest firmware, then you can go to Sony's official support site…here is the Download Link.