PlayStation Store & 'Welcome Back' Program Now Up and Running
Finally the PlayStation Store is finally open for business and so is Sony's plans to give back to its install base with the "Welcome Back" program.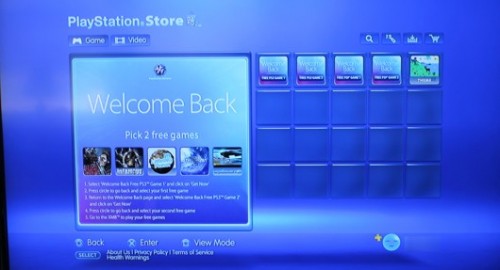 So help me Bob, I promise you (and my very cool Editor) that this will be the very last story about the PlayStation Network I will write … well, at least not until a really long time in between. Absolutely, the irritation this whole PSN fiasco has brought on its citizens has been heavy and I'm certain at this point no one wants to be reminded of its depressing status.
Today though, I bring only good tidings! That's because I can say with full confidence (please, oh please don't fail me now Sony) that the PlayStation Store is back from being knocked out from its 6 long weeks hack-induced comma.  Can I get a – wahoo, PSN! Wahoo, PSN!
Although, the PS3's online center of digital commerce being finally fully restored isn't the only thing to be excited about — already in progress, PlayStation 3 users (who joined PSN before April 20, 2011) can take advantage of the "Welcome Back" program, Sony's "We're so sorry" initiative to get gamers back into the groove of using the online service once again.
Just a push of the X button to the PlayStation Store will take PS3 users to the front page of the store, where they should see upon arriving, the "Welcome Back" section. From there, you can choose 2 free PS3 games from a list of five — and for PlayStation Portable users, two free PSP games from a list of four (personally, I would go with Wipeout HD + Fury and the original inFamous — both equally sweet games.)
They're awesomely yours to keep forever, but you've got to strike while the "cyber-iron" is hot, because after July 3, 2011 all free games and content offers will end abruptly … so please, don't miss out!
Oh and don't forget either, that along with that Sony is offering 30 days of PlayStation Plus to non-PS Plus subscribers. If you already have the premium service, then a bonus of 60 days will be added to your account.