PlayStation Network Releases, November 22: Corpse Party, Ratchet & Clank: All 4 One
Corpse Party for PSP, Ratchet & Clank: All 4 One goes digital, and more with the November 22, 2011 edition of the PlayStation Network Releases.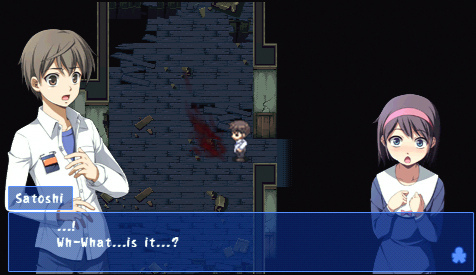 Happy Thanksgiving everyone! I hope all you had a lovely time downing lots of turkey, spending time with family and friends, and buying cheap electronics at wee hours of the morning. Unfortunately, yours truly was sadly stricken by the cold bug and had many restless nights of itchy-throat soreness and non-relenting cough spells. In fact — *COUGH, COUGH, COUGH* — I still do.
And because of that, this week's PlayStation Network notice won't be as long upfront.  Honestly, there isn't that much to talk about in terms of relative content too… It's almost as if there's a holiday going on or something, huh? What I would like to point out before I head for the nearest air humidifier are two things of good note; first is Corpse Party on the PlayStation Portable — a gory 16-bit oddity served on a adventure-based platter — and the recent Ratchet & Clank: All 4 One finally available as a digital download.
Oh wait, my bad! Let me add a third. My brain totally slipped and forgot about Final Fantasy V releasing as a PlayStation One Classic this week too, which also reminds me that we still have one game left in the Winter of RPGs campaign from Square-Enix; the previous being Chrono Cross and the last, Final Fantasy VI, coming up on December 6. So look forward to that, because it so happens to be one of the best Final Fantasy games ever, or so says the word on the street.
PlayStation Plus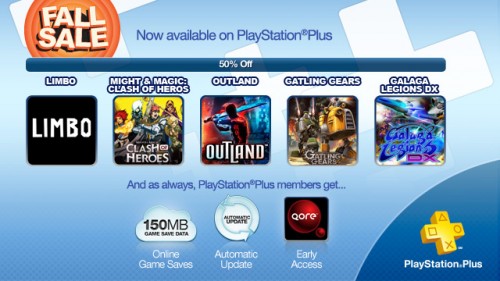 Free PS Mini
Ninjamurai
Full Game Trials
Ratchet and Clank: All 4 One
Exclusive Discounts
Limbo – 50% off ($7.34; Regular price: $14.99)
Might & Magic Clash Of Heroes – 50% 0ff ($7.34; Regular price: $14.99)
Outland – 50% off ($4.89; Regular price: $9.99)
Gatling Gears – 50% off ($4.89; Regular price: $9.99)
Galaga Legions DX – 50% off ($4.89; Regular price: $9.99)
The Fancy Pants Adventures – 50% off ($4.89; Regular price: $9.99)
Section 8: Prejudice – 50% off ($7.34; Regular price: $10.49)
Section 8: Prejudice – Blitz Pack – 50% off ($1.46; Regular price: $2.09)
Section 8: Prejudice – Frontier Colonies Map Pack – 50% off ($1.95; Regular price: $2.79)
Section 8: Prejudice – Overdrive Map Pack – 50% ($1.95; Regular price: $2.79)
Cuboid – 20% Off ($3.99; Regular price: $4.99)
Akimi Village – 50% off ($4.89; Regular price: $9.99)
Dungeon Hunter Alliance – 50% off ($6.29; Regular price: $12.99)
PlayStation Move Ape Escape – 50% off ($9.79; Regular price: $19.99)
PlayStation 3
PSN Games
Who Wants To Be A Millionaire ($9.99)
The final answer is "multiplayer fun!" with Millionaire on your PlayStation 3 system. Try to win $1,000,000 by correctly answering multiple choice questions, each worth increasing amounts of money. Seek help for stumper questions via "Ask the Audience", "Double Dip" or "Phone a Friend" lifelines. ESRB rated E, File size 772 MB
Learning With The PooYoos – Episode 2 ($8.99)
With the PooYoos, a merry band of adorable baby animals, children will have fun while learning the basics for his or her development: numbers, letters, space, colors and more. ESRB rated EC, File size 272 MB
Full Games
Ratchet & Clank: All 4 One $59.99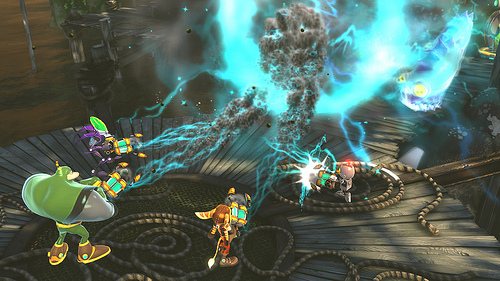 Ratchet & Clank: All 4 One introduces 4-player co-op to the franchise for the first time. Play together online or offline as the greatest heroes (and villain) in the universe form the unlikeliest team in this humorous adventure blending high-powered gameplay with astounding cinematic visuals. ESRB rated E10+, File size 14 GB
Call Of Duty 4: Modern Warfare ($19.99)
Call of Duty 4: Modern Warfare arms gamers with an arsenal of advanced and powerful modern day firepower and transports them to the most treacherous hotspots around the globe to take on a rogue enemy group threatening the world. ESRB rated M, File size 5.2 GB
Add-on Game Content
White Knight Chronicles II DLC (x137) (various prices) File size 100 KB (Each)
Goldeneye 007: Reloaded Pussy Galore (Free) File size 100 KB
Ultimate Marvel Vs Capcom 3 – The Evil Twin Pack ($3.99) File size 100 KB
Ultimate Marvel Vs Capcom 3 – The Rising Dead Pack ($3.99) File size 100 KB
Batman Arkham City – Robin Bundle ($6.99)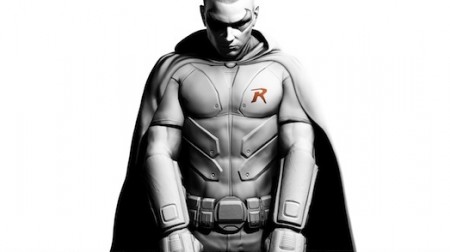 Download the fully playable Robin character. Robin comes complete with his own unique gadgets and special moves, and is playable in all challenge maps in the game, as well as two additional challenge maps that are included with the pack: Black Mask and Freight Train. The Freight Train Escape challenge map is a unique take on Arkham City, featuring brawler gameplay on a 2D plane. The pack also contains a bonus Red Robin character skin. File size 114 MB
Dead Island: Bloodbath Arena ($9.99)
The Dead Island Bloodbath Arena invites all zombie fighters to prove themselves against wave and wave of attacking undead. File size 794 MB
Disgaea 4 – Adell ($2.99) File size 1.55 MB
Disgaea 4 – Holt Village Map ($0.99) File size 1.55 MB
Disgaea 4 – Laharl Kaiser V ($1.99) File size 1.55 MB
Disgaea 4 – Rozalin ($2.99) File size 1.55 MB
Rock Band 3
"Animals" – Nickelback ($1.99)
"Fuzzy Man (Fuzzy Nation)" – Paul and Storm ($1.99)
"How You Remind Me" – Nickelback ($1.99)
"If Today Was Your Last Day" – Nickelback ($1.99)
"Nemesis" – Arch Enemy ($1.99)
"Passing Bells" – Amberian Dawn ($1.99)
"Someday" – Nickelback ($1.99)
"This Means War" – Nickelback ($1.99)
"Walk Like A Ghost" – Quartered ($0.99)
Nickelback Then & Now Pack ($8.49) –  This pack includes "Animals," "How You Remind Me," "If Today Was Your Last Day," "Someday," and "This Means War"
File size: 18-36 MB (singles), 110 MB (track pack)
Rock Band Network v2.0
"Pale Sister of Light" – Free Spirit ($1.99)
File size: 24 MB
Updates
Aquarium 1.0 Dynamic Theme (Price Change) (PS3) (now $2.99, original price $3.49)
Aquarium 2.0 Dynamic Theme (Price Change) (PS3) (now $3.49, original price $2.99)
Ar Tonelico Qoga – Binary World [2Nd Issue] Elemia Island Vol. 2 (Sale) (PS3) (now $0.99, original price $1.99)
Ar Tonelico Qoga – Binary World [3Rd Issue] Elamia Vol. 3 (Sale) (PS3) (now $0.99, original price $1.99)
Ar Tonelico Qoga – Binary World [4Th Issue] Elemia Island Vol. 4 (Sale) (PS3) (now $0.99, original price $1.99)
Ar Tonelico Qoga – Binary World [5Th Issue] Elemia Island Vol. 5 (Sale) (PS3) (now $0.99, original price $1.99)
Ar Tonelico Qoga – Binary World [Complete Edition] Elemia Island Complete Series (Sale) (PS3) (now $3.49, original price $5.99)
Disgaea 3 Adell DLC (Sale) (PS3) (now $0.99, original price $1.99)
Disgaea 3 Disgaea 2 Main Character Theme (Sale) (PS3) (now $0.49, original price $0.99)
Disgaea 3 Hanako DLC (Sale) (PS3) (now $0.99, original price $1.99)
Disgaea 3 Main Character Package DLC Bundled With Disgaea 3 Disgaea 2 Main Character Theme (Sale) (PS3) (now $2.49, original price $4.99)
Disgaea 3 Makai Kingdom Main Character Package DLC (Sale) (PS3) (now $1.99, original price $3.99)
Disgaea 3 Nekomata DLC (Sale) (PS3) (now $0.49, original price $0.99)
Disgaea 3 Pram DLC (Sale) (PS3) (now $0.99, original price $1.99)
Disgaea 3 Pram Theme (Sale) (PS3) (now $0.49, original price $0.99)
Disgaea 3 Rozalin DLC (Sale) (PS3) (now $0.99, original price $1.99)
Disgaea 3 Taro DLC (Sale) (PS3) (now $0.99, original price $1.99)
Disgaea 3 Zetta DLC (Sale) (PS3) (now $0.99, original price $1.99)
Disgaea 3: Absence Of Justice Class World Command Attack (Sale) (PS3) (now $1.99, original price $3.99)
Disgaea 3: Absence Of Justice Defender Of Earth Custom Theme (Sale) (PS3) (now $0.49, original price $0.99)
Disgaea 3: Absence Of Justice Defender Of Earth Set (Sale) (PS3) (now $2.99, original price $5.99)
Disgaea 3: Absence Of Justice Demon & Detective Set (Sale) (PS3) (now $1.99, original price $3.99)
Disgaea 3: Absence Of Justice Disgaea 2 Sacrebleu Set (Sale) (PS3) (now $2.49, original price $5.99)
Disgaea 3: Absence Of Justice Gordon (Sale) (PS3) (now $0.99, original price $1.99)
Disgaea 3: Absence Of Justice Item World Command Attack Mode (Sale) (PS3) (now $1.99, original price $3.99)
Disgaea 3: Absence Of Justice Jennifer (Sale) (PS3) (now $0.99, original price $1.99)
Disgaea 3: Absence Of Justice Kogure (Sale) (PS3) (now $0.99, original price $1.99)
Disgaea 3: Absence Of Justice Kogure Custom Theme (Sale) (PS3) (now $0.49, original price $0.99)
Disgaea 3: Absence Of Justice Marjoly (Sale) (PS3) (now $0.99, original price $1.99)
Disgaea 3: Absence Of Justice Mid-Boss (Sale) (PS3) (now $0.99, original price $1.99)
Disgaea 3: Absence Of Justice Priere Custom Theme (Sale) (PS3) (now $0.49, original price $0.99)
Disgaea 3: Absence Of Justice Thursday (Sale) (PS3) (now $0.49, original price $1.99)
Disgaea 3: Absence Of Justice Tink (Sale) (PS3) (now $0.99, original price $1.99)
Disgaea 3: Absence Of Justice Yukimaru (Sale) (PS3) (now $0.99, original price $1.99)
Disgaea 3: Absence Of Justice: Action Prinny (Sale) (PS3) (now $0.99, original price $1.99)
Disgaea 3: Absence Of Justice: All Star Theme (Sale) (PS3) (now $0.49, original price $0.99)
Disgaea 3: Absence Of Justice: Curtis (Sale) (PS3) (now $0.99, original price $1.99)
Disgaea 3: Absence Of Justice: Dragon (Sale) (PS3) (now $0.49, original price $0.99)
Disgaea 3: Absence Of Justice: Fake Heroes Set (Sale) (PS3) (now $1.99, original price $3.99)
Disgaea 3: Absence Of Justice: Gig (Sale) (PS3) (now $0.99, original price $1.99)
Disgaea 3: Absence Of Justice: Gig Theme (Sale) (PS3) (now $0.49, original price $0.99)
Disgaea 3: Absence Of Justice: Item World Survival Attack (Sale) (PS3) (now $1.99, original price $3.99)
Disgaea 3: Absence Of Justice: Pleinair Theme (Sale) (PS3) (now $0.49, original price $0.99)
Disgaea 3: Absence Of Justice: Prinny Curtis (Sale) (PS3) (now $0.99, original price $1.99)
Disgaea 3: Absence Of Justice: Raspberyl & Sapphire Theme (Sale) (PS3) (now $0.49, original price $0.99)
Disgaea 3: Absence Of Justice: Raspberyl Chapters 1-4 (Sale) (PS3) (now $5.99, original price $11.99)
Disgaea 3: Absence Of Justice: Raspberyl Chap. 1 (Sale) (PS3) (now $1.49, original price $2.99)
Disgaea 3: Absence Of Justice: Raspberyl Chap. 2 (Sale) (PS3) (now $1.49, original price $2.99)
Disgaea 3: Absence Of Justice: Raspberyl Chap. 3 (Sale) (PS3) (now $1.49, original price $2.99)
Disgaea 3: Absence Of Justice: Raspberyl Chap. 4 (Sale) (PS3) (now $1.49, original price $2.99)
Disgaea 3: Absence Of Justice: Revya (Sale) (PS3) (now $0.99, original price $1.99)
Disgaea 3: Absence Of Justice: Soul Nomad Set (Sale) (PS3) (now $1.99, original price $3.99)
Aedis Eclipse: Generation Of Chaos Legacy (Sale) (PSP) (now $5.99, original price $9.99)
Blade Dancer: Lineage Of Light Umd Legacy (Sale) (PSP) (now $5.99, original price $7.99)
Cladun X2 (Sale) (PSP) (now $14.99, original price $19.99)
Cladun: This Is An RPG! (Sale) (PSP) (now $9.99, original price $19.99)
Disgaea 2: Dark Hero Days Digital (Sale) (PSP) (now $14.99, original price $29.99)
Disgaea Infinite Digital (Sale) (PSP) (now $7.99, original price $19.99)
Disgaea: Afternoon Of Darkness Legacy (Sale) (PSP) (now $9.99, original price $14.99)
Dragoneer'S Aria Legacy (Sale) (PSP) (now $7.99, original price $14.99)
Mana Khemia: Student Alliance Legacy (Sale) (PSP) (now $7.99, original price $14.99)
Phantom Brave: The Hermuda Triangle Digital (Sale) (PSP) (now $9.99, original price $19.99)
Prinny 2 (Sale) (PSP) (now $9.99, original price $29.99)
Prinny: Can I Really Be The Hero? (Sale) (PSP) (now $7.99, original price $19.99)
Z.H.P. (Sale) (PSP) (now $19.99, original price $29.99)
Worms 2: Armageddon Battle Pack – Sale (PS3) (now $2.49, original price $4.99)
Worms 2: Armageddon Forts Pack – Sale (PS3) (now $3.49, original price $4.99)
Worms 2: Armageddon Puzzle Pack – Sale (PS3) (now $3.49, original price $4.99)
Worms 2: Armageddon Retro Pack – Sale (PS3) (now $3.49, original price $4.99)
Worms 2: Armageddon Time Attack – Sale (PS3) (now $3.49, original price $4.99)
Prototype Digital – (Sale) (PS3) (now $14.99, original price $29.99)
Split Second Digital (Sale) (PS3) (now $9.99, original price $29.99)
Alien Breed 2: Assault – (Sale) (PS3) (now $4.99, original price $9.99)
Alien Breed 3: Descent – (Sale) (PS3) (now $4.99, original price $9.99)
Alien Breed: Impact – (Sale) (PS3) (now $4.99, original price $9.99)
Worms 2: Armageddon – (Sale) (PS3) (now $7.49, original price $14.99)
Cuboid – (Sale) (PS3) (now $4.99, original price $9.99)
Kick-Ass (Price Change) (PS3) (now $7.99, original price $14.99)
Worms: Battle Islands – (Sale) (PSP) (now $8.49, original price $24.99)
Half-Minute Hero Digital (Price Change) (PSP) (now $9.99, original price $29.99)
Lunar: Silver Star Harmony Digital (Price Change) (PSP) (now $14.99, original price $29.99)
Valhalla Knights 2: Battle Stance (Price Change) (PSP) (now $9.99, original price $29.99)
Valhalla Knights Legacy (Price Change) (PSP) (now $4.99, original price $14.99)
Ys Seven Digital (Price Change) (PS3) (now $14.99, original price $29.99)
Ys: The Oath In Felghana Digital (Price Change) (PSP) (now $14.99, original price $29.99)
The Baconing (Sale) (PS3) (now $7.49, original price $14.99)

Avatars
Flower Swarm Avatar ($0.49)
Flower Tower Avatar ($0.49)
Flower Tree Avatar ($0.49)
Game Videos
GT Academy USA Episode 1
GT Academy USA Episode 2
GT Academy USA Episode 3
GT Academy USA Episode 4
GT Academy USA Episode 5
Jurassic Park: The Game – Behind The Scenes Trailer
NBA 2K12: Legends Showcase Teaser Trailer
Skylanders Spyro's Adventure Trailer
Kingdoms Of Amalur: Reckoning Destiny & Fate Trailer
Kingdoms Of Amalur: Reckoning Factions And Fae Trailer
Need For Speed The Run/The Black Keys
Syndicate 4-Player Co-Op Trailer Hostile Takeover (HD)
Warp Announce Trailer
House Of The Dead: Overkill Launch Trailer
Sonic Generations Launch Trailer
Hitman: Absolution Run For Your Life Full Playthrough Video
UFC Undisputed 3 Pride Trailer
WWE '12 – Brock Lesnar Trailer
Assassin's Creed: Revelations No Mercy Trailer
Rayman Origins Comic-Con Trailer
Pulse 11/22 Edition
PS3 Themes
Oddworld: Stranger'S Wrath HD – Dynamic Theme ($2.99)
Call Of Duty: Modern Warfare 3: Hunter Killer Dynamic Theme ($2.99)
Call Of Duty: Modern Warfare 3 Black Tuesday Theme ($0.99)
Call Of Duty: Modern Warfare 3 In The Shadows Theme ($0.99)
The King Of Fighters XIII Custom Theme 1 ($1.99)
The King Of Fighters XIII Custom Theme 2 ($1.99)
Castlevania: Harmony Of Despair Theme ($1.99)
Anne Stokes – Bio Skull Dynamic Theme ($2.99)
Anne Stokes – Evil Clown Dynamic Theme ($2.99)
Anne Stokes – Final Verdict Dynamic Theme ($2.99)
Anne Stokes – Hell Rider Dynamic Theme ($2.99)
Anne Stokes – Hellfire Dynamic Theme ($2.99)
Active Beauty – Deep Stretch ($2.99)
Active Beauty – Crunch Time ($2.99)
Active Beauty – Bench Press ($2.99)
Bad Business 3 – Freedom Fighter Jackson Dynamic Theme ($2.99)
Dynamic Comic Thanksgiving ($2.99)
Cyber Terran 3020 Dynamic theme 1 ($2.99)
Cyber Terran 3020 Dynamic theme 2 ($2.99)
PS one Classics
Final Fantasy V ($9.99)
Bundles
Flower Game, Soundtrack, Avatar Bundle ($12.49)
PlayStation Store for PSP
Downloadable Games
NBA 2K12 PSP ($19.99)
Winner of over 20 Sports Game of the Year awards last year, the NBA 2K franchise is back and bigger than ever. NBA 2K12 PSP delivers more action than any NBA game to date, putting gamers as close to the court as possible without having to lace up a pair of kicks. Players can now relive 10 legendary games from Michael Jordan's career in the "Jordan Challenge." ESRB rated E, File size 980 MB
Corpse Party ($19.99)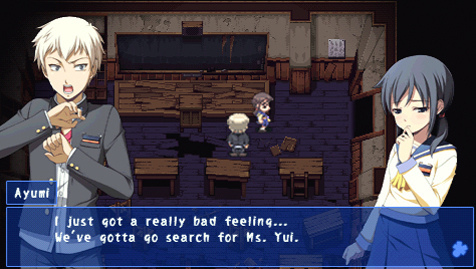 Struggle to survive in a dilapidated otherworldly elementary school filled with the vengeful spirits of murdered students from throughout the countryside. Solve the mystery of its past, or become a fixture in its halls for all eternity! Retro-styled visuals and binaural 3D audio give this story-driven horror adventure a unique atmosphere, and dozens of grisly, uncensored death scenes await all those unfortunate enough to choose the wrong path. ESRB rated M, File size 556 MB
Bundles
Open Emotion Studios Triple Pack ($3.99)
Come and explore the unique adventures created by Open Emotion Studios in the OES Triple Pack. Explore Machu Popyu and restore order in Mad Blocker Alpha, defeat the evil Black Armor and avenge your parents in Ninjamurai or save your town from the evil Big-Wig in Revoltin' Youth! File size 119.5 MB
PSP minis
Where Is My Heart? – Minis ($6.99)
Ikari Warriors Ii: Victory Road – Minis ($2.99)
Psycho Soldier – Minis ($2.99)
Game Videos
Pulse 11/22 Edition
Via: PlayStation Blog