PlayStation 3 Turns Five, We Look Back At Five Years Of Commercials
The PlayStation 3 blows out the candles for it's fifth birthday, and to celebrate, we take a fond look of how far the Sony console has come through it's commercials.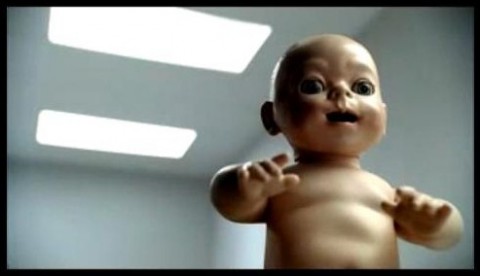 Five years ago, which is now like a lifetime in Internet years, Sony ushered in the era of the PlayStation 3 in North America on November 17th. It was a rocky start at first for the console, but it thankfully weathered those storm cloud days to become an awesome gaming machine with an equally awesome laundry list of games you can't find anywhere else.
Uncharted, PixelJunk: SideScroller, Heavy Rain, Gran Turismo 5, LittleBigPlanet… geeze, I could be here all day naming names of sweet PlayStation 3 games that have come along since the system's existence (when I would rather spend time playing those games instead, haha). So instead, if you allow me a little leeway my dear readers, I wanted to use the way-back machine to check out the many TV commercials Sony has put out for the PlayStation 3, which unintentionally, sort of serve as a very interesting time-stamp of where the PS3 was at during that point.
Going chronologically, we can't begin any look-back of PS3 commercials without what many would say is the weirdest out of the bunch. That freaky baby commercial that gave many people (mainly me) nightmares. Now, what I can garner from this point in history is that Sony was quite full of themselves, and not only did they think that people would buy $500 consoles, but that a commercial like this would be cool. Nope to both.
Awkward to the max, indeed. Let's hurry along to the next video before it stains on all of our minds forever. And glory be, this upcoming one is much subdued in tone and fixes on what matters most about an upstart gaming machine, the games dammit! (Like what's on this week's PlayStation Store) Something Sony should of been on top of with their messaging with the PlayStation 3 at the onset, but egad, that ego cool-aid is such a swell drink!
Oh and Internet kudos to anyone who can recognize the song used in this TV montage. Make sure not to saliva all over it, it's no biggie if you don't remember.
Personally, I think the beginning of the Kevin Butler ads were a pivotal turn of the tide for the PlayStation 3. Rightfully so, because it's the moment where Sony introduced the slimmer PS3 along with the $299 price cut, which skyrocketed sales of the console to infinity and beyond — but least we forget — it also brought back the playful attitude of PlayStation brand we all came to love during the days of the PlayStation 2.
The first Kevin Butler ad is especially partial to this idea (it's one of my favorites too) as it makes fun of all those PS3 slim rumors that got way ahead of Sony announcing the news themselves.
Finally, this next ad is so nice, we're gonna show it twice. Yes, yes, I'm well aware that you might have already seen the "Micheal" commercial featured here on Ps3Maven and television — but you got to admit, it's an absolutely fantastic ad that pulls off why being a PlayStation 3 owner can't be beat. They even got Solid Snake's gravel-sounding voice down, pat. Impressive.
I'll let you on a tiny secret… Micheal is me. Haha, nah! Seriously, its not. Maybe.
Well there you have it guys, (almost) five year's worth of  splendid PlayStation 3 commercials — weren't they something? Happy birthday PlayStation 3! Let's all hope the next five years is something worth remembering too. From my humble little viewpoint, it certainly seems very bright!