Photos Showing How to Replace the PS4's Hard Drive Revealed
Although the PS4's not released to the market until next month, new photos showing how to replace the next-gen console's hard drive have made it onto the web.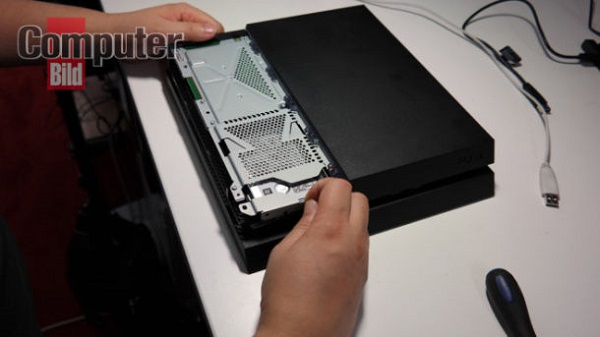 Before the PS4 and its respective next-gen competitor, the Xbox One, were announced and their features shown off via the medium of glitzy press conferences, the rumours reported by the media suggested that next-gen would spell the end of disc-based gaming. Whilst not entirely true, what is factual is that many of the games we'll be playing on our next generation consoles will take up a sizeable chunk of hard drive space, especially as so many games will also be available for download on the day of their disc-based release dates. As a result, like the PS3, Sony have decided to make the PS4's hard drive replaceable and, thanks to new photos revealed on the web, we can now find out how.
In the images, obtained by German site, Computer Bild, the process to change the PS4's hard drive, which effectively involves taking the console apart, taking out the old hard drive and then replacing it with a new one, is presented. Depicted amongst all 48 of the images in their gallery, yes, 48, (the most important one is above in this post) the act of replacing a giant chunk of storage seems like a relatively easy one, provided that you're a deft hand at DIY. As the pictures show, the front left panel on the PS4 is removable, and you'll need a torx screwdriver to remove it. Then, once that's out of the way, those with a 2.5 inch laptop hard drive can replace the PS4's existing storage block with that.
With the latest reports on the web being that games like (PS4 launch title) Killzone: Shadow Fall weighing in at just under a whopping 40GB (in comparison, plenty of games on PS3 could be downloaded for less than 20 or even 10 gigabytes) it's no surprise that even with the PS4's 500GB of built in storage Sony are still offering alternatives to increase that. But whether or not the process appears to be as easy as those images suggest will be seen when the console launches next month.
We'll keep you posted once we know more.
Source: IGN, Computer Bild
Read more on ps3maven, PS4 Perfect Day Ad Aims to Capture the Singing Gamer In You, Boxing Day – PlayStation 4 Console & Accessories Packaging