New King Of Fighters XIII Trailer Details Console Version, Pre-order Bonus
A new promo video for the 13th chapter to King of Fighters tournament, shows off the many wonderful new features to be present in the home console version.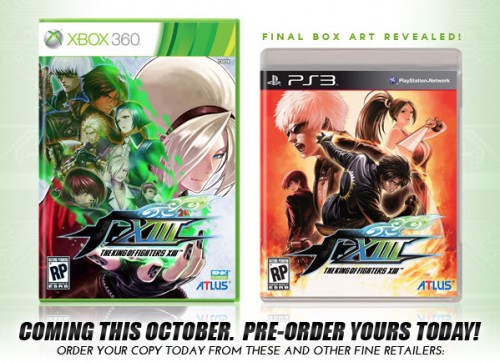 This SNK Playmore series might not reign as wide of a kingdom as its rivals, but if you still want stellar looking 2D sprites, fast and fun gameplay of the fisticuffs persuasion. Then look no further than The King of Fighters XIII — arriving from the arcades in Japan to home consoles this October 25th in North America.
Before I go any further — let's get one thing straight. The previous outing, The King of Fighters XII, was a holy poo poo mess. Only worthy as a show piece for the amazing 2D animation and pretty much nothing else (I heard the gameplay was sort of solid though,) which would of been fine if not for its $60 price tag.
The arcade version of King of Fighters XIII (released July 14, 2010,) and now the recently announced console version, by way of publisher Atlus, is a completely different beast. One that gets even more American Werewolf in London-esque beastly with a new trailer that lets loose a hearty chuck of the game's console additions.
Features:
New characters, well over 30 in all, Saiki and Billy Kane revealed so far
Alt costumes, Classic Kyo (Kusanagi) and XI Elisabeth
Lots and lots of new stages, around 8, full of character cameos from the series
Improved Story Mode with branching paths and new artwork
Arcade mode
Tutorial mode
Training mode
Gallery mode
Survival mode
Color edit (Character Color editor)
Classic Iori as DLC
Rebalanced
Improved Online play* including a Replay System (*A huge plus because XII's was horribad.)
But wait! There's more!
If you pre-order The King of Fighters XIII today, either at your local GameStop or online via Amazon, you'll receive as a pre-order bonus a 4 CD soundtrack compilation.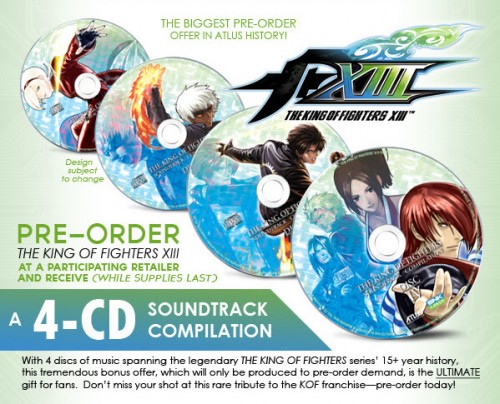 MINE!!! I mean… this four musical mix pulls together classic tunes from the over 15 year history of the King of Fighter series. And as you can almost perfectly read from the image above — "is the ULTIMATE gift for fans." To which I say proudly, absolutely!
Speaking of ultimate, check out the full list of fighters jumping in on Ultimate Marvel vs. Capcom bandwagon, come November 15th.
Via: GamePro