iStation iPhone Dock Design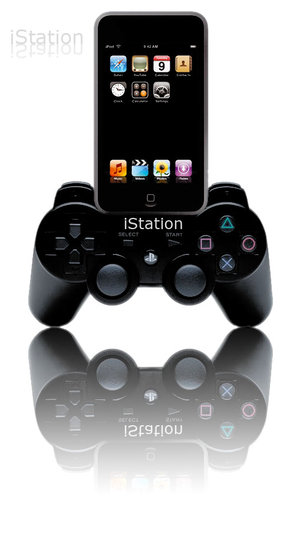 If there is something characteristic about these couple of years, it has to be the obsession with the iPhone and increasing number of people playing games on the PS3. While there isn't much common between the two popular gadgets, there is still something that they both share: their status of being youth symbols. Fun3raL has designed the iStation which is an iPhone dock that doubles up as a PS3 controller.
If you have an iPhone, you would know how easy it would be to have a dock that not only holds the phone but lets you charge, play, watch videos and listen to music in a proper position. When you are tired of playing games and when you instead would like to sit back and watch videos, use the iStation to place your iPhone, sit back and relax while your favorite video plays.
This has to be one of the most authentic mods I have ever come across and I really must appreciate and admire the modder's ingenuity. iStation looks chic, minimalist and elegant but also manages to look like a futuristic gizmo. There is no information about its price or availability and like in most cases, this conceptual design may unfortunately never be sold. Do check out some interesting PS3 controller mods like the ones designed for Street Fighter 4 and Soap PS3 Controller.