Final Fantasy VII Cloud Strife Statue with Buster Sword
With his blond spiked hair, blue eyes and chiseled features, Cloud Strife is one of the most popular gaming characters ever. In fact, most people know Final Fantasy VII and its sequels because of Cloud and his enigmatic personality. He has been inspiration for many fan based merchandize such as action figures, jewellery, posters and even wallpapers.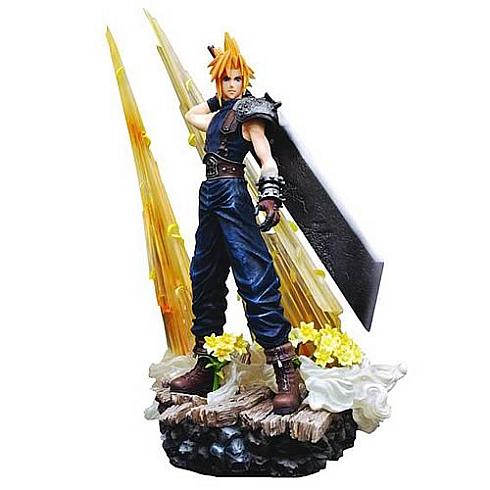 The Final Fantasy VII Cloud Strife Static Arts Statue is a highly detailed must-have for any fan worth his or her salt. The statue comes bathed in the protective light of Aerith's church and there are also flowers which are strewn all over in remembrance.
The statue is made of PVC material and is about a thirteen and a quarter inch tall. The packaging is pretty cool too, with a stylish window box thrown in. The Cloud Strife statue is dressed in dark clothes and he even carries the typical Buster Sword which looks quite menacing, especially when he seems to be waving at all the offenders.
The Cloud Strife Statue costs $154.79 and is worth every cent you would spend on it. If you actually are crazy enough to want it, there is also the dedicated Final Fantasy VII PS3 Console which even comes with a Cloud Wolf Logo. Meanwhile, it was reported that Final Fantasy XIII could be delayed in the West.