'Daytona USA' Getting A Rolling Start October 25th For PSN
Start your engines and get ready for an arcade blast from the past with the release of Daytona USA for the PlayStation Network this late October.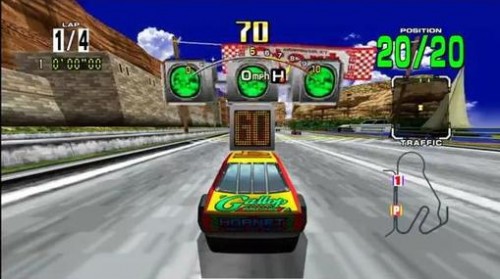 It's the return of a classic racing game, which whenever gets mentioned, some folks can't resist breaking out into fits of humming, Doot do doot do doot do doot do doot dooooo! Daytonaaaaaaaaa! That's right, Sega's Daytona USA is back and racing into digital storefronts October 25th, and with much warm welcome, this version is promised to be a polished port of the 1993 arcade hit that won over players with it's absolute thrilling gameplay and killer soundtrack.
Agreeably, that much of Daytona USA has been safely left in tact by Sega, but taking note of the widescreen age that is modern gaming, it's being wonderfully presented in an "enhanced 16:9 widescreen format." Beyond just looks though, this port will include several attention-grabbing modes too, such as an Arcade Mode, Survival & Time Trial Modes, Online Mode for up to 8 racers — and for those who just can't get enough of that boss-like music, an actual Karaoke Mode. Hey! It's all in the loving spirit of what Daytona USA is truly all about!
Plus it's only going for $9.99 on the PlayStation Store when it releases. Fantastic, I say!
Can not wait for some Daytona USA. I also can not wait for Assassin's Creed: Revelations coming out next month or the PlayStation Vita — which, I know, I know, hasn't been given an exact release date yet. But oh how I'm feeling the hype on that beautiful piece of Sony hardware.
Via: 1UP