PlayStation Network Releases: October 11th — Sideway: New York, Metal Slug 2, King Of Fighters '96
The next game in the Only On PSN campaign and not just one, but two classic SNK arcade games in this week's drop of new PlayStation Network Releases for October 11th, 2011.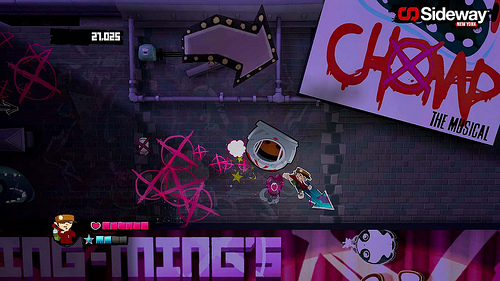 Welcome to week two of October 2011, and in typical fashion it's time once again to survey the new field of goods from the PlayStation Network. Starting with, the continuation of this month's official theme — Only On PSN — and the next game up on that showcase's block, Sideway: New York. Developed by Canadian-located Playbrains studios, Sideways could be best described as "graffiti art taking on a game of its own," or to be more exact, a platform game of its own.
You play as Nox, a young graffiti artist in The Big Apple, New York City, who just made the very wrong mistake of painting over the wrong guy's tag, and in this on-the-streets scenario it so happens to be a fellow tagger called evil Spray. Yikes, with a name like that you know you done goofed big — because as it plays out, he soon sends Nox to a world where he himself has become a piece of graffiti art, bound to the walls of buildings.
For the most part Sideway: New York isn't trying to cross that many new rivers in it's platformer gameplay — you collect items, use graffiti to defeat enemies & obstacles, and so forth — but with the way it's amazingly & beautifully presented (that goes for its conceptualized too,) it certainly is a game worth checking out. If you have a PlayStation Plus account, Sideway is 20% off, dropping it from it's standard $9.99 price to $7.99. Savings, savings galore of course, but what about classic arcade games galore?
Ah, then you are in luck this week because two such arcade games will be available as part of SNK Playmore's NEOGEO Station. From 1998, Metal Slug 2, and from 1996, The King of Fighters '96. Both games, as with every release, in the NEOGEO Station catalog include tons of cool fan-focused options and modes to play around with, including online multiplayer, and best of all, they are quality ports of their arcade counterpart (four-button arcade joystick sold separately!)
Lastly, because of the recent attempted attack on the PlayStation Network, be sure to be on the look out for any fishy activity and as always practice safe shopping!
PlayStation Plus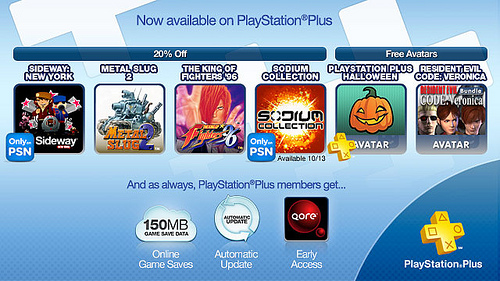 Exclusive Discounts
Sideway: New York – 20% Off
Metal Slug 2 – 20% Off
Metal Slug 2 (PSP) – 20% Off
The King of Fighters '96 – 20% Off
The King of Fighters '96 (PSP) – 20% )ff
Free Themes
Bane of Yoto Dynamic Theme
Dragon Dynamic Theme (PS Plus Exclusive)
Avatars
Resident Evil Code Veronica 5 Avatar Bundle ($0.49)
PlayStation 3
Pre-Order
 
inFAMOUS Festival of Blood ($9.99, PlayStation Plus price $7.99)
InFAMOUS Festival of Blood is a brand new single player DLC for download via the PlayStation Network. Vampires swarm New Marais, and revered superhero Cole MacGrath has been bitten. To save his soul and city, he as just one night to find and kill the head vampire.
Rated: RP
File Size: N/A
Games
Sideway: New York (Exclusive) ($9.99)
Battle your way through a twisted graffiti world where your prowess in puzzle solving makes the difference between life and death! Jump into one of the most unique and visually compelling 3D game worlds ever created. Follow the journey of Nox, through a fast-paced 2D adventure set in a 3D world.

ESRB rated E10+

File size 1.63 GB
The King of Fighters '96 ($8.99)
Play with your favorite characters and newcomers in this third installment of the popular "3-on-3″ versus fighting series from SNK! With its cast of 27 characters, and over 2,900 possible team combinations, KOF' 96 promises fights of anthology on NEOGEO Station!

ESRB rated T

File size 80 MB
Game Demos
File size 1.63 GB
StarDrone Demo is a high-speed action thriller with a mix of arcade action, pinball, breakout, physics and collect-the-objects. Cause your attackers to crash with rapid speed while collecting gems and power-up enhancements. Explore the level to find key power-ups and earn more points that will ultimately let you compete against the world on the StarDrone leaderboard.
ESRB rated E
File size 87 MB
NBA Jam: On Fire Edition Demo
File size 859 MB
Set against the backdrop of the Old World, two adventurers will quest across a Western Europe ablaze with the turmoil of a newly begun Fourth Crusade. Denz, a holy Templar, and Esteban, a roguish mercenary, may have different origins, but their motivations are the same: amidst the danger and despair of a new Crusade, to find the means to deliver themselves from a terrible curse that threatens to consume their immortal souls.
ESRB rated M
File size 740 MB
Add-on Game Content
Resistance 3 – Survival Pack ($3.99)
Take back a piece of your homeland from the Chimera – or conquer new territory as a Chimeran soldier – with this Invasion multiplayer game mode, along with four new character skins and an exclusive static theme. You Are The Resistance To use this download, you will need Resistance 3.
File size 103 KB
LittleBigPlanet 2 Add on Costumes ($0.99 – $2.99 each) File size 110 KB (each)
Duke Nukem Forever – Hail To The Icons Parody Pack ($9.99) File size 144 MB
Street Fighter III: Third Strike Online Edition – Character Color Pack 2 ($2.99) File size 1.79 MB
Dragon Age 2 – Mark of The Assassin ($9.99)
Embark on a thrilling adventure of deception and intrigue alongside a mysterious assassin. Infiltrate an estate far from Kirkwall and battle deadly new enemies with the help of Tallis, a new party member voiced by Felicia Day.
File size 924 MB
No More Heroes: Heroes' Paradise Motorbike 4 Add-On ($0.99) File size 129 KB
No More Heroes: Heroes' Paradise Tsubaki Mkiii Katana Add-On ($0.99) File size 129 KB
No More Heroes: Bundle 4 ($1.49) File size 258 KB
Ace Combat Assault Horizon Compatibility Pack 1 (Free) File size: 622 KB
Ace Combat Assault Horizon: F-15C (free) File size: 2.16 MB
Dynasty Warriors 7 – Costume Pack 4 ($0.99) File size 98 MB
Dynasty Warriors 7 – New Stage And BGM Pack 3 ($2.99) File size 56 MB
Dynasty Warriors 7 – Stage Pack 4 ($3.99) File size 67 MB
Rock Band 3
" Rock The Casbah" – The Clash ($1.99)
"Stay Together For The Kids" – Blink-182 ($1.99)
"The Party Song" – Blink-182 ($1.99)
"Up All Night" – Blink-182 ($1.99)
Blink-182 Pack 03 ($5.49) — Includes "Stay Together for the Kids," "The Party Song," and "Up All Night"
File size: 27 – 35 MB (Singles), 125 MB (Track Pack)
Rock Band Network v2.0
"Alaska (2X Bass Pedal)" – Between the Buried and Me ($1.99)
"City Of Corruption (2X Bass Pedal)" – Amberian Dawn ($1.99)
"City Of Corruption" – Amberian Dawn ($1.99)
"Doppelgänger" – Freezepop ($0.99)
"Morte Et Dabo (2X Bass Pedal)" – Asking Alexandria ($1.99)
"Soy Bomb" – Honest Bob and the Factory-to-Dealer Incentives ($0.99)
"The Space For This (2X Bass Pedal)" – Cynic ($1.99)
"The Space For This" – Cynic ($1.99)
"Your Troubles Will Cease And Fortune Will Smile Upon You" – After the Burial ($1.99)
"Your Troubles Will Cease And Fortune Will… (2X Bass Pedal)" – After the Burial ($1.99)
File size: 13 – 40 MB (singles)
Updates
Digger Hd – Sale (PS3) (now $4.99, original price $9.99)
Breakquest – Sale (PS3/PSP) (now $1.99, original price $3.99)
Normaltanks – Sale (PS3/PSP) (now $1.99, original price $2.99)
Djmax Portable 3 Digital – Sale (PS3/PSP) (now $19.99, original price $39.99)
Car Jack Streets – Sale (PS3/PSP) (now $2.99, original price $4.99)
King Of Pool – Price Change (PS3/PSP) (now $4.99, original price $9.99)
Strikers 1945 Plus – Price Change (PS3/PSP) (now $4.99, original price $11.99)
NBA 2K10 PSP – Price Change (PS3/PSP) (now $19.99, original price $29.99)
Borderlands – Digital – Price Change (PS3) (now $19.99, original price $29.99)
Avatars
Dead Rising 2: Off The Record Frank West Avatar ($0.49)
Dead Rising 2: Off The Record T.I.R. Frank West Avatar ($0.49)
Hyperdimension Neptunia – Nisa Avatar ($0.49)
Game Videos
Starhawk Space Combat Trailer
Need For Speed The Run Jack Is A Marked Man Trailer
Syndicate Announce Trailer
The Sims 3 Pets Trailer
Real Soccer Trailer
Yakuza: Dead Souls – Announcement Trailer
Deus Ex: Human Revolution Trailer De Lanzamiento (Mexico)
Saints Row The Third – Deckers.Die Trailer
UFC Undisputed 3 – UFC Contender Fighter Pack Trailer
Assassin's Creed Revelations Multiplayer Trailer
Jeremy Mcgrath's Offroad 2Xl: Gameplay Trailer 1
PS3 Themes
inFAMOUS Festival of Blood Dynamic Theme (Free with pre-order)
Sci Fi: Alien Witness Dynamic Theme ($2.99)
PS3 Wallpapers
The Baconing Wallpaper
Sideway New York – Spray Wallpaper
Sideway: New York – Nox Wallpaper
Sideway: New York – Nox Wallpaper 2
Sideway: New York – Wallpaper
PSone Classics
XS Junior League Football ($5.99) File size: 32 MB
PlayStation Portable
Games
MARCO and TARMA return to the battlefront accompanied by two new recruits, FIO GERMI and ERI KASAMOTO, to thwart the new coup attempt by General Morden, leader of the Rebel Army and main antagonist of the "METAL SLUG" series. Fight alone or with a buddy, on foot or aboard a tank, and deliver prisoners to freedom in this masterpiece of run-and-gun from SNK!

ESRB rated T

File size 36 MB
The King Of Fighters '96 ($6.99)
ESRB rated T

File size 48 MB
Via: PlayStation Blog