'Batman: Arkham City' Skins, Available As Pre-Order Bonus & DLC Later
Way til' ya get a load of these fantastic looking Batsuit skins that will be available as a pre-order bonus and later on as downloadable content.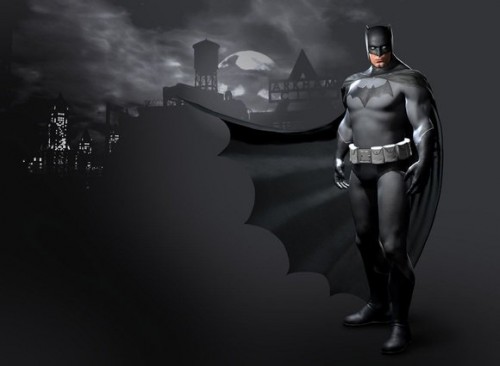 Since his 1939 appearance in the 27th issue of Detective Comics, Batman has had an iconic range of different looks, batsuit wise that is. With each unique design a time-stamp of The Dark Knight's long historic career as the defender of Gotham City and one of DC Comic's best-established figures the world over.
Coming soon in Batman: Arkham City, you'll have an opportunity to relive those moments with special skins that allow you suit up Bats in the classic costume of your choosing. Aside from the Batman: Year One skin shown above, already announced are five additional-content outfits, including one that dresses up Batman as his Animated Series counterpart — those eyes… they… they stare into your soul…
Whoa…  umm, where was I? Oh yes! Here's a wonderful image that depicts all the current skins announced so far for Batman: Arkham City.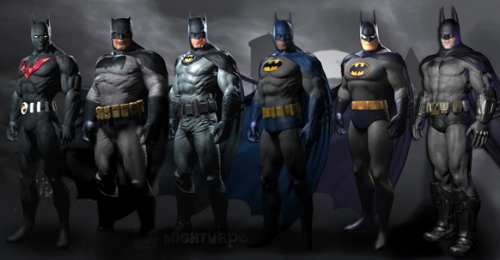 From left to right:
Batman Beyond
The Dark Knight Returns Batman
Batman Earth One
1970′s Batman
The Animated Series Batman
The Arkham City Batman
Each special Batman skin will be available as a pre-order gift, but only certain costumes will be given at corresponding retailers. Meaning that from which reliable retailer you choose to reserve Batman:Arkham City at, you'll receive that exact Batsuit as a bonus. We don't know for sure yet which skin will be available at which retailer — yet it's mostly likely you'll see them at a GameStop near you.
And even if you don't happen to get one around the pre-order period, I'm sure, just as the exclusive Arkham Ayslum challenge maps were eventually made available for purchase – in time — so should these super cool costumes.
Update: "The offer that we're making out with retailers for gamers is, this is an early access opportunity for you, down the track [the skins] will be available more broadly." — Rocksteady's marketing manager Dax Ginn
See! I told you so! You should really listen to me more often. Who knows, maybe my recent scuttlebutt about the PlayStation Vita's release date will be proven true. Even though I didn't come up with the rumor and only reported on it… but my point still stands, whatever that is.
Via: ArkhamCity.co.uk