A PlayStation 2 And A Bravia TV – It's Two, Two Great Sony Things In One
Sony still hasn't put PlayStation 2 compatibility back into the PlayStation 3, but that hasn't kept them from putting it into this Bravia flat screen television.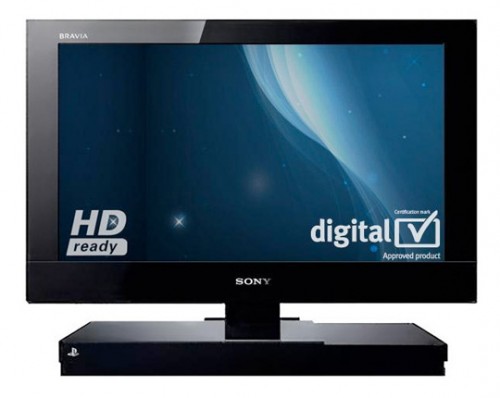 Ten years the PlayStation 2 has been on the market, and with each passing month there's no indication that production of the legendary console will come to a close, thus ascending up towards video game console heaven. I mean — geeze, last month Sony introduced a brand new special bundle featuring Disney-Pixar's Toy Story 3: The Video Game. So yeah, no obituaries in sight for this video game system.
Honestly, I kinda understand the reasoning from a business perspective. The PlayStation 2 still sells. Perhaps not top tier numbers, but enough to make some extra simple side dough for Sony. Which in this down economy, any company would like to have in a heart beat.
Plus, Sony still hasn't entertained the idea of putting the console into — oh say — a flat screen television. That is until now, with the introduction of the Sony Bravia KDL-22PX300 LCD (yeah, try saying that 3-times fast) pictured above.
This Bravia looks like any average 22 inch LCD flat screen from Sony, but looks can be oh so deceiving my friends. Take notice of the oddly bulky base with the PlayStation logo — it's not made that way to withstand an earthquake — there's a built-in PlayStation 2.
No shortcomings here. The PlayStation 2 inserted into the base is everyone's favorite PlayStation 1 and 2 game playing, DVD watching machine. Combine that with the standard features of a Bravia HDTV (HDMI 720p, VGA, PC Input, Component, etc.) and what a dream boat of package.
Bad news though, it's only available (for now) in the United Kingdom for £200, which is about $300 buck-a-roos here in the United States. Such a bummer, I know.
Well, come on Internet! Do what you do best, and complain really loud to Sony for this awesome flat screen television plus PlayStation 2 to come stateside. I'm, and anyone else who thinks this is really cool, are counting on you!
Meanwhile, you might want to check out what you can buy — like this awesome PlayStation 3 Bluetooth Headset, or EyePet for the PlayStation Portable.
Via: Reghardware