Saints Row IV Officially Announced
The sale of THQ potentially put the future of the Saints Row series in jeopardy but the buyers of the franchise, Deep Silver, have just announced a sequel.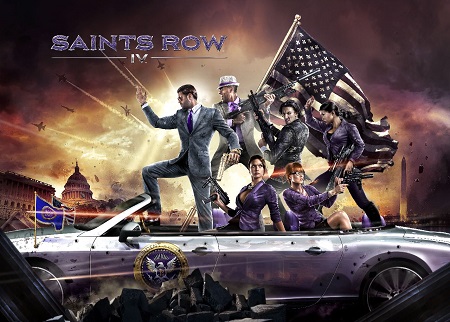 It has been one of the most salacious pieces of news from the video game industry this year (or for the past few years), but the bankruptcy, the descent into administration and the eventual demise of publishing powerhouse THQ was a shock and a worry to fans of the beloved franchises that they had been creating for years.
While they were responsible for the ever popular WWE games, the other jewels in their crown were the individual Saints Row games. Having always been a fun, more arcade-y alternative to other third person sandboxers (specifically the Grand Theft Auto series), it's no surprise that with the strong sales of the three Saints Row games and the promising sales figures of downloadable content that the series continues to post, that the video game publisher snapped up the rights (along with THQ's other franchise, Metro Last Light) to continue to release more games about gangsters, with their tongues firmly in cheek.
With today's announcement of Saints Row IV, Deep Silver say that the game is continuing to follow the Third Street Saints (the fictional crime organisation from the title) and their meteoric rise to success as the leader of the Saints has been elected to the Presidency of the United States. While the usual illegal doings of the Saints will likely be included, the focus in Saints Row IV, according to Deep Silver is on 'saving the world'.
The announced list of things you'll have save the Saints Row IV population from includes "a catastrophic alien invasion" [where] the aliens have transported the Saints to a bizarro-Steelport simulation. Wield gargantuan superpowers and fight to free humanity from alien granddaddy Zinyak's mental grasp." Deep Silver are also promising alien weaponry and in the "most insane installment of Saints Row yet".
They've announced the Saints Row IV release date as August 20th in North America and August 23rd on current-gen consoles (Xbox 360, PS3, including PC).
Source : Deep Silver
Read more from ps3maven, The God Of War: Ascension Official Live-Action Trailer Is Awesome, What Is The Latest Sony Teaser Exactly Teasing? God Of War: Ascension?