'Red Dead Redemption: Game Of The Year Edition' Stampeading To North Amercia October 11th
Last year's smash western hit from Rockstar Games, Red Dead Redemption, is finally getting one heck of a content bundle in October.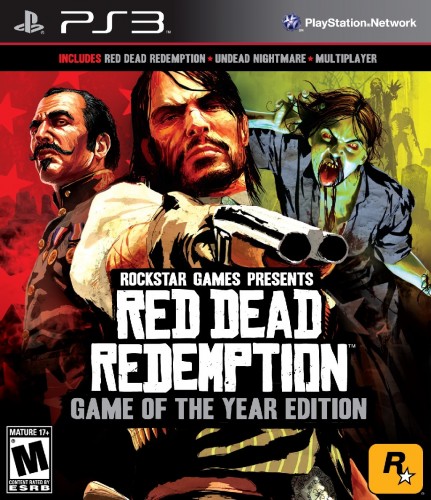 Why howdy there hombre! Just by looks, I can tell you're the kind of sort that likes to roam the Wild West in search for excitement and what not. Well partner, mosey on down to a nearby retailer, be it online or not, and partake in some Red Dead Redemption, which lucky for ya, is about to get a Game of the Year Edition.
Last year's gold rush of an open world action-adventure title, from the fine folks over at Rockstar Games, is being filled to the brim, like a barrel full of sarsaparilla, with every piece of downloadable content this side of the Rio Grande, all in a $50 package coming October 11th to North America (October 14, 2011, internationally). Tarnnation, if that don't make ya grin wider than a coyote then I can't reckon what will, partner.
I've gone a head and roped up the full list of goods in the Red Dead Redemption: Game of the Year Edition, think nothing of it amigo:
Red Dead Redemption, with a brand-new hardcore single-player mode
Undead Nightmare, single-player campaign and multiplayer modes
Legends and Killers Pack, including additional multiplayer map locations, multiplayer characters, and the Tomahawk projectile weapon
Liars and Cheats Pack, featuring the Stronghold multiplayer competitive mode, Free Roam gambling games, multiplayer horse races with combat, and the Explosive Rifle.
Hunting and Trading Outfits Pack, including two outfits with corresponding gameplay challenges for John Marston
Outlaws To The End Co-Op Mission Pack, including six co-op missions for up to four players
All original pre-order content, with the Deadly Assassin Outfit, War Horse, and Golden Guns Weapon Pack
Solomon's Folly single-player gang hideout and challenges
Just-released Myths and Mavericks Bonus Pack, with fan-favorite multiplayer characters and all-new locations to battle in.
What do you guys think? Did I come off as an convincing cowboy? I've been working on my acting for a while, and well, its seemed apropos with this post and thought, why not! So, how did it go? Hmm? I see… Yeah, I know, I know — stick to your day job there buddy-boy… Anyway, make sure to stick here for upcoming news from Tokyo Game Show 2011, where Sony should have many an exciting announcements forthcoming soon.
Via: 1UP