PS3 Wireless WarBeast Guitar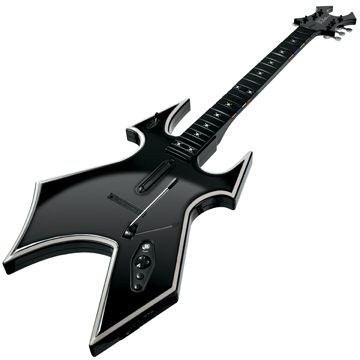 An amazing PS3 Wireless Guitar simply looking like a Sinister WarBeast!
If you are the kind of PS3 person who is into music based games like Guitar Hero or Rock band, you shall love this new controller by dreamGEAR called the WarBeast Wireless Guitar. Playing any music based game would be such fun if you could get hold of a controller that is like a full size guitar. All this while guitars for Guitar Hero and Rock Band were miniature versions of professional guitars. The WarBeast for the Playstation 3 comes with an awesome wireless gameplay of 2.4 GHz and a strumming bar that glows.
For those PS3 Fans who are into kick-ass music, the custom skull fret inlays would make the controller irresistible. The WarBeast guitar could be used with PS2 and PS3 consoles and for Guitar Hero and Rock Band games. This sinister Wireless WarBeast comes with the coveted B.C. Rich Guitars license and an adjustable whammy bar. Another useful feature of PS3 WarBeast Wireless Guitar is that it comes with removable neck and headstock which would allow you to be more mobile.
In my opinion, the WarBeast for the Playstation 3 seen at DreamGear is not only a great controller of Guitar Hero and Rock band, but it also is a rocking design with sleek cuts. You would no longer have to feel like a nerd playing video games or a rock star hiding behind your PS3, but can rock on with the mean looking WarBeast. While you strum your way to fame in the gaming world, you could encourage your evil alter to unleash terror by checking out the Evil PS3 Screaming Skull Cover.
If  you want to rock out with the WarBeast on your PS3, you can get your own here.