PS3 Lizardman Moves in Soul Calibur 4
Lizardman is an awesome looking character in Soul Calibur IV with many, many different fighting moves. In case you don't know all of its moves yet, here is the list for you to use with the PS3 Controller to get rocking.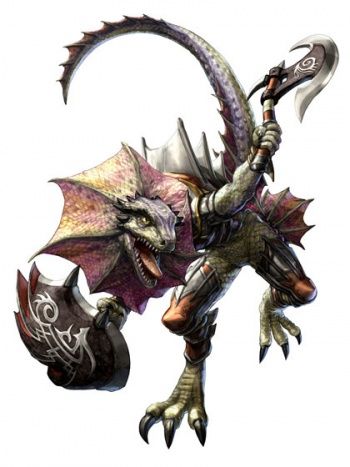 Previously known as Aeon, Lizardman was transformed into what we are familiar with now and makes for a really cool character that is easy to use and has some versatility. Like any other character, it has its advantages and disadvantages, and it is up to you to understand which to enhance and which to reduce.
Read, learn, practice Lizardman's moves and get crazy in Soul Calibur 4.
Lizardman Moves for Soul Calibur IV for the Playstation 3
Lizardman Kick Moves
Gloom High Kick: Circle
Gloom Front Kick: Right, Circle
Gloom Front Kick: Right, Hold Circle
Lizard Stamp Kick: Down right, Circle
Romper Base Kick: Down, Circle
Mezentius Style Sinker Spin Kick: Down left, Circle
Mezentius Style Sinker Spin Kick: Down left, Hold Circle
Mezentius Style Lightning Head Masher: Left, Circle
Lizard Low Kick: Circle (while crouching)
Camilla Style Romper Twister: Circle, Circle, Circle (while rising)
Side Arch Kick: Circle (while jumping)
Rear Gloom High Kick: Circle (while facing away)
Rear Lizard Low Kick: Circle (while facing away and crouching)
Lizardman Horizontal Moves
Refrain Axe: Square, Square
Aigis Hook: Right, Square
Lumber Axe: Down right, Square
Lower Celtis: Down, Square
Extrusive Head Butt: Down left, Square, Circle
Turnus Style Blade Edge: Down left, Square
Lower Celtis: Square (while crouching)
Sandstorm Axe: Square (while rising)
Spinning Edge Hopper: Square (while jumping)
Rear Side Edge: Square (while facing away)
Rear Base Current: Square (while facing away and crouching)
Lizardman Running Moves
Grit Draft: Hold Right, Square
Sprial Draft: Hold Up right, or Hold Down right, Square
Sprial Draft: Hold Up right, or Hold Down right, Hold Square
Reverse Double Shield Swing: Hold Down, Square, Square
Double Shiled Swing: Hold Up, Square, Square
Mezentius Style Sweeper: Hold Up left, or Hold Down left, Square, Circle
Camilla Style Rising Lizard: Hold Left, Square, Triangle
Camilla Style Rising Lizard: Hold Left, Hold Square, Triangle
Turnus Style Dune Blade: Hold Right, Triangle
Mezentius Style Camel Blow:  Hold Up right, or Hold Down right, Triangle
Mezentius Style Shield Jolt: Hold Up, or Hold Down, Triangle
Mezentius Style Shield Cannon: Hold Up left, or Hold Down left, Triangle
Rumbling Axe: Hold Left, Triangle
Mezentius Style Grit Blast: Hold Right, Circle
Mezentius Style Scale Twister: Hold Up, or Hold Down, Circle
Killing Bite: Hold Left, Circle
Killing Bite: Hold Left, Hold Circle
Turnus Style Screw Shot: Hold Right, Square & Triangle
Mezentius Style Double Rising Beat: Hold Up right, or Hold Down right, Square & Triangle
Mezentius Style Shield Rush: Hold Right, Triangle & Circle, Square, Triangle
Lizardman Throwing Moves
Mezentius Style Sand Tomb: Square & X – Throw
Mezentius Style Sand Bomb: Triangle & X – Throw
Mezentieus Style Reptile Rumble: Down, Down left, Left, Triangle & X – Throw
Lizardman Moves
Extrusive Head Butt:  Down left, Square, Circle
Mezentius Style Head Butt:  Triangle & Circle
Camilla Style Romper Twister: Circle, Circle, Circle (while rising)
Grit Draft: Hold Right, Square
Mezentius Style Sinker Spin Kick: Down left, Hold Circle
Killing Bite: Hold Left, Hold Circle
Mezentius Style Reptile Rumble: Down, Down left, Left, Triangle & X
Lizardman Vertical Moves
Scale Strike: Triangle, Triangle
Spot Strike: Right, Triangle
Rising Grit: Down right, Triangle
Mezentius Style Shield Blast: Down, Triangle, Circle
Base Scale Axe: Down left, Triangle
Shield Clipper: Left, Triangle
Base Axe: Triangle (while crouching)
Tail Weapon Gazer: Triangle (while rising)
Base Axe Hopper: Triangle (while jumping)
Rear Scale Axe: Triangle (while facing away)
Rear Base Axe: Triangle (while facing away and crouching)
More Lizardman Moves
Axe Hopper: Square & Triangle
Mezentius Style Head Butt: Triangle & Circle
Mezentius Style Sand Roll: Down left, Triangle & Circle
Mezentius Style Sand Roll: Down left, Triangle & Circle, X
Sand Revenger: Left, Triangle & Circle
Quick Sand Revenger: Left, Hold Triangle & Hold Circle
Mezentius Style Desert Threat: Up, Triangle & Circle
Mezentius Style Desert Threat: Up, Hold Triangle & Hold Circle
Spiral Tail: Triangle & Circle (while facing away)
Mezentius Style High Kick: Square & Circle